Since the onset of 2021 in the dead of the pandemic, a few new nonstop flights have entered the US-India travel corridor; the most awaited ones being American Airlines' comeback flights to India. American Airlines' nonstop flights to India from USA include New York to New Delhi, and Seattle to Bengaluru. The airline exited India in 2012, terminating its only Chicago-Delhi service in on account of unprofitability.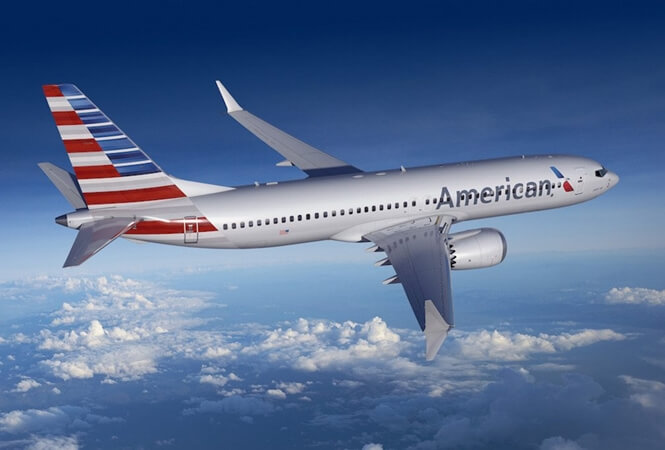 Since October 31, American Airlines has been operating New York to Delhi nonstop flights on a daily basis, which is up from the initially planned weekly three flights during non-peak times. The airline's Boeing 777-300ER departs NY JFK Airport at 20:10 EST and arrives in New Delhi the next day at 19:30 IST. 13 hours and 50 minutes is the total travel time on this route. But the return flight from Delhi to JFK takes 16 hours.
American Airlines' New York to India flights is a result of its strategic alliance with JetBlue Airways in the Northeast USA. JetBlue Airways' passengers from the Midwest, Northeast and Southwest USA will be able to connect on American Airlines' flights to New Delhi from JFK International Airport. To be precise, JetBlue will provide the regional feed for its partner American Airlines' long-haul international flights from New York.
American Airlines' Seattle to Bengaluru nonstop flights, which could not take off in October 2020 due to the pandemic, were rescheduled to be launched in November 2021. It was further postponed to March 2022. As the latest reports state, this route will not see American Airlines' nonstop service until October 2022 or for an indefinite period of time.
This daily service will be the first-ever nonstop connectivity to India from the West coast. Notably, Seattle-Tacoma International Airport is the largest airport in the Pacific Northwest and the 8th largest in North America with nearly 52 million footfalls in 2019. The flight will take off from Seattle at 17:55 PST and arrive in Bengaluru the next day at 23:05 IST. The Seattle-BLR nonstop flight will take 16 hours and 30 minutes. The return flight will depart BLR Airport at 01:45 IST and reach Seattle at 06:00 PST. The total travel time be 16 hours and 45 minutes.
"Currently, Air India is ruling the JFK-DEL route, one of the busiest in the US-India corridor, with nonstop flights. Emirates, Qatar Airways, Lufthansa, British Airways, Air France, and Virgin Atlantic are the best airlines offering one-stop flights between New York and New Delhi. Delta suspended its nonstop service from New York to India. There are nonstop United flights to Delhi and Mumbai from Newark EWR. In view of this, American Airlines' New York to Delhi nonstop service will run into competition with Air India's. American's premium economy cabin will definitely be an advantage over Air India," said the chief travel advisor of IndianEagle.com, a leading travel-booking partner of Indians in the US.
American Airlines' new codeshare partner in India
American Airlines has inked a codeshare agreement with IndiGo, India's largest airline by market share. IndiGo will fly American's passengers to 29 domestic destinations from New Delhi and Bangalore. American Airlines will place its code on IndiGo flights for onward connectivity on 29 destinations across India, as per the agreement which is subject to the government's approval.
American Airlines' check-in baggage policy for flights to India
American Airlines offers generous check-in baggage allowance for Premium Economy and Business. American Airlines' Premium Economy tickets allow two pieces of free check-in baggage (each up to 23 kg) per passenger. You can check in two bags for free, each up to 32kg, on American Airlines' business class flights to India. Checking in of a third bag in either of these two travel classes is permitted at the cost of $200.
American Airlines' flagship aircraft for JFK-DEL flights
Boeing 777-300ER with Flagship First and Business Class will be deployed for American Airlines' daily New York to Delhi nonstop flights. The flagship international aircraft can accommodate 304 passengers on board. There are 8 seats in the Flagship First class, 52 Flagship Business class seats, 28 premium economy seats, 28 extra legroom seats with 36-inch of pitch in Main Cabin Economy, and 188 standard economy seats with 31-32-inch of pitch. American Airlines' premium economy seats come with the features of the airline's domestic first class seats (recliner style) offering more width and pitch than economy seats.
American Airlines' comeback to India, with nonstop flights to Delhi and Bangalore from the US, coincides with the lifting of entry restrictions for fully-inoculated Indians in November 2021. Booking of best flights to India for cheap fares is open on the website and over the phone at 01-800-615-3969.