After Diwali, it is time to get ready for that once-in-a-year family trip to India. All the fun, love and affection that is awaiting you in India begins to be felt once you are done booking your travel to India after scouring the Internet for competitive fare deals. Given high airfares in current times, it is a kind of challenge to get a suitable itinerary with cheap flight tickets except at IndianEagle.com. There are other ways to fly cheap to India from USA. You can save over $1000 per traveler on the cost of traveling if you avoid certain expenses listed below.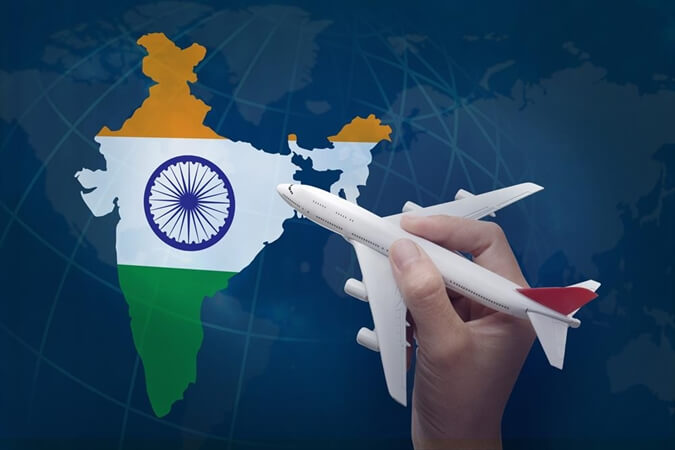 Travel on airlines that waive change of date fees 
The hacks to save on airfares to India from USA include knowing which airlines do not charge one-time change of travel date fee or itinerary modification fee. A one-time fee waiver comes bundled with Air India flight tickets to India and United Airlines flights to India from USA. Booking your travel with these airlines through IndianEagle.com will save you the one-time rescheduling fee that ranges from $90 to $400 depending on travel class, ticket type, aircraft, route, and the time of the year.
Other than Air India and United, Qatar Airways, Emirates, and Turkish Airlines provide one-time rescheduling fee waiver on some itineraries for US-India travel. Be advised to check with travel advisors of Indian Eagle which one-stop flights to India from USA by these Middle East carriers do not incur one-time rescheduling fees. However, changing your travel date/s more than once will cost you a hefty fee. The agency fee and fare difference (if there is any) apply every time you get your confirmed itinerary rescheduled.
Stick to your international travel schedule
As mentioned above, rescheduling your international flights incurs a fare difference, thereby adding to the cost of traveling between USA and India. If you stick to your confirmed schedule except for an unavoidable emergency, you can avoid paying a fare difference. No matter how cheap flight tickets to India from USA you have secured, a hefty fare difference for changing your dates will make the travel expensive. Indisputably, not paying any fare difference is one of the ways to fly cheap to India.
What is fare difference? Why does fare difference apply to a change of travel date in itineraries? As per the airline policy, an existing reservation is differently priced for a change of date in the travel schedule than a new booking. A fare difference is usually high because the airline system reschedules a reservation in a higher subcategory of the travel class, due to the unavailability of seats in the originally booked sub class. To be precise, a travel class – economy, business, or premium economy – is divided into subclasses or subcategories depending on fare types. Fares are not equal for all the seats in a travel class. This apart, aircraft type, route, and the time of the year are also factored in for calculating a fare difference. Evidently, Indian Eagle or any other agency has no control on the dynamics of fare difference.
Check baggage allowance before booking an itinerary 
Surprises are aplenty when you check in your bags at the airport of departure without knowing the airline's free check-in baggage allowance for your itinerary. Paying for a second piece of check-in baggage is not the cheapest way to fly to India from the USA. We all know that you can check in two bags for free with Air India flight tickets to India, whereas it is only one piece of free check-in baggage for United Airlines' cheap economy air tickets to India.
It is normal to assume that you are entitled to checking in two bags for free on Seattle to New Delhi flights operated by both United Airlines and Air India. United operates the domestic leg of the itinerary in the US, from Seattle Tacoma to Newark Liberty EWR, and the Newark to Delhi route is operated by Air India. Since United Airlines is the first carrier in the itinerary, United's check-in baggage allowance applies through the itinerary. Refer to the below screenshot of the itinerary from IndianEagle.com: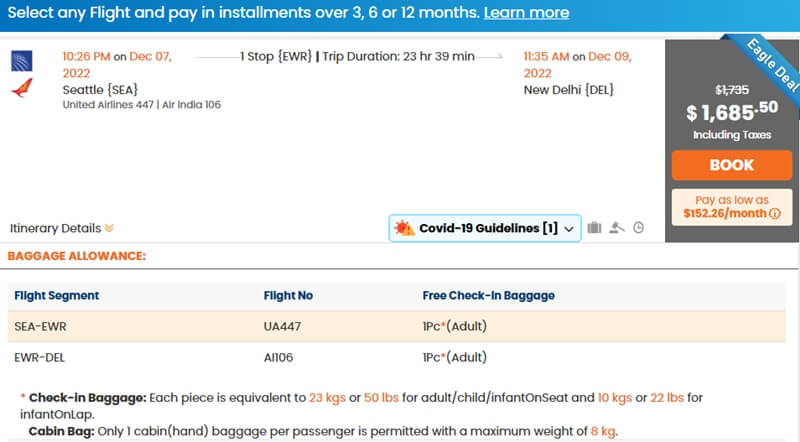 If you carry two bags to check in for the United flight from Seattle, you will have to shell out $200 for the second bag. Thus, it adds to the cost of traveling even if you got cheap flight tickets to India.
Booking two one-way flights vs booking round-trip flight 
What is the cheapest way to fly to India from the US? Wondering whether it is booking a round-trip flight or two one-way flight tickets? A round-trip airfare saves on the cost of traveling to and from India more than two one-way air tickets, given the inventory of international flight deals at Indian Eagle. However, a round-trip flight booking has its pros and cons. The cost of rescheduling both your onward travel and return travel in a round-trip reservation is lesser than that of changing your travel dates in two one-way bookings. The former incurs the airline's rescheduling fee only once, whereas you have to pay the airline fee twice for the latter.
Cancelling either the onward leg or the return leg of a round-trip itinerary is a major disadvantage. Most of the time, a partially used round-trip flight booking is non-cancellable and non-refundable. Even if a refund on partial cancellation in a round-trip reservation is approved given the reason/scenario, the refund amount is trivial. Only 10-20% of the total round-trip fare is refunded against partial cancellation.
"You can fly cheap between USA and India with a round-trip air ticket if you stick to your travel dates, both onward and return. If you are looking for two one-way cheap flights between USA and India, our travel economists will help you out," said the chief ticketing officer of IndianEagle.com.
Weekday travel vs weekend travel
Weekday international travel to India is cheaper than weekend flights to India from USA. It is not a myth. Weekday flights from New York to Delhi, to say on Wednesday or Thursday, cost lesser than weekend flights on the same route. Let's elaborate this with a real-time instance from IndianEagle.com.
We searched for cheap SFO to Mumbai flights for weekday travel on December 7 (Wednesday in the US) and weekend travel on December 4 (Sunday in the US). We found one of the shortest one-stop flights between SFO and Mumbai is operated by Turkish Airlines. The same itinerary is available on December 4 and 7, 2022. The one-way flight by Turkish Airlines departing SFO on DEC 4 costs $1343.80 per adult traveler (as of OCT 31), whereas the same flight on DEC 7 is priced at only $1029.80. If you choose to travel on DEC 7 and grab the second deal without any delay, you will save $300 a one-way ticket. If you are four travelers (2 adults and two children), you will save $1200 on your one-way trip to India. Isn't this one of the best hacks to book cheap airline tickets to India from USA?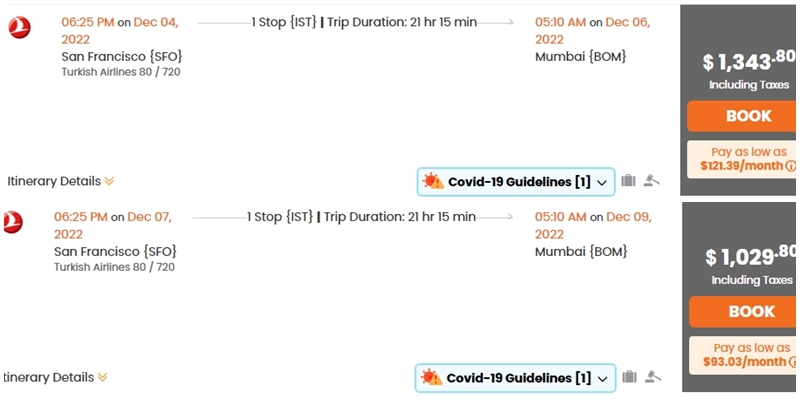 Kindly note international airfares are dynamic. The abovementioned flight deals may not be available later this day or later this week. However, you can contact our travel economists on the web chat or the customer support helpline for the best deals available for your upcoming travel.
Avoid flying via Europe if your US visa has expired 
One of the ways to save on the cost of traveling to India from USA is to avoid flying via Europe with an invalid US visa, be it H1B, H4, B2, or L1/L2. If your US visa has expired, you need a transit visa to travel to India via Europe, which is an unnecessary travel expense. No transit visa is required for traveling through the Middle East (Dubai, Doha, Abu Dhabi, and Istanbul)) with an expired US visa. You can compare US-India itineraries with layovers in Europe or the Middle East and select the best one from our user-friendly air-ticketing portal.