The Ramayana, one of the two great Indian epics, is an eternal story. It has been told, retold, narrated and depicted through different mediums including TV series, cartoons, comics, movies, fictional writing and animation films in regional languages of India many a time. With a group of three young filmmakers planning to make an English film on Ramayana in 3D for a global audience, the Indian classic is all set to make its debut in the United States.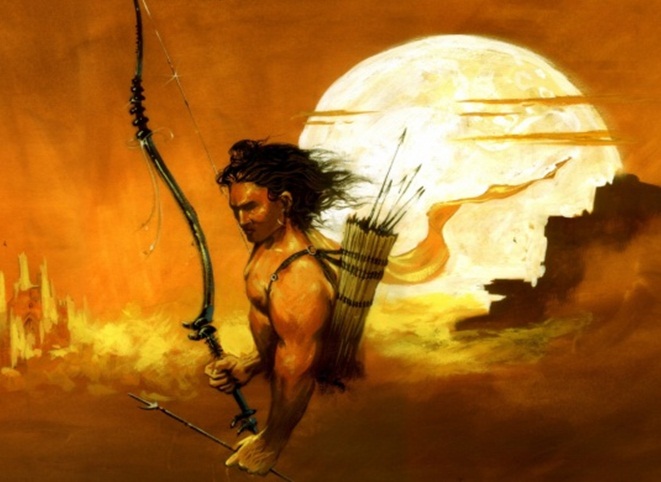 Indian American Vineet Sinha from the San Francisco Bay Area has collaborated with filmmakers Sean Graham and Ronnie Allman from the United States to create a 3D version of the Ramayana in English. They felt an urge to entertain and enlighten the world with the mythological stories of India like Ramayana in English, which are open to multilevel and multidimensional interpretations. Currently they are on a mission to crowdfund the project in India.
Is the proposed English film on Ramayana in 3D going to be another Indian movie? The USA based filmmakers claim to adapt the story of Ramayana for celluloid by means of the latest 3D technology on the same scale of excellence as that of such Hollywood films as Lord of the Rings and Planet of the Apes.
Indian films are not known as globally as animated versions of the most popular Hollywood films like Superman series, Batman series and Star Wars series, according to Indian American Vineet Sinha. He opines that the huge potential of Indian mythology is yet to be explored through technologically cinematic adaptations on a global scale.
We want to reach out to the audience that loves watching Lord of the Rings and Planet of the Apes, with our 3D film on Ramayana in English. We want to make sure that our adaptation of the Indian epic will meet the expectations of Indians and cater to the global audience's penchant for fantasy, action and adventure, at the same time. – Vineet Sinha
"The Ramayana is not just an epic or story. It is interwoven with the religious sentiments and values of Indians at home and abroad. Recreating or retelling it in any format or for any medium is a big challenge. In our take on Ramayana in high-tech 3D, we would like to stay true to the time despite our own twist of some things," said filmmaker Sean Graham.
Hanuman and Ravana are two most interesting characters in the story of Ramayana. Portrayal of these two Indian mythological characters is open to creativity, new-age theories and modern interpretation. The makers of the upcoming English film on Ramayana in 3D claim their depiction of Ravana and Hanuman to be a lot more exciting watch.
"For instance, ten heads of Ravana may be depicted symbolizing ten different human characteristics including wisdom, rationality, creativity and humor that Ravana was said to have according to some versions of the Ramayana," elaborated Sean Graham.
Vineet Sinha, a graduate from the University of South California, is sanguine of his collaboration with the filmmaker duo – Sean Graham and Ronnie Allman – for the upcoming 3D film on Ramayana in English. It would be a short film, which is yet to be titled.
Travel Beats, a digital news portal by IndianEagle, a US-based international travel organization, publishes the latest news and stories from India, USA, Canada and Indian Diaspora.