The launch of Air India's nonstop flight from New Delhi to San Francisco is some 18 days away. San Francisco to New Delhi is the longest route in Air India's global network. Speculations about what food will be served on Air India's flights between New Delhi and San Francisco have been rife for a few past weeks. The national airline of India released a brief about inflight dining on the new route, adding to the excitement about the upcoming new service.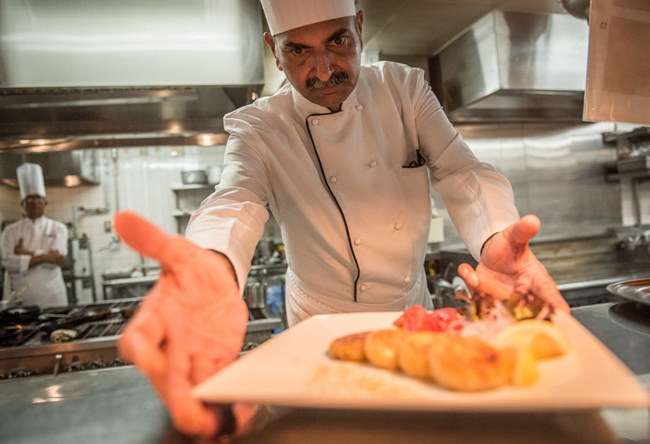 Air India has collaborated with Chef Rajan Loomba, an ambassador of the Indian cuisine, to design menus and meals for flights between Delhi and San Francisco. Rajan Loomba is Executive Chef of The Ashok in New Delhi, India. He gave a presentation of the new menu to Ashwani Lohani, CMD of Air India. He shared with the senior professionals of Air India the details of the inflight menus and meals including the best of Indian cuisine.
According to Chef Rajan Loomba, the food to be served on board during New Delhi flights to San Francisco and San Francisco flights to New Delhi would be light for the stomach and delicious for all taste buds. It is to be a wholesome gastronomic experience for guests with different palates. Air India's new inflight menu for the new route includes continental dishes in both vegetarian and non-vegetarian categories.
Variety is the mainstay of the menus to be served in Air India's First and Business Class travel cabins, starting from December 2, 2015. Chef Rajan Loomba has designed meals for the First and Business Class passengers, keeping in view the cultural and demographic diversity of India. The airline's premium passengers traveling between San Francisco and New Delhi with be treated to an exclusive selection of food along with the best wines.
Apart from highly palatable meals, amenity kits with an Indian touch will be provided to all passengers on Air India's first flight from New Delhi to San Francisco, scheduled on December 2, 2015. Amenity will contain only Khadi products. Kits will be provided on all international flights by Air India later on. The latest Hollywood and Bollywood movies from Air India's array of inflight entertainment programs will be screened on San Francisco to New Delhi flights. TV shows, games and documentaries will be available too.
In the West Coast, San Francisco is home to a major percentage of the Indian diaspora. Many multinational corporations in the San Francisco Bay Area have their bases in India. Many entrepreneurs and tech professionals travel from the West Coast to India. Air India's three weekly direct flights from San Francisco to New Delhi will give seamless access to India's other IT hubs including Bengaluru, Hyderabad, Chennai, Kolkata and Chandigarh through domestic connectivity.
CHECK Air India's Baggage Details for New Delhi Flights
Check our FAQs section to know about inflight facilities, baggage allowances and lounge services of airlines flying between USA and India.
Indian Eagle issues the cheapest tickets for all Air India flights between USA and India. Get the best airfare deal for your San Francisco – New Delhi trips on IndianEagle.com.