Long-haul international travel between two hemispheres, the West and the East, the US and India involve several considerations, such as transit visa, check-in baggage allowance, layover, connecting airports, destination network, and airlines at large. Most USA to India flights are routed through Europe and the Middle East – two major options for travelers flying to India or USA.
There are certain nuances of traveling through a third country, which often drives travelers to google such queries as, 'Should I travel to India from USA via Middle East or Europe?' Regardless of the best online flight deals offered by Middle East carriers and European airlines, traveling via the Middle East has a few advantages over traveling via Europe. Indian Eagle, a trusted travel-booking partner of Indians in America, has come up with this comparative guide to help you select the route that suites your preferences.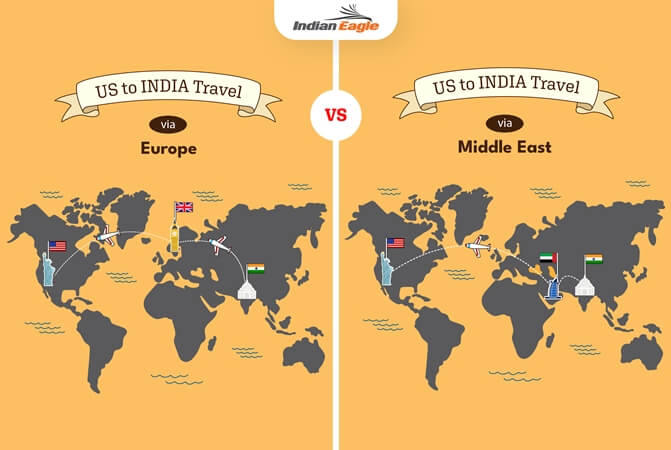 US-India Connectivity: European vs Middle East Airlines
To begin with, Middle East carriers such as Emirates, Etihad, and Qatar Airways (ME3 airline group) provide better connectivity between India and USA. In terms of global network, their centrally located hub airports give them a clear edge over European airlines, and other international airlines for that matter.
While European airlines (Lufthansa, British Airways, SWISS Air, Air France and KLM) connect US cities with 2-4 major gateway airports in metro cities like Delhi, Mumbai, Bengaluru, and Chennai; Middle East airlines provide one-stop flights from USA to more than five international airports in India, including those in tier-2 cities.

Emirates flies to 9 Indian cities, Etihad's India network expands to 10 cities (with two upcoming destinations, Kozhikode and Thiruvananthapuram), Qatar Airways serves 13 destinations in India, and Turkish Airlines operates flights to 6 Indian cities. Hope you would no more wonder, 'Should I travel to India via Europe or Middle East?'
Also, no European airlines currently fly to Kolkata. Flights from USA to Kolkata are operated by only Singapore Airlines and the Middle East carriers including Emirates, Etihad, and Qatar Airways. Lufthansa, KLM and British Airways terminated their service to the gateway to the eastern region of India.
Ease of Transit: Middle East vs Europe
Transiting through the Middle East is a hassle-free experience, especially for Indian nationals traveling to USA from India and vice versa. Precisely, transit in the Middle East is a lot easier than that in Europe if you travel back to India with an expired US visa. Most European countries, particularly those in the Schengen zone, have a rigid policy for international transit passengers from India as far their visa validity is concerned. There are many instances of denial of boarding to them. On the other hand, Qatar and the UAE's relaxed policy for normal Indian passport holders let them transit through international airports when they go back home from the US with their expired visas.
Itineraries with airport change in a Schengen country or connection between two Schengen countries make travel a lot difficult for Indian nationals, even those having a Green Card or Canadian PR. Despite having legal permanent residency (LPR) in the US, you need a short-stay Schengen visa for either way of travel, onward or return, through two Schengen countries or two airports in one Schengen country. Needless to say, it is not easy to obtain a Schengen visa.
USA to India Premium Economy: Europe vs Middle East  
Not everyone has deep pockets to afford business class flight tickets to India/USA. If you are looking for a better option than the economy class and a less expensive alternative to business class, then European airlines' Premium Economy is the answer to all your queries such as which route, Europe or Middle East, is better for traveling between USA and India.
Lufthansa's premium economy seats to India offer 50% more legroom than its economy seats plus other perks of flying premium economy such as extra free baggage, priority boarding and additional food and drink options. British Airways' premium economy class comes with a seat pitch of 32 inches. Air France-KLM's premium economy passengers enjoy SkyPriority access, which includes priority boarding, check-in, and priority baggage delivery besides comfortable seats with 38-inch pitch, leg rests, headrests and foot rests. 
As of now, most Middle East carriers offer a classic three-class configuration on board. Only Emirates' Premium Economy will be available on flights to Bengaluru and Mumbai from 29 October. Also, Etihad's 'Economy Space' seats with 4-inch extra legroom on its A350-1000 aircraft can be considered an alternative to Premium Economy.
Stopover Programs in Transit: Middle East vs Europe 
Should you travel to India via the Middle East or Europe? The answer lies in your itinerary with a long layover in the UAE, Doha, or Istanbul. A long layover can be much more exciting than short transit/connection, as Middle East airlines offer the best stopover programs in the world for international transit passengers to explore their intermediate hubs almost for free.
Emirates and Etihad Airways' free stopover programs with complimentary hotel stay are available for US-India itineraries with 8+ hour layover time at Doha or Abu Dhabi. Turkish Airlines transit passengers can opt for a free Istanbul Tour if their layover is more than 6 hours. If the connection time exceeds 20 hours, the airline offers complimentary one-night accommodation in Istanbul. Qatar Airways offers stopover programs for transit passengers with 12+ hour layover at Doha Hamad Airport.
Among European airlines serving US-India routes, only Swiss Airlines' stopover program is the best. It includes eight travel packages with hotel accommodation and a Swiss Travel Pass that allows unlimited free rides on Switzerland's public transportation system. Air France-KLM also introduced free stopover tours in Paris and Amsterdam for Flying Blue (their loyalty program) customers.
Free Baggage Allowance: Middle East vs Europe
Which route – Middle East or Europe – is best for traveling between USA and India given my bags to be checked in?
For international travelers planning a long trip, check-in baggage allowance is a key deciding factor in choosing an airline for their travel to India/USA. Middle East airlines are quite generous with their baggage allowance for flights to India, which is one of the reasons to book your travel on Qatar Airways, Etihad, Emirates, Turkish Airlines, or Kuwait Airways. All these airlines let economy travelers check in two bags (each weighing up to 23 kg) for free.
On the other hand, Lufthansa, SWISS Airlines, and KLM Airlines allow their economy passengers to check-in only one 23-kg bag for free. Their premium economy passengers are entitled to two pieces of free check-in baggage. You can check-in one to two bags on Air France and British Airways flights to India depending on economy fare types (light, standard, flex).
USA to India Business Class Travel: Middle East vs Europe
With an unmatched experience of comfort and luxury, Middle East airlines have gained an upper hand over their European counterparts in the business class category. Qatar Airways ranked as the world's best business class airline 2023 by Skytrax is an unbeatable champion. Emirates and Etihad occupied the third position and tenth position respectively in the rankings. Qatar Airways' Qsuite with cabin dividers, Emirates' personal mini-bar and onboard lounge access for its business class passengers (on A380), Etihad's sophisticated cabins and lobby lounge service on A380 take your on-board experience to another level of luxury.
Almost all business class cabins of Middle East airlines feature fully-flat seats with direct aisle access. However, most European airlines' business class flights to India have angled lie-flat seats (and no direct aisle access) except only British Airways and Virgin Atlantic offering fully flat seats on certain routes. Air France has upped its business class game on B777-300 flights, whereon business cabin features private cubicles with fully flat seats in 1-2-1 configuration. And only two of these airlines – Virgin Atlantic and Air France – found place in Skytrax's list of 10 best business class airlines in 2023.
Inflight Entertainment: Middle East Airlines vs European Airlines
Middle East airlines, mainly Emirates, Etihad, and Qatar Airways continue their supremacy in this category as well. Each of these airlines boasts of an award-winning inflight entertainment (IFE) system for nonstop entertainment throughout your long-haul flight. Emirates' IFE called 'ice' leaves you spoilt for choice with its 6,500 channels in multiple languages (including Indian regional languages).
You can also create your own entertainment playlist on the airline app and connect it to the IFE to enjoy your favorites during your Emirates flights from USA to India. Etihad's 'E-BOX Stream' offers over 1000 hours of on-demand flight entertainment and Qatar Airways' 'Oryx One' has well over 6,000 options, from movies and shows to music and games.
European Airlines also provide a decent number of on-demand entertainment options for its international travelers. British Airways, besides its 'High Life' movies, TV, and audio, gives its passengers access to Paramount+ shows. If you are flying on Air France, you can choose from 370 international films or watch TV shows and HBO content. SWISS Airlines flights to India come with inflight entertainment comprising 200 films, 250 TV programs, documentaries, 100+ music playlists, CDs, podcasts and audiobooks. Lufthansa and KLM Airlines keep their passengers entertained with a mix of latest blockbusters, TV shows, music, audiobooks, podcasts and games.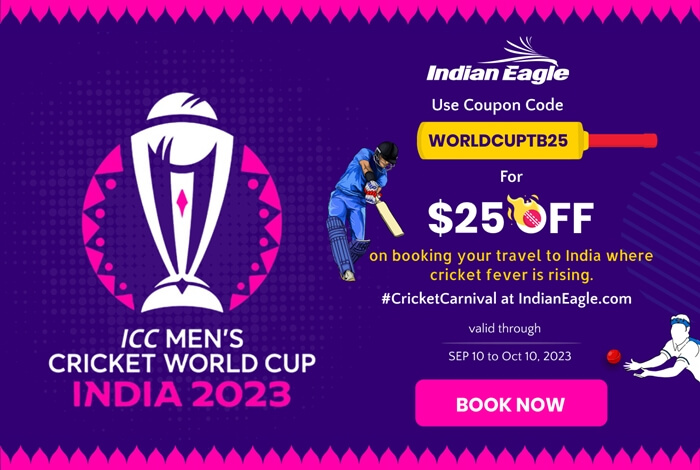 Safety Rankings of Airlines: Middle East vs Europe
Air travelers from across the world have voted Qatar Airways, Emirates, and Turkish Airlines to top 2, 4, and 6 positions in the latest World Airline Awards by Skytrax, which provide a window into passengers' personal experience and satisfaction with a particular airline. Only one European airline – Air France – made it to the list of top 10 best airlines in 2023.
Doha-based Qatar Airways, Abu Dhabi-based Etihad Airways and Dubai-based Emirates were also featured among the top 10 best airlines 2023, according to AirlineRatings.com, which again saw only one European carrier (Virgin Atlantic) in its first 10 places. The same airlines were named among the top 10 safest airlines of 2023 in the AirlineRatings.com study.