Good news for those traveling on Swiss International Airlines and Brussels Airlines! These two Lufthansa Group airlines are now offering various stopover programs in their respective 'hub' countries to travelers flying to and from their respective points of commencement in the United States, Canada, India and other countries.
To keep up with the evolving travel trends including the one to make the most of stopovers during long-haul air travel, Lufthansa Group has introduced different stopover options for passengers of Swiss International Airlines and Brussels Airlines. Swiss International Air Lines' "Stopover Switzerland" program is a collaborative venture with Switzerland Tourism. Brussels Airlines' "Brussels Stop Over" program is the best opportunity to visit Brussels and Durbuy during a stopover in Belgium.
The United States, India and Singapore are the focus markets of Swiss International Airlines' Stopover Switzerland program, whereas Brussels Airlines' stopover program is meant for those traveling to and from the US, India, Canada, Israel and Europe via Brussels Airport.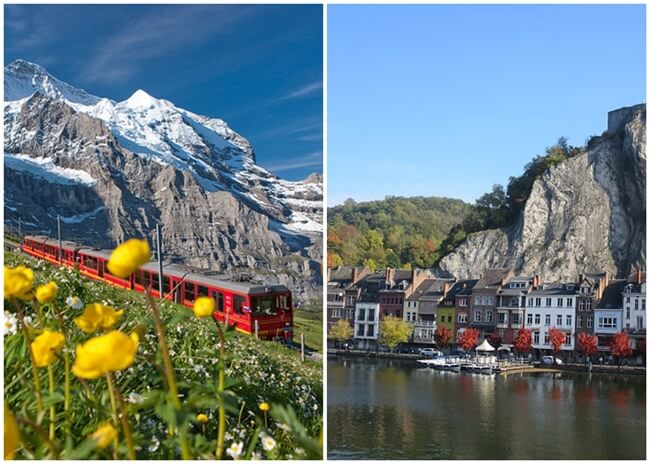 Those flying Swiss International Airlines from USA to India or Singapore or some other destination can avail the stopover program in Switzerland for one to four nights. The Stopover Switzerland program consists of eight customizable travel packages; each with a three-or-four-star-hotel accommodation and public transportation. The Switzerland travel packages for transit travelers are available in two categories: single destination and multi destination.
If you opt for a single-destination travel package of the Stopover Switzerland program while booking your trip on SWISS Airlines flights to Delhi, Mumbai, or Singapore from the US, you can visit only one Swiss city to spend the stopover. Whichever single-destination package you choose, it includes a Swiss Travel Pass for local transportation in first or second class. The pass gives hassle-free access to Switzerland's extensive public transport system for multiple rides during the stopover. The package does also come with useful tips on local tourist attractions and activities.
The multi-destination Stopover Switzerland packages for transit travelers from USA to India or other country include a fixed itinerary, seamless transportation to different tourist places, luxury overnight stay in three or four star hotels and a number of things to do during the stopover. Notably, Swiss International Airlines operates flights from 7 major airports in the United States, including Los Angeles (LAX), San Francisco (SFO), Chicago (ORD), New York (JFK), Newark (EWR), and Miami (MIA).
One of the Lufthansa group members, Brussels Airlines has introduced a similar stopover program for its passengers from and to the US, India, Canada, Israel and Europe. You can avail the 'Belgium Stop Over' program at the time of booking Brussels Airlines flights on US-India routes (from Washington and New York to Mumbai and Ahmadabad) or other routes. You can make the most of stopover in two different Belgium cities when transiting at Brussels Airport.
Brussels Airlines' Belgium Stop Over program includes a stay for one to five days in a number of Belgium cities which are within an hour's drive from each other. You can choose to visit any two cities during your long stopover. You can indulge in various tourist activities and hop on to museums for free in your chosen Belgium cities.
"SWISS Airlines and Brussels Airlines' stopover programs seem the beginning of a greater time for international travelers transiting through Europe. It may push major European airlines to introduce similar stopover travel programs. With most of the Middle East airlines offering free stopover at their respective hubs in the Gulf region, many travelers from USA, India and other eligible countries prefer to fly via the Middle East. With European airlines jumping on to the bandwagon, travelers will have more choices to spend stopovers in a much better way," opined Chief marketing officer of IndianEagle.com, a leading air ticketing agency in the US.