In a shocking incident dated 22 June 2022, four Indian travelers including two students faced denial of boarding on flights to USA from Bengaluru Kempegowda Airport. They were all Indian passport holders with itineraries having two Schengen layovers – Paris and Amsterdam – in Europe. Air France that operated the first international leg – from Bengaluru to Paris – did not onboard them due to their incomplete visa arrangement for the transit between two Schengen airports. The airline turned down their request for boarding. All of the four travelers were sent back home.
Some travelers end up meeting the same fate as the above for not having the right visa required for international flights between USA and India via Frankfurt and Munich in Germany. Itineraries having two Schengen layovers in Germany have the same visa requirement as itineraries involving two Schengen countries, for Indian passport holders. As a rule of thumb, Indian nationals must have a regular Schengen visa for hassle-free connection/transit via two airports in the Schengen zone.
'I am an Indian national with a valid Green Card. Do Green Card holders need a Schengen visa for Air France-KLM or Lufthansa flights via two Schengen airports?'
Yes, they do. Despite holding a Green Card or Canadian PR, you require a valid Schengen visa (C Type) to avert denial of boarding on USA to India flights with more than one Schengen layover. Indians having the LPR status in Canada or the US, are not immune to this particular visa rule.
I will travel on Air France-KLM codeshare flights from Houston to Delhi this summer. Do I need a Schengen visa even though the itinerary is operated by two codeshare partners?
In such itineraries, Air France operates the Houston to Paris flight, and the Paris to Amsterdam to New Delhi leg is operated by KLM. Though these two airlines are codeshare partners, it does not immunize you against the Schengen visa rule for Indian passport holders. The same is applicable to Indian nationals scheduled to travel on flights operated by Lufthansa and its partner SWISS Airlines via Frankfurt/Munich and Zurich respectively. Since Both Frankfurt/Munich and Zurich fall in the Schengen region of Europe, any itinerary having connection between two Schengen airports or countries requires you to have a regular Schengen visa (C Type).
Let's assume that your flight from Atlanta to Mumbai is operated only by Lufthansa. You need a regular Schengen visa even for Lufthansa-only flights to India/USA if the itinerary has two Schengen airport layovers in Germany. Refer to the below Lufthansa itinerary from IndianEagle.com, a most trusted air-ticketing partner of Indians in America.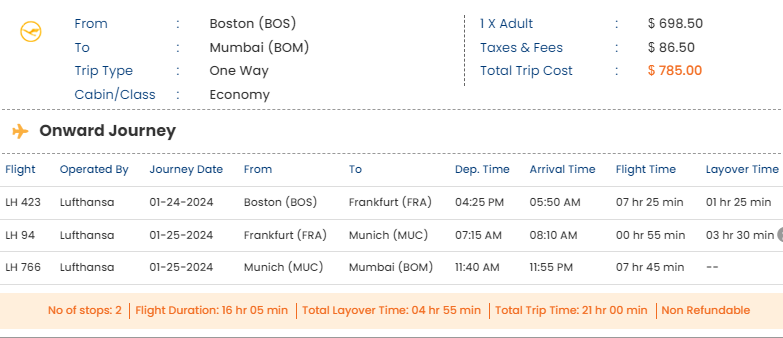 Can I transit through more than one Schengen country or more than one airport within the Schengen area, with an airport transit visa? 
Precisely, a big NO. A Schengen airport transit visa does not allow Indians to transfer from one airport (Frankfurt) to the other (Munich) within Germany, or transfer from one Schengen area (Paris) to the other (Amsterdam). Having a regular Schengen visa is compulsory for hassle-free, safe travel between USA and India via two Schengen area airports.
An airport transit visa is basically required by the nationals of certain countries which are not eligible for visa-free transit even through one Schengen area airport.