Abu Dhabi is a great city to explore during a long layover between two international flights. Etihad Airways' Abu Dhabi stopover programs for international transit passengers are available during your summer travel or Christmas holiday travel between the US and India in 2023. The stopover programs are loaded with deals and discounts which you can utilize to experience the culture, heritage and hospitality of the UAE capital within your budget. You can book cheap Etihad Airways tickets through Indian Eagle for US to India flights with long transit hours in Abu Dhabi.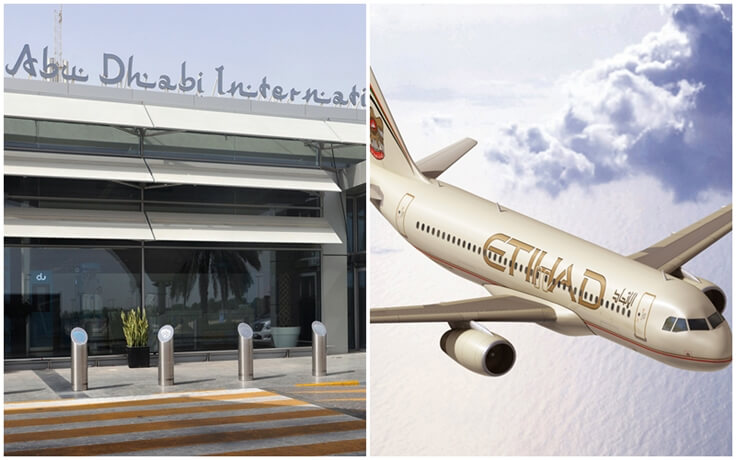 Etihad Airways' Stopover Programs in Abu Dhabi 
Etihad Airways' stopover programs include Transit Connect for international passengers having 10-24 hours of layover in Abu Dhabi. The Transit Connect package comes with complimentary one-night accommodation at two hotels: Premier Inn Abu Dhabi Airport and Premier Inn Abu Dhabi Capital Center. Etihad Airways fare deals below USD 500 (inclusive of taxes) for a one-way trip, to say from New York to Mumbai, are not eligible for the Transit Connect package. Similarly, you can apply for Etihad Airways' complimentary Transit Connect program if your round trip, to say between SFO and Delhi, meets the minimum fare requirement of USD 750 per adult passenger.
The Transit Connect package for Abu Dhabi sightseeing stopover must be booked at least 5 days before your scheduled onward flight to Abu Dhabi International Airport.
"Stopover on us" is another free Abu Dhabi stopover program by Etihad Airways. Available until 20 December 2023, Etihad Airways' 'Stopover on us' package includes complimentary stay for up to two nights or 48 hours at 3-star and 4-star hotels, such as Centro AI Manhal, Premier Inn, Ramada, and Traders Hotel in Abu Dhabi. The hotels participating in this program offer 24-hour check-in and free in-room Wi-Fi. The airline highly recommends that you book this package (if it is suitable for your itinerary) at least 3 days prior to your arrival in Abu Dhabi.
'Stopover on us', among Etihad Airways' free stopover programs, gives ample time and space for interesting things to do and see in Abu Dhabi during transit for over 24 hours. Hence, this program is suitable for multi-city itineraries for USA to India travel via Abu Dhabi.
Etihad Airways' 'Best of Abu Dhabi' stopover program offers discounted accommodation at 4-star and 5-star hotels for up to four nights or 96 hours. You can get up to 40% off at such premium hotels as Novotel, Grand Hyatt, InterContinental, Park Rotana Hotel, Anantara Eastern Mangroves, and Royal M Hotel & Resort participating in the 'Best of Abu Dhabi' program until 20 December 2023. Guests can have complimentary buffet breakfast, get free Wi-Fi, and select room types of their choice.
Regardless of your economy flights or business class tickets to India, you can apply for any of Etihad Airways' Abu Dhabi stopover programs depending on your itinerary. Travelers applying for the stopover programs must be 21 years or older.
What to do during transit in Abu Dhabi for 5 to 10 hours
Itineraries with 5-10 hours of transit layover in Abu Dhabi are not eligible for Etihad Airways' free stopover programs. However, you can go out of AUH airport and visit nearby tourist places. 8 hours of connection time at Abu Dhabi Airport is sufficient for a visit to Yas Island which has the world's fastest rollercoaster and one of the world's best waterparks. Yas Island spread over 25 square kms is a most popular leisure island where you can reach within 20 minutes by a "Visit Abu Dhabi Shuttle Bus" from the airport. The shuttle bus provides hassle-free service to domestic and international tourists for free.
Yas Island, one of the few best places to visit during a stopover or transit in Abu Dhabi, houses Yas Mall, a retail shoppers' paradise having a total area of 33,000 sqm. Yas Beach dotted with mangrove trees is another attraction of Yas Island. Ferrari World on Yas Island is the world's first Ferrari-themed indoor park.
Even if your layover at Abu Dhabi is as short as 5 hours, you can visit the Sheikh Zayed Grand Mosque, a majestic cultural landmark in the capital city and the grandest religious architecture in the country.
Transit visa requirements for Abu Dhabi stopover/layover  
You need a valid transit visa to step out of AUH Airport and explore Abu Dhabi City during a transit layover or stopover. Citizens of the United States, the UK, Singapore, New Zealand, Switzerland, Ireland, Japan, Australia, Germany, France, Canada, Mexico, Finland, and a few other countries are eligible for the UAE's visa on arrival at Abu Dhabi International Airport.
A single-entry transit visa to Abu Dhabi is issued either for 48 hours or 96 hours. 48-hour transit visas to Abu Dhabi are issued to international passengers, regardless of their nationality, for free. Precisely, Indian passport holders can apply for single-entry 48-hour transit visas in advance if they have confirmed flight tickets for onward travel to a third destination from Abu Dhabi and passports valid for at least 6 months at the time of travel. Valid for 14 days from the day of issuance, a 48-hour transit visa is applicable for a layover/stopover from 8 to 48 hours in Abu Dhabi.
96-hour transit visas to Abu Dhabi are issued for a fee of AED 50 to international passengers, irrespective of their nationality. This visa cannot be extended or renewed; hence, you will have to make onward travel from the UAE within 96 hours from arrival. The eligibility criteria for a 96-hour transit visa to Abu Dhabi are the same as that for a 48-hour transit visa. You must have a passport valid for 6 months and a confirmed airline ticket to a third destination from Abu Dhabi.
What to do at Abu Dhabi Airport during a transit layover
You cannot apply for a transit visa to Abu Dhabi unless your itinerary has a layover as long as 8 hours. Without a transit visa, you cannot explore the UAE capital city during a layover. You can spend a layover less than 8 hours exploring the airport. Unlimited Wi-Fi is available for free across the airport. Using Wi-Fi to check your social media feeds, watch OTT content, or google something on a mobile device is how to kill your time at Abu Dhabi Airport.
You can go on a shopping spree at AUH Airport. Duty-free shopping is one of the best things to do during a transit, according to Indian Eagle's Abu Dhabi Airport layover guide. Terminals 1 and 3 are the getaways to shopping for brand apparels, accessories, chocolates, liquor and souvenirs. Mont Blanc, Rolex, Emporio Armani, Bulgari, Hugo Boss, Salvatore Ferragamo, WHSmith, Polo Ralph Lauren, Fendi, Pandora, Burberry, Hermes, and Swarovski among more than 120 brand retailers at the Terminals 1 and 3. You can also buy a piece of gold, pearl or diamond jewelry at Pure Gold at AUH Airport. If you're fond of reading, you can shop for quality reading materials including books and magazines at Relay in T1.
Among facilities and services at Abu Dhabi Airport, free and paid showers are available for transit travelers during a layover. You can take a shower and freshen up before boarding another long-haul flight to the US or some other destination. You can locate free showers near Gates 32, 35 and 37, in addition to luxury shower facilities at the AUH airport lounges where guests are given shower kits comprising toiletries, disposable towels and footwear.
"In our knowledge, Etihad Airways' lounges at Abu Dhabi Airport are free to premium passengers with Etihad business class flight tickets. The members of Etihad Guest Silver, Gold and Platinum tiers can also access the Etihad lounges for free. Etihad Airways, the flag carrier of the UAE, owns five lounges at AUH – Premium Lounge in T1 and T3, First Lounge & Spa in T3, US Premium Lounge in T3, and Arrivals Lounge in the arrivals area," said the Chief Information Officer of IndianEagle.com, a leading air-ticketing agency in the US-India travel sector.
Abu Dhabi International Airport's facilities and services include baby care, children's play area, and strollers for family travelers with kids or infants. Baby care facilities, including nursing rooms, are located near restrooms in the terminals. You can feed the infant and change diapers in privacy. You can pick a stroller to get around the airport with your baby during a layover. Baby strollers are available for free at several pick-up points. Terminal 1 has children's play area on the landside and the airside where you can keep kids engaged during a short layover.
You can take a power nap to energize yourself during a layover at Abu Dhabi Airport. There are free rest zones with reclining seats, but their location in noisy open areas may make it difficult for you to get asleep. AUH Terminal 3 has sleeping pods where you can catch some quality sleep in privacy and comfort for a fee. GoSleep at Terminal 3 AUH is a modern-day lounge of sleeping pods with 180°-fold-flat beds. Designed like convertible business class seats on aircraft, GoSleep pods have charging points for laptops and mobile phones, secure luggage storage, and Internet facility. The airside transit hotel in Terminal 1 is another option for unwinding and overnight sleepover.
Please note AUH Airport offers free shuttle service between terminals, and the inter-terminal transport service is available every 15 minutes. The airside of T1 has a medical clinic where travelers are provided with emergency medical care, among the Abu Dhabi airport facilities and services. The 24/7 medical service clinic at AUH is accessible from other terminals, with the help of an airport staff. You can save this Abu Dhabi Airport guide for the convenience of your parents or other family members traveling unaccompanied via Etihad Airways' hub in the UAE.