Good news for those flying Etihad Airways through Abu Dhabi! The airline is up with a great complimentary offer for passengers traveling to and from any of its destinations worldwide via the UAE capital. The promotional offer is a free stopover in Abu Dhabi. Etihad Airways' Free Abu Dhabi Stopover program includes free luxury hotel accommodation for two nights in the capital city.
A similar promotional offer was introduced for transit passengers of Qatar Airways flights via Doha two years back. However, it is not too late for Etihad to woo international travelers with a free luxury stopover in Abu Dhabi. Etihad's free Abu Dhabi stopover program for passengers of business class flights and first class is a short-time offer available with online booking of Etihad flight tickets from a leading travel agency like IndianEagle.com from April 10 to June 15, 2019 for traveling between April 21 and July 15, 2019.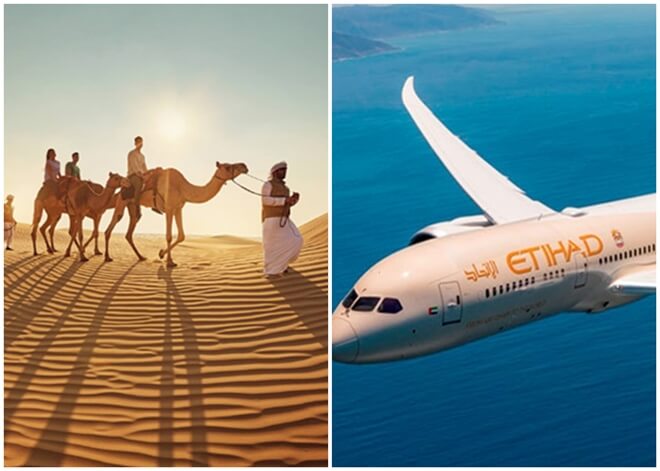 Those planning to fly Etihad from USA to India can take advantage of the free Abu Dhabi stopover program which comes with the new 48-hour free transit visa to the UAE, one of the new visa rules for Indian passport holders. The free 48-hr transit visa to Abu Dhabi and Dubai can be extended by another 48 hours at a little cost. Etihad Airways' passengers with a confirmed onward journey are eligible for the free UAE transit visa and the free 2-day stopover in Abu Dhabi.
You can get your 48-hr transit visa to Abu Dhabi within 30 minutes from the dedicated visa counter located in the transit area of Abu Dhabi airport's terminal 3. The 48-hour / 4-day transit visa to Abu Dhabi can be upgraded to a tourist visa at the same counter.
Over 15 luxury hotels including Intercontinental Abu Dhabi, Radisson Blu, and the Courtyard by Marriott WTC have joined Etihad Airways' free Abu Dhabi stopover program to offer two-night accommodation. You can choose from the exclusive range of hotels on board. Notably, your choice is subject to availability of accommodation on your dates.
Not only Etihad's business class passengers but also those with cheap Etihad economy flight tickets to India or any other destination via the UAE capital can make the most of the free Abu Dhabi stopover program including a two-night stay. In spite of flying Etihad Airways economy class, you can explore the most popular tourist attractions of Abu Dhabi using the free stopover program. You need to pay a reasonable amount for the first night's accommodation at a hotel of your choice, and it comes with the second night's accommodation for free.
In order to avail Etihad's free Abu Dhabi stopover program and experience traditional Arabian hospitality, you need to book a multi-city itinerary / trip on Etihad Airways.
Also Check: Emirates Airlines to Connect with 51 Cities in India