The Thousand pillar temple at Warangal in Andhra Pradesh has stood the test of time and completed an impressive 850 years. It is a fine specimen of the Kakatiyan style of architecture from the 12th century.The star shaped temple with shrines and lingams has Archeologists queue up to study its architecture and planning.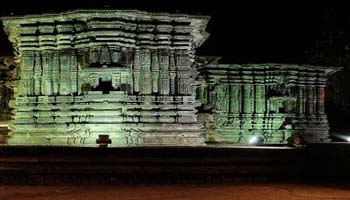 Built by the Kakatiya king Rudradeva, the deity worshipped at the temple is Rudreshwara Swamy, a personification of Lord Shiva.The inscriptions on one of the stones gives account how King Rudradeva constructed the temple.
Historians believe that the temple deity is named after the king Rudradeva.This happens to be a tradition during those days. Thus the temple got its name as Sri Rudreshwara Swamy Temple.
Despite the one thousand pillars, at no point does a pillar obstruct a person from any direction to view the deity of another temple. Three shrines called Trikutalayam are dedicated to Lord Shiva, Lord Vishnu and Lord Surya.
The Nandi bull is carved out of a black basalt monolith. Constructed on a platform raised to one metre higher from the ground , the surrounding garden has small lingam shrines. Rock cut elephants are the important themes of the prevailing dynasty.
The Rudreshwara Mahalingam was installed on January 19,1163. The temple was built on 'Magha Shudda Trayodashi (Thursday)' of Chitrabanu year of Shalivahanashakam.According to the Gregorian calendar, the day falls on January 19 of 1163.
To commemorate the feat the temple was lit up with colourful light. The Government of India had sanctioned Rs. 3 crore in for restoration of Kalayana Mandapam in 2005.
Indian Eagle has great deals to Andhra Pradesh. The visit will benefit both the devotee and patrons of architecture. Book with Indian Eagle to see the temple which has stood its ground for so many decades.