Savitri Jindal is one of the few Indian housewives having stepped out of the domestic threshold only to enter the family business. The mother of nine children was 55 years old when her husband, Om Prakash Jindal, the founder of the Jindal Group, died in a helicopter crash in 2005. Since her (arranged) marriage at the age of 15, Savitri Jindal had been far from the world of business and India's billionaire club, though married off to an industrialist. She greyed her hair while taking care of the household matters and carrying out the duties of a committed homemaker.
After her husband's demise, Savitri Jindal discovered a whole new world where she found herself as a politician, social activist and billionaire at the age when grey-haired people plan to retire from household or professional duties. Today, 69-year-old Savitri Jindal is the richest Indian woman with net worth $5.6 billion (INR 40200 crore).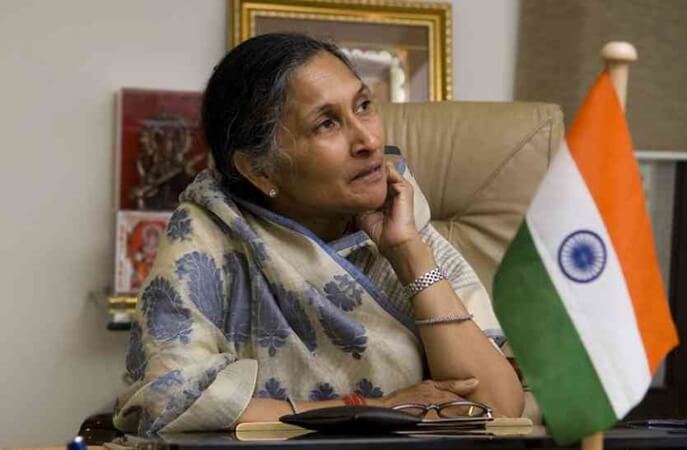 The matriarch of one of India's wealthiest business families and the chairwoman of the Jindal Group and Emeritus based in New Delhi, Savitri Jindal hardly finds a mention in media unlike her contemporaries, including India's richest businesswomen like Biocon owner Kiran Mazumdar Shaw, the Godrej Empire's successor Smitha V Crishna, HCL Technologies' CEO Roshni Nadar, and Indu Jain, the chairperson of Bennett Coleman & Co. Ltd.
Though she is not among the world's wealthiest female billionaires, she took the bull by horn while transiting through a transformative phase from a homemaker to a billionaire woman with multiple hats. Her metamorphosis was full of challenges.
She was married off before she could attend high school. Obviously, she is not even a graduate. The lack of formal college education did not deter her from inheriting and preserving the legacy of the Jindal family in business, politics and social service. The revenue of the Jindal Group quadrupled under the chairmanship of Savitri Jindal who had no knowledge of the family's business ventures and annual revenues until she turned 56.
"In our family, women do not venture out. We remain in charge of the house while the men take care of everything outside. I had never been to our office. Jindal sahab (her husband) used to tell me that everyone in the office was a relative and elder to me. Women in our family were not supposed to speak to elders," she told Forbes during an interview in 2010 when her net worth was $14.4 billion.
Also Check: Richest Indian American Women Entrepreneurs
Savitri Jindal inherited not only stakes in the Jindal Group of companies but also her husband's political constituency, Hissar in Haryana. She was elected to the Haryana Vidhan Sabha twice, in 2005 and 2009. In 2005, she was appointed as the Minister of State for revenue, disaster management, housing and rehabilitation. In 2013, she took oath as the Minister of State for urban local bodies and housing. She also helmed the office of Minister of Power until 2010.
India's richest woman billionaire Savitri Jindal, who is always seen draped in simple sarees, is an embodiment of "simple living high thinking."
At the age of 69, she remains aloof from the business matters and keeps herself engaged in overseeing the various social welfare programs in education and healthcare initiated by the Jindal Group founder for their factory workers and the needy. She does also remain focused on ensuring the family integrity and unity among her children and grandchildren.