Demand is always high for Emirates' one-stop flights between the USA and India. Effective on August 5, 2021, the UAE lifted the ban on transit of travelers from India. Those who are eligible for entry into the United States can travel on Emirates from India and transit via Dubai. Since India set up the air bubble travel corridor with the US, the UAE and other countries, Emirates Airlines joined the corridor and resumed its one-stop flights between USA and India. Since then, Emirates has been providing connections from the US on air bubble flights to India from Dubai. Cheap Emirates flights to India are available from New York JFK, San Francisco, Chicago, Boston, Seattle, Washington DC, Dallas, Houston, Los Angeles, Newark EWR, and Orlando.
Currently, Emirates' destinations in India include Delhi, Mumbai, Kolkata, Hyderabad, Chennai, Bengaluru, Kochi and Thiruvananthapuram. Emirates flights to Ahmedabad and Kozhikode continue to remain suspended until further notice. You can conveniently book cheap Emirates flight tickets on IndianEagle.com, a leading US-India travel-booking portal or by calling the toll-free 01-800-615-3969.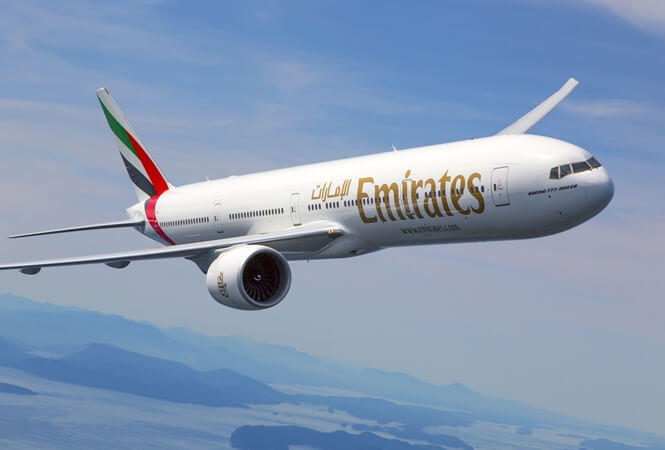 UAE's Visa on Arrival for Indians
The UAE announced visa on arrival for Indians. Currently, only Indians having a US visitor visa/Green Card or a UK/EU residence visa valid for minimum 6 months can apply for a visa on arrival in the UAE. Your passport must be valid for 6 months from the date you arrive in the UAE. The UAE's visa on arrival allows you to stay for a maximum of 14 days and costs AED 100. The duration can be extended only once for another 14 days, by paying a renewal fee of AED 250.
Emirates flights to USA in 2022
Starting from October 2021, Emirates Airlines has been operating as many as 78 weekly flights to and from the US with increased frequency of its services for five of the 12 destinations in the US. The weekly frequency of Emirates flights to Boston, Dallas, Seattle, New York, San Francisco, and Washington DC has been increased to five from four, effective October 1. Emirates has already restored the pre-pandemic frequency to Chicago and Los Angeles. By December 2021, nearly 90% of Emirates' pre-pandemic flights to the US has been restored.
Who can travel on Emirates air bubble flights to India? 
On Emirates flights from USA to India in the air bubble corridor through Dubai, both US citizens and Indian nationals can travel. US citizens need either an OCI/PIO card or a valid visa to enter India. All tourist visas to India issued in paper or electronic format before October 6, 2021 are invalid for entry to India. All medical visas to India issued on or before October 2020, continue to remain deferred. E-medical visa, e-medical attendant visa, e-conference visa and e-business visa issued on or after March 30, 2021 are valid for travel to India. As usual, Indian nationals are eligible for Emirates flights to India, regardless of their US visa.
Outbound Emirates flights from India to USA do not have passport or visa-specific restrictions, unlike European airlines. US citizens with/without OCI/PIO card, US green cardholders, and Indian citizens with B1/B2, H1B, H4, F1 or any other US visa can travel on Emirates flights from USA to India.
India's guidelines for international travelers transiting in Dubai
Fully-vaccinated travelers from the USA do not require a negative RT-PCR test report for transit via Dubai, as both Emirates Airlines and Dubai International Airport are following India's current guidelines for international arrivals. You are no longer subject to post-arrival testing in India due to your transit via Dubai or any other airport in the Middle East unless you are found symptomatic of COVID-19 or randomly tested on arrival. If you take a stopover in Dubai for one day or more, you may be required to take an RT-PCR test before continuing your travel to India from Dubai. To be precise, fully-vaccinated travelers and children under 5 years of age are not required to take an RT-PCR test before their departure from the US.
Rules for travelers from India having layover of 10 hours in Dubai
Until February 21, 2022, international travelers from India were required to take two pre-departure COVID-19 tests: a regular RT-PCR test within 48 hours of departure and a rapid RT-PCR test at the departure airport within 6 hours of scheduled boarding, if the layover/transit time in Dubai is 10 hours or more. Starting on February 22, Dubai has eliminated one of the two pre-departure RT-PCR tests. If your India-USA itinerary has a layover/transit for 10 hours or more in Dubai, you need to take only one test within 48 hours of your departure from an international airport in India.