Is Emirates flying to India from USA now? Many travelers have got similar queries since Emirates flights from India to Dubai are suspended through May 4 in the wake of the UAE's travel ban on India. There is no such restriction on Emirates Airlines' flights to India via Dubai. You can buy cheap Emirates flights tickets on IndianEagle.com, a leading travel-booking portal trusted by the Indian community in America.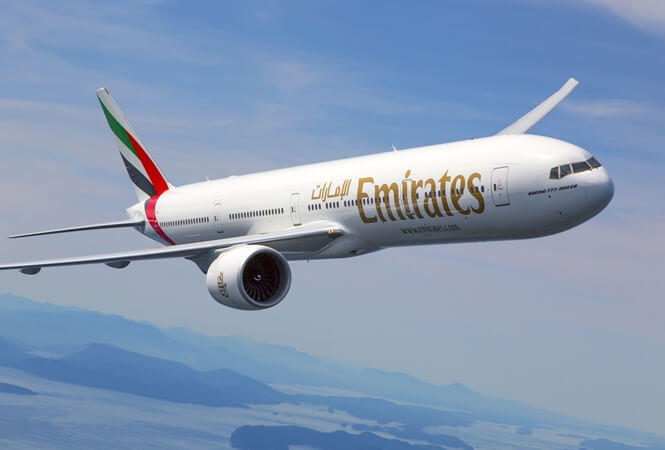 Emirates' Air Bubble flights between USA and India
Since India set up the air bubble travel corridor with the US, the UAE and other countries, Emirates Airlines joined the corridor and resumed its one-stop flights between USA and India. Since then, Emirates has been providing connections from the US on air bubble flights to India from Dubai. Cheap Emirates flights to India are available from New York JFK, San Francisco, Chicago, Boston, Seattle, Washington DC, Dallas, Houston, Los Angeles, and Orlando. Emirates will resume flights from Newark EWR in June this year.
Currently, Emirates' destinations in India include Delhi, Mumbai, Kolkata, Hyderabad, Chennai, Bengaluru, Kochi and Thiruvananthapuram. Emirates flights to Ahmedabad and Kozhikode continue to remain suspended until further notice.
Who can travel on Emirates air bubble flights to India? 
On Emirates flights from USA to India in the air bubble corridor through Dubai, both US citizens and Indian nationals can travel. US citizens need either an OCI/PIO card or a valid visa to enter India. They cannot travel on Emirates or any other airline, using a tourist visa to India, which is currently suspended in both electronic and paper formats. All medical visas to India issued on or before October 2020, continue to remain deferred. E-medical visa, e-medical attendant visa, e-conference visa and e-business visa issued on or after March 30, 2021 are valid for travel to India. As usual, Indian nationals are eligible for Emirates flights to India, regardless of their US visa.
Outbound Emirates flights from India to USA do not have passport or visa-specific restrictions, unlike European airlines. US citizens with/without OCI/PIO card, US green cardholders, and Indian citizens with B1/B2, H1B, H4, F1 or any other US visa traveled to USA from India by Emirates until the UAE banned flights from India with effect on April 25. If the ban does not extend beyond May 4, Emirates will resume flying Indian nationals on a US tourist visa.
India's guidelines for travelers transiting in Dubai
India's current guidelines for international travelers transiting in the Middle East apply to passengers of Emirates flights from the USA. Emirates' India-bound passengers need to give their swab sample for a molecular test at a designated area at the arrival airport. They need not wait for the test result. They can exit the arrival/entry airport or proceed for onward domestic travel by air after giving their swab sample. If the sample is found negative, self-monitoring of health is recommended for two weeks. However, Mumbai-bound travelers with Maharashtra being their final destination have to undergo 7-day institutional quarantine unless they meet eligibility norms for exemption.