New York City added a new visual extravaganza to its list of things to see in the City of Dreams for locals and tourists. It will wow both locals and visitors with a unique experience of the city's transition from night to the first light of the day on the 86th floor of the Empire State Building. It seems a promising attraction of the Big Apple.
The yesteryear tallest building in the world for nearly 40 years from 1931 till 1970, the Empire State Building in Midtown Manhattan announced access to its 86th floor Observatory for the unparalleled 'Sunrise Experience.' Watching the sunrise over the spectacular skyline of New York City from an awe-inspiring height is sure to be a million-dollar experience.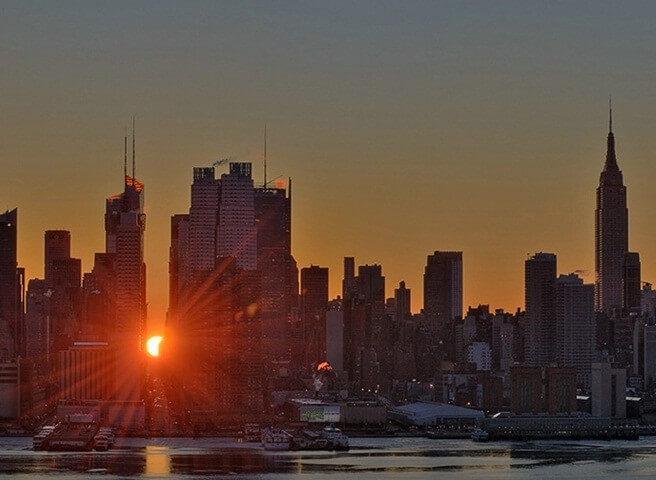 Named after the Empire State, one of the nicknames for New York City, the Empire State Building will initially release only 100 tickets a day from October 1 till November 20, 2016. Access to the Observatory for the Sunrise Experience is priced at $100 per person. Visitors will be permitted entry to the 86th floor Observatory before 30 minutes of sunrise.
Visitors will be treated to not only the morning beauty of New York City during sunrise but also the Empire State Building Sunrise Breakfast at STATE Grill and Bar in the lobby of the building. The breakfast is an exclusive offer to those who wake up before dawn. This option can be availed at the time of purchasing tickets for the Sunrise Experience.
The Sunrise Experience is described as an once-in-a-lifetime opportunity to wake up to 360-degree views of the city with increasing brightness of the skyline during sunrise. Hundreds of thousands wake up to greet the rising sun at the Grand Canyon, while the Empire State Building's Sunrise Experience is the first of its kind in New York.
Travel Beats is a digital magazine by IndianEagle, a US-based leading travel organization for Indians in America. Subscribe to Travel Beats' free newsletter for latest news and stories from across the United States.