The tourist train between Visakhapatnam and Araku Valley has got the long-awaited European makeover in form of Vistadome glass coaches, which are somewhat modeled on the Glacier Express in Switzerland. The first of its kind in India, the air-conditioned Vistadome coaches fitted to the Visakhapatnam-Araku Valley passenger train will spellbind travelers with panoramic views of nature through large glass windows and a glass-domed ceiling, thereby giving them a feel of the Swiss Alps train.
Visakhapatnam, a short flight away from Hyderabad RGI Airport, is a popular tourist destination in Andhra Pradesh. Traveling the Visakhapatnam-Araku Valley route by train is one of the most scenic train journeys in India. On top of that, the newly launched Vistadome coaches are a pure delight to tourists. The Vistadome train coaches come with a host of breathtaking features including special observation lounges and push-back chairs with rotating seats.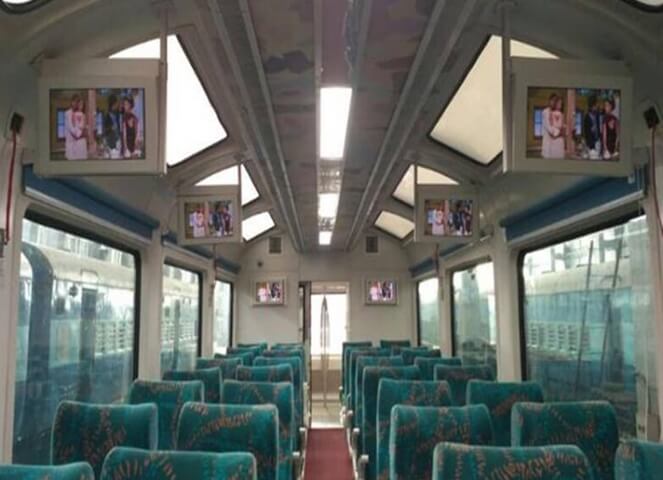 Among the unique features of Vistadome coaches of the Visakhapatnam-Araku Valley passenger train are double-wide reclining seats with a 360-degree rotating facility for an overwhelming joy of sightseeing. Each of the two Vistadome coaches cost INR 3.38 crore for 40 seats. Tourists now can drink to the beauty of natural sights along the 128-km route from Visakhapatnam to Araku Valley while sitting on the reclining, rotating, pushback chairs.
What's the most fascinating about the Vistadome coaches is the glass ceiling with electrically controlled transparency. To say precisely, opalescence of the glass-domed roof can be controlled to delight travelers with crystal-clear views of the outer world during the journey. Passengers of the Visakhapatnam-Araku Valley train can climb to special observation lounges in the Vistadome coaches for more spectacular views.
The Vistadome coaches are also fitted with automatic sliding doors and multi-tier luggage racks. The modern amenities that the glass coaches are equipped with for convenience of travelers include LED lights, GPS-enabled info system, and multiple TV screens for infotainment, according to the press release issued by Indian Railways.
The Vistadome coaches were launched for a trial run on the Visakhapatnam-Araku Valley route. Tickets for rides in these coaches will be available from April 18 for use from April 19, 2017. A ride in the Vistadome coaches may cost around INR 600.
Reportedly, two similar coaches with the same features will be added to tourist trains in Kashmir Valley in order to promote tourism.
Travel Beats is an Indian Community portal by Indian Eagle, a leading international organization for cheap flights booking. Travel Beats publishes the latest travel and tourism news for Indian Diaspora.