2019 seems to open up a new horizon for expansion of air travel within and from the United States, with some of the major airlines strengthening their domestic and international networks by adding scores of new routes and launching tens of new flights. While United and American Airlines are busy proliferating across the USA with nonstop flights from their respective hubs to small airports, non-US airlines are looking to grab a larger pie of the US travel market by operating more and more routes from the US to their hubs. Travelers are likelier to benefit from myriads of new options and choices when it comes to flying nonstop within and from USA.
A leading travel booking partner of Indians in the US, Indian Eagle takes on the upcoming air travel routes which promise cheap flights to, from, via and within USA in 2019.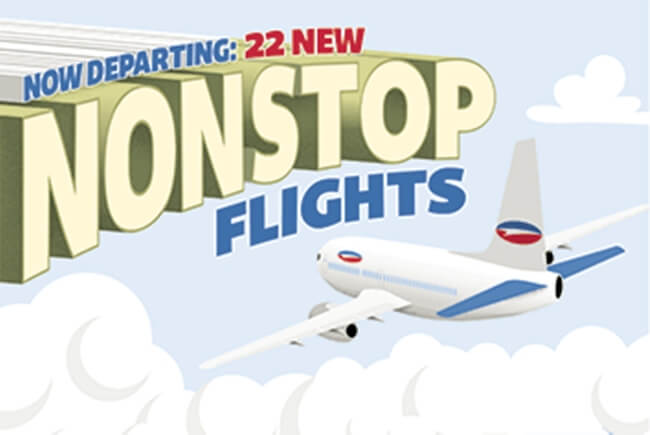 United Airlines to Launch New Domestic Routes from its US Hubs 
In 2019, United Airlines will be connecting to 22 new regional, small airports from six of its international hubs in the United States. With 40 new routes added to the domestic network and connected with the hub airports, United Airlines is expanding within the US a lot more than any other US airline and offering more choices for travelers to go international via its hubs.
United Airlines announced to connect Hilton Head Island in South Carolina to Washington DC, Chicago and New York/Newark with nonstop flights next year. Recently, United Airlines added nonstop service to Anchorage in Alaska and Pensacola in Florida from New York. Soon Indians in Detroit, Michigan; Richmond, Virginia; Omaha, Nebraska, and St. Louis and Kansas City; Missouri will be able to board United Airlines flights to India from Greater New York as United Airlines is mulling expansion of its domestic network to those cities.
Among the upcoming routes from California, United Airlines will commence nonstop service between Columbus, Ohio and San Francisco on June 6, 2019. Also, United Airlines will connect its Los Angeles hub to Madison in Wisconsin, Eugene in Oregon, and Pasco in Washington with nonstop flights commencing March 31, 2019. United Airlines' proposed nonstop weekend flight from its Chicago O'Hare Airport hub to Hilton Head Island will hit the sky on April 6, 2019.
Furthermore, United Airlines announced the upcoming launch of nonstop service connecting its hub at Denver International Airport to Eureka in California, Charleston in South Carolina, and Fairbanks in Alaska.
Singapore Airlines to Operate Nonstop Flights to Seattle
Among the upcoming nonstop flights to and from USA, Singapore Airlines' direct Seattle service will commence in September 2019. The nonstop Singapore-Seattle flights will be operated three to four times a week. Seattle will be the fifth US city in Singapore Airlines' international network. The nonstop service from Seattle will also provide travelers with faster connectivity to India and other countries in South Asia from Singapore Changi International Airport. Singapore Airlines flights are currently available to and from Houston, San Francisco, Los Angeles, New York JFK and Newark Liberty EWR. Seattle Indians having valid Indian passports can avail the 4-day free transit visa to Singapore, on producing confirmed air tickets to India or any other country from Changi International Airport.
British Airways to Fly Daily between Nashville and Heathrow 
Among the increased number of services from the United States, British Airways flights to and from Nashville, Tennessee will be upped by two extra services per week in summer 2019. To be precise, British Airways will be operating a daily service between Tennessee and London Heathrow next summer, and the Boeing 787-8 Dreamliner will be deployed for the same. It means that Indians of Tennessee will be able to board British Airways flights to India from London Heathrow seven days a week, beginning summer 2019.
Japan Airlines to Return to Seattle for a Daily Service in 2019
Japan Airlines is all set to make its comeback to Seattle-Tacoma International Airport for a daily service from Seattle to Tokyo in March 2019. To be operated by the Boeing 787-8 Dreamliner, the new daily flight is a joint venture of Japan Airlines and its Pacific business partner American Airlines. With a daily service to Narita International Airport in place, Seattle Indians will be able to board Japan Airlines flights to India via Tokyo if they prefer Japan Airlines (JAL) to any other international carrier.
Air France to Return to Dallas for a Daily Service in 2019 
Not only Japan Airlines, but also Air France announced its comeback to a leading US airport in 2019. Starting March 31, Air France will operate five weekly flights from Dallas Fort Worth International Airport to Paris Charles de Gaulle Airport. Air France's Dallas to Paris nonstop service will be another way for Dallas Texas Indians to board Air France flights to India via Paris CDG airport. Cheap Air France deals to India are available for Delhi, Mumbai, Bengaluru, Ahmedabad, Hyderabad, Amritsar, Chennai and Goa.
American Airlines to Launch New Routes from Dallas Fort Worth
Like United Airlines, American Airlines is on an expansion spree within the United States. The airline announced to strengthen its domestic network by operating eight new routes from Dallas Fort Worth (DFW) International Airport in 2019. Harlingen in Texas, Augusta in Georgia, Gainesville in Florida, Yuma and Flagstaff in Arizona, and Bakersfield, Monterey and Burbank in California are the proposed additions in the domestic travel network of American Airlines. Those preferring American Airlines flights will have more connecting options at DFW International Airport.
Lufthansa to Connect Austin to Frankfurt in 2019 
The flag carrier of Germany, Lufthansa announced to commence a new direct flight between Austin and Frankfurt in May 2019. Initially, five weekly flights will be operated from Austin-Bergstrom International Airport to Frankfurt Airport. In addition to Dallas and Houston in Texas, Austin will now be connected to India via Lufthansa's hub at Frankfurt. Cheap Lufthansa flight tickets to India are available for Delhi, Mumbai, Kolkata, Chennai, Hyderabad and Bengaluru. Lufthansa is all set to resume its service to Pune this October 28.
Taos Regional Airport Launches Service to Austin and Dallas 
The Town of Taos in New Mexico will soon get connected to Austin International Airport and Dallas-Love Field Airports. Beginning December 20 this year, Taos Regional Airport will be operating direct charter flights to and from Austin, AUS and Dallas Love Field, DAL. Known as Taos Air, the new charter service will continue through the end of March 2019. The winter service will include six round trips per week. The service is said to be reasonably priced compared to commercial flights.
Air Canada Ups Vancouver to Delhi Nonstop Flights
Of all Canada to India nonstop flights, Air Canada flights from Vancouver to New Delhi will now be operated daily instead of five times per week only during the winter. To be precise, Air Canada will continue operating the Vancouver-Delhi route daily until June 2, 2019. The Vancouver to Delhi nonstop flights are suitable alternatives if Indians in New York, Chicago and Boston do ever find Air India's nonstop flights to India, particularly Delhi IGI airport overbooked or overpriced, as Air Canada operates nonstop flights between these US cities and its hubs in Canada.