Sky is the limit for India's youngest commercial pilot, Maitri Patel from Gujarat. She broke the record of Ayesha Aziz who smashed the 35000-feet glass ceiling as India's youngest female pilot at the age of 21. Recently, 19-year-old Maitri successfully completed a pilot training program in the United States in only 11 months, following on-ground training in Mumbai. Though she had dreamed of a 'flying' career since the age of eight, it is her father who gave her wings to fly high.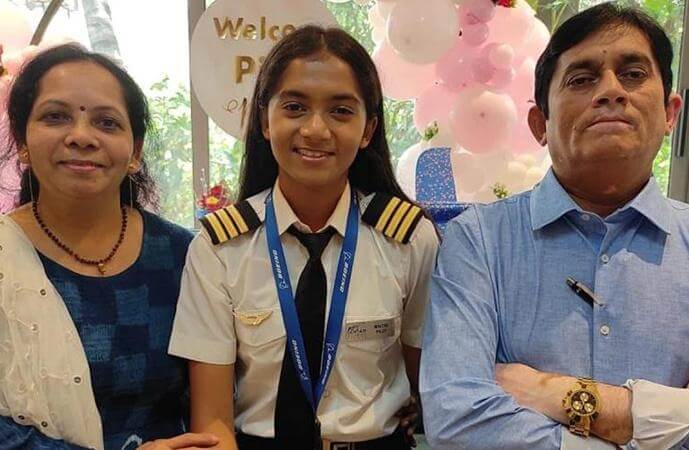 India's youngest commercial pilot Maitri Patel will soon join the country's growing league of women pilots, out of whom 105 captains are in the Air India family. With 12.5% of the total Indian pilot strength being female, India has the highest share of women pilots in the world, while the United States' share of female pilots (5.4%) is just a little above the global average of commercial airlines' women pilots. Ireland is next to India, with women making up 9.9% of its total pilot population.
Unlike typical Indian parents, Maitri's father, Kantilal Patel invested in his daughter's education and career instead of saving for her wedding. Despite being not from a well-heeled background, he managed to send her to an English medium school. Not every middle-class Indian father could afford to send their children abroad for a commercial pilot training program. Maitri's father sold a piece of the ancestral land to provide for her training in America.
Both father and daughter's dreams harmonized with each other. Kantilal had nurtured dreams of making Maitri a pilot since the days when he used to transport people from Surat to Mumbai CSMI Airport before he took up farming for a living. On seeing planes take off at Mumbai Airport, he decided to build her daughter's career in the cockpit of aircraft. Maitri herself wanted to touch the skies. Thus, the synchronization of their aspirations culminated in making Maitri Patel India's youngest commercial pilot at the age of 19. She completed the 18-month-long pilot training course just in 11 months.
She is now gearing up for training in the dynamics of flying Boeing aircraft. One day she will be piloting Boeing planes for mid-range and long-haul nonstop flights from India to USA and other countries. Both Air India and Air Vistara have Boeing in their fleets. Notably, an all-women pilot team, under the command of Captain Zoya Agarwal, operated Air India's longest and first-ever nonstop flight from SFO to Bengaluru over the North Pole amid the pandemic blues in January 2021.
In a bid to make India a global flying training hub for the aviation vision 2040, the Ministry of Civil Aviation is inching towards setting up eight new pilot training academics at 5 airports in Maharashtra, Karnataka, Madhya Pradesh and Assam under the Prime Minister's Atmanirbhar Bharat plan.