Kolkata is known for innumerable things including hand-pulled rickshaw, which the British had introduced in the then Calcutta. Hand-pulled rickshaws which have been making their way through water-logged lanes and crowded marketplaces across the city have featured in many documentaries, short films and full-length features including Bimal Roy's classic Do Bigha Zamin.
It's the first time that Kolkata received a National Film award and made headlines for the story of a rickshawala, Satyen Das who documented his 3000-km road trip on a cycle rickshaw from Kolkata to Ladakh. Titled 'Ladakh Chale Rickshawala,' his documentary film won the Best Exploration/Adventure Film award at the 65th National Film Awards.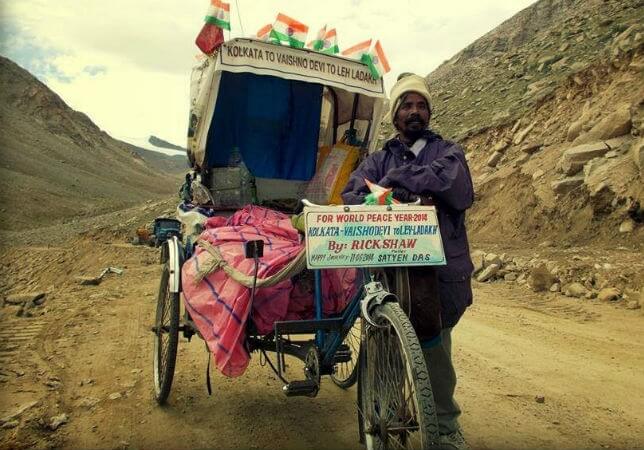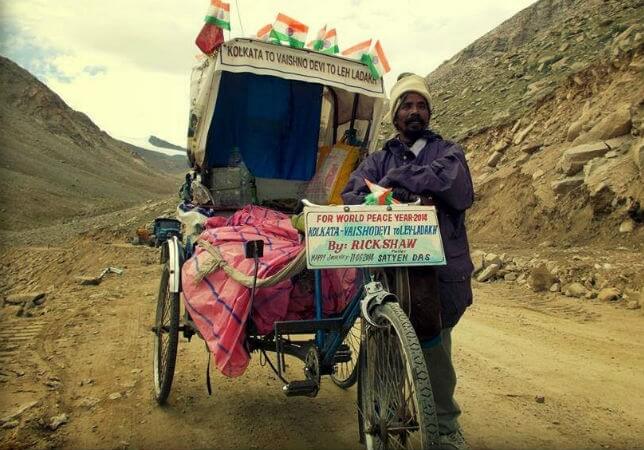 Mostly, bikers take road trips to Ladakh, a precarious paradise in the Himalayan region of India. The rickshaw driver cum documentary filmmaker, Satyen Das not only paddled a cycle rickshaw all the way from Kolkata to Ladakh but also shot his perilous journey on a handycam. The story of the National Film Award winning documentary, Ladakh Chale Rickshawala is an absolute standout also because of his immense endurance and unfathomable love for adventure.
Kolkata to Ladakh was not his first cycle rickshaw journey. Previously, Satyen Das, along with his wife and daughter made road trips to Puri in Odisha and various places in North India, paddling the cycle rickshaw. It drove him with an irresistible urge to undertake the most ambitious journey in his cycle rickshaw to Khardung La Mountain Pass, the world's highest motorable road in Ladakh.
Also Check: Hand-pulled Rickshaw from Calcutta to Kolkata
A resident of Naktala in South Kolkata, Satyen Das bared his mind to Indrani Chakraborty, a television producer residing in the same locality, who often rode his cycle rickshaw to reach her workplace. He showed pictures of his previous trips to her and shared his experiences with her. Touched by his zeal to paddle all the way to Ladakh through Bihar, Uttar Pradesh, Haryana, Punjab and Srinagar, Indrani planned to shoot a documentary film on his cycle rickshaw journey.       
Indrani could not accompany him for some reasons, but taught him how to use a handycam for shooting. With logistical and monetary aid from some of his daily passengers including Indrani and a neighborhood club, Satyen Das alone set out on his 'dream' cycle rickshaw trip to Ladakh, which resulted in the Ladakh Chale Rickshawala documentary film despite difficulties and challenges on the way.
Also Check: Kolkata's First-ever Hub of Traditional Sweets
A National Film Award winner for the Best Exploration/Adventure Film, Satyen Das not only explored and shot the places en route but also promoted cycle rickshaw as an environment-friendly mode of transport during his 68-day sojourn in 2014. He made his second trip to Ladakh as a mission to raise awareness about global warming in 2017 and also sprinkled as many as 5000 date seeds along the way.
The road taken to Ladakh in a cycle rickshaw was naturally troublesome for the inexperienced but determined Satyen Das who was equipped only with a handycam, maps, basic food and clothing. His muscles were fatigued due to inadequate oxygen at the altitude of 11,500 feet in Leh. He braved all odds and completed the first difficult phase of the 3000-km cycle rickshaw marathon without any medical emergencies.
Also Check: Kolkata to Get a Museum on its Socio-political History
The Ladakh Chale Rickshawala documentary filmmaker's journey continued until Khardung-La Pass at the altitude of over 17,500 feet where the second most difficult phase of his trip began. The wavy road with rocky terrains on both sides compelled him to get off the rickshaw and pull it up from the front with all his might. "It was exhausting, but the natural beauty which is hardly seen in the plains healed my wounds and made me forget all troubles ahead," said Satyen Das.

Indrani Chakraborty, along with two associates from her television production crew joined Satyen Das in the making of the Ladakh Chale Rickshawala documentary on Das' epic journey in Leh. After receiving the Best Exploration/Adventure Film award at the recently held 65th National Film Awards in New Delhi, he is back to his daily life and his rickshaw resumes ferrying locals in South Kolkata.