Access to on-ground services at luxury airport lounges is no more restricted to Economy Class passengers at Indira Gandhi International Airport. Plaza Premium Lounge at New Delhi Airport has lifted the cap on its services and facilities. Now Economy Class flyers need not burn a hole in the pocket to avail spa services, on-spot kitchen services and other facilities at Plaza Premium lounges.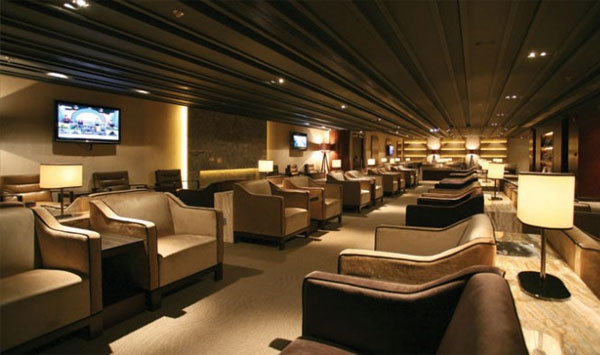 The lounge, opened in the year 2009, consists of 2 transit hotels, 4 lounges, 1 spa massage center, and shower facility at the IGI capital airport. The lounge has passenger-friendly pay-per-use facility. The transit hotel offers rooms with great interior décor and modern amenities. Travelers having short or long transit time can stop to sit back or rest here.
There are two Plaza Premium Lounges in the international division of Indira Gandhi International Airport, New Delhi. Both are located in the international departure section of Terminal 3; one on level 3 and the other on level 4. Both operate for 24 hours a day and offer more or less the same services.
One of the service highlights of Plaza Premium Lounges, the round-the-clock buffet caters a myriad number of dishes from Indian, Chinese and Continental cuisines. The lounges treat guests to some iconic Indian dishes like Kali Moti Biryani, Murgh Makha Wala, Purani Dilli Chicken, etc. at times. The vegetarian breakfast is immensely palatable.
Apart from gastronomic entertainment, the Plaza Premium Lounges at Indira Gandhi International Airport boast excellence in offering world-class refreshment and business-friendly amenities including fully equipped workstations and Wi-Fi. The guests are free to choose beverages of their choice, too.
Shower, timely flight information display, USB power outlets, TV screens, baggage handling facility, massage, and bar facility are the other services on offer at the Plaza Premium Lounges which Economy Class travelers can avail from now onwards. International magazines and newspapers are also available here.
"We have withdrawn restrictions over access to Plaza Premium Lounges at IGI, New Delhi, out of our respect to every traveler's right to comfort and convenience. Both inbound and outbound travelers can relax at the lounges without worrying about the costs," says country manager of Plaza Premium Lounge, India.
Contact details of Plaza Premium Lounges at New Delhi International Airport:
Email: India@plaza-network.com, + (91) 011 612 339 66, + (91) 011 612 339 55
Indian Eagle books cheap flights from USA to New Delhi with the following international airlines:
United Airlines
British Airways
Lufthansa
Virgin Atlantic
Emirates
Singapore Airlines
KLM Airlines
Air India
Thai Airways
Malaysian Airlines
US Airways
Compare and book cheap airfares to New Delhi on Indian Eagle or call us at 1800-615-3969.