Be it urban or rural India, women are making headlines for breaking stereotypes by crossing the frontiers to do what has been monopolized by their male counterparts till date. It's not that Indian women never came to the fore for making ambitious choices, taking daring decisions, exploring forbidden places, touching new heights….in the bygone decades. However, fewer women were able to defy age-old customs, break loose from conventionality, rewrite societal norms and challenge the patriarchy system due to limited options or opportunities available then. With every tomorrow passing into a yesterday in the 21st century, more and more Indian women are coming out of the cocoon. They no longer bottle their desires or bury their dreams.
The above statement is true about the three Indian women who, in their early 60s, are on a miles-long road trip across Rajasthan and Gujarat. Neeru Gandhi, Pratibha Sabharwal, and Monica Chanana are homemakers and grandmothers from Delhi. Smitten by the travel bug, they hit the highway for an all-women road trip in their 60s. Evidently, road trips in India are longer male bikers or male travelers' monopoly.
Most of Indians are fond of pilgrimage in their 60s. As soon as they cross 55, they hit the pilgrimage trails from Kashmir to Kanyakumari. But, these three women of Delhi are chasing their travel dreams, defying the bounds of age and the age-related social norms. Currently they are on an adrenalin-driving road trip zipping across Gujarat and Rajasthan for a whopping distance of 4000kms. Interestingly, it's not their first highway adventure.
In 2016, they took their first road trip covering a distance of 4400kms from Delhi to Rameshwaram through five Indian states: Uttar Pradesh, Madhya Pradesh, Maharashtra, Karnataka and Tamil Nadu. Age is no bar to them!
It was their life-changing trip to reinvent themselves by exploring the unknown. The road trip from Delhi to Kanyakumari with 23 stopovers took them 29 days. Several obstacles came their way, but their passion for travel and adventure subdued the obstacles. In addition, they were prepared to face difficulties on the way, especially during an all-women road trip. They fixed the breaks and repaired the punctured tires by themselves.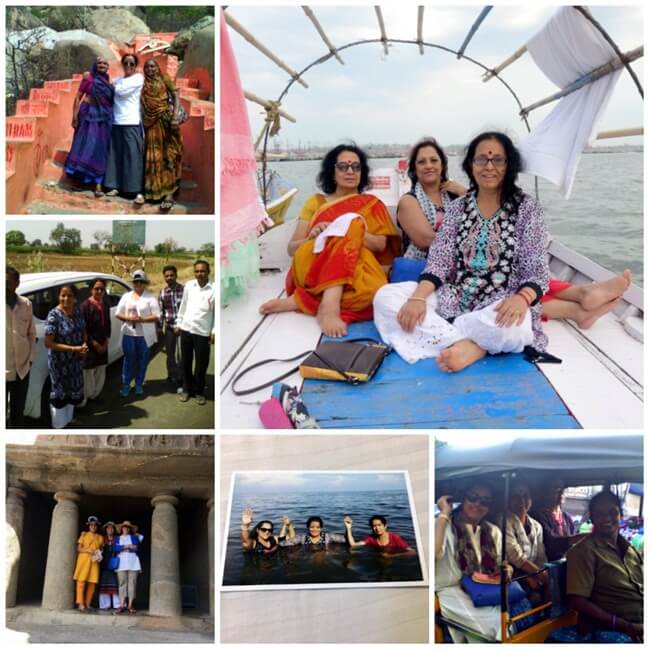 These Indian women's road trips are full of lessons on how to prepare for a solo trip or an all-women trip. They are digitally smart backpackers too. They pack in modern gadgets including dongles, cameras, hard disks, pen drives, tripods, power banks and selfies sticks. They carry a map of the route of their road trips and take all necessary notes from the Internet regarding where to stop over, where to eat and where to stay during the journey.
These elderly road trippers of India blog about their on-the-way experiences and events at womenonthehighway.wordpress.com in order to inspire other women to travel. The itinerary of their ongoing road trip to Rajasthan and Gujarat from Delhi includes Sikar, Bikaner, Johdpur, Jaisalmer, Palanpur, Udaipur, Ajmer, Neemrana, Jaipur, Udaipur, Rani Ki Vav, Modhera Sun Temple, Rajkot, Ahmedabad, Dwarka, Somnath and Porbandar.
Indian Eagle is a USA based leading international travel organization inspiring tourists to travel India and booking their trips at the best prices. Indian Eagle celebrates the cultural richness, historic glory, natural beauty, and spiritual greatness of India through interesting stories on its digital magazine, Travel Beats.    
Like this story? Or, have you got something to share? Write to us: share@blogbox.indianeagle.com. Connect with us on Facebook and Twitter.