A trip to Ladakh is the ultimate relief from the scorching heat of summer in India. Bikers and road trippers eagerly wait for the right time to hit the road to Ladakh in the thick of summer, while the rest of India keeps the fingers crossed in prayer to the god of rains for showers. Evidently, Ladakh road trip is an endless story. Previously, Jatin Kapoor, MD of Alternate Atlas, shared his Ladakh trip story with Indian Eagle. Now, Radhika Sharma from India has her own story to tell on Travel Beats.
I am always fond of traveling though I am unlike travel junkies who are driven by wanderlust. But I am a petrol head cum road tripper with the passion for driving anything that has an engine in it. In June, 2010, my innate desire for driving took me on a trip to the valley of Ladakh in the Himalayas only to discover the pristine beauty that India is. [pullquote]Not all trips make good stories! But my trip will surely make an inspirational story for the readers of Indian Eagle.[/pullquote]
My Ladakh road trip is all about 8 friends, 5 bikes, lots of riding and Ladakh itself. The carrier of choice was Royal Enfield for the life-long journey from Mumbai to Leh via Delhi and Manali. We rode the Royal Enfield bikes for a whopping distance of 5200 kms. Despite being an avid petrol head, I did not drive the bike on that trip. Rather, I preferred being a pillion all the way. We friends got together in Delhi, and then set out for a 520km long ride to Manali when the night began getting darker.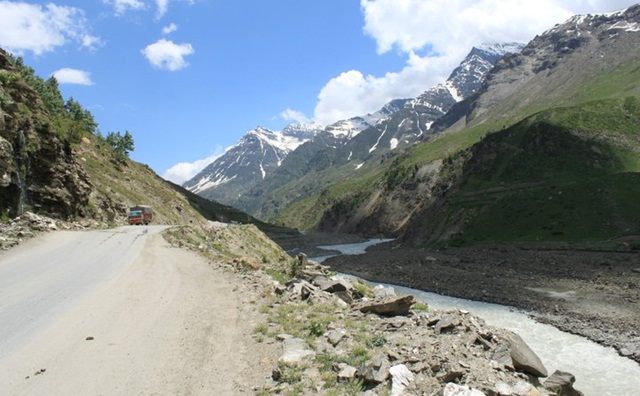 The roads – NH1 and NH3 – were pretty decent and safe much to our surprise. The weather was as pleasant as the ride. It added to the joy of the journey. The erratic spells of rain accompanied us too. Anyway, it took us a full day to reach Manali where we lodged at a quaint Drifter's Inn. The very first thing that blew our minds away is the scenic beauty of Manali. We breathed in the serene air of the place whose old world charm serenaded our souls.
The bikes were serviced in Manali for hassle-free, efficient riding. We picked a first aid kit, some medicines, some snickers and new helmets too. We took an off road to Rohtang and got closer to our destination. June is a month of the rainy season in India. Rohtang, the lord of all passes on the eastern Pir Panjal range of the Himalayas, too receives spells of rain off and on. It was a massive hurdle during the trip.
The rainfall caused a landslide which resulted in huge sludge. We got stuck on the way for over 10 hours. One of the bikes broke down adding to our misery. I could not keep up sitting on the back for long; I fell off the bike, and the bike then fell on me injuring one of my feet when the bike was pushing hard to drag itself through the smudge. However, we had a nice time awaiting us ahead just as every cloud has a silver lining.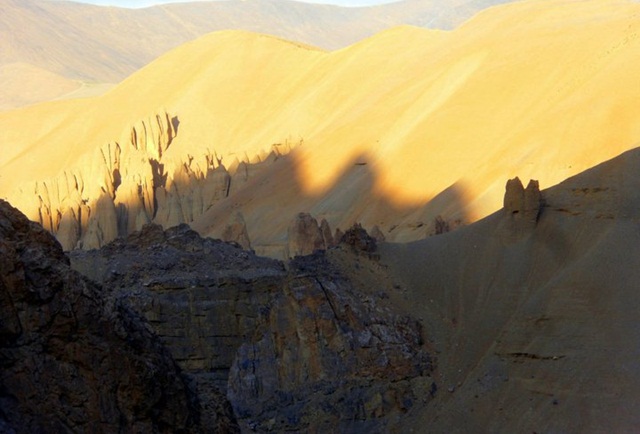 Once Rohtang was crossed, we were treated to the mesmeric beauty of Khoksar, Beas River, Keylong, Jingspa, ZingZing Bar, Sarchu, Baralachla, and Pang on the way to Leh. Along the way, the lofty mountains kept our company. The roadside (dhaba) street food added some gastronomic joy to the ride across the rough terrains. We got the wonderful company of other bikers too.
It took us 5 days to reach Leh. We took shelter at the roadside hotels along the way (most of them were basically decent tents with blankets and beds at cheap rates). We survived on Maggi for a few days. But the thrill of the trip was worth it. Though neither smooth nor plain like city roads, the roads to Leh are drivable and therefore, worth a mention.
More Inspiration 10 Best Road Trips for Biking in India
We had a nice time over cups of chai (tea) on the roadside camps where we chatted with good-hearted people. The warmth of hospitality is still left with me. The pleasure of having Maggi at high altitudes is many times more than that on plains. The same is true about the taste of food at the roadside dhabas. After an eventful ride for 5 days and nights, Leh was our home for the next three days.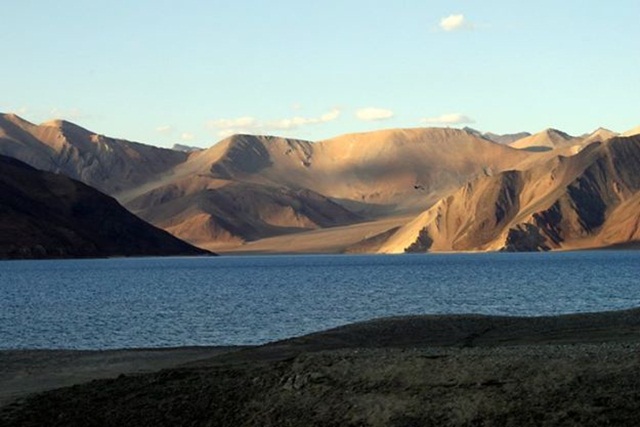 [pullquote]Leh is a perfect holiday destination for different people with different tastes.[/pullquote] There are cafes, adventure spots, and spots for leisure. Leh offers day trips to nearby lakes and hills. The place has a bit of antique charm that makes me feel relaxed with a desire to lay back turning my back on all worries. However, my posterior was relieved only when we checked into a hotel where we got read beds.
Then, we rode our bikes up to Khardungla, the world's highest motorable pass at 17, 582 ft. What a great feeling! The next couple of days were spent taking trips to the beautiful Pangong Lake and the Shanti Stupa (the temple). Pangong Lake is the most scenic lake that I have ever seen in my life. The shimmering reflections of the surrounding mountains on the pristine blue waters of the lake do still take me on an imaginary trip. Then was the time to hit the road back home.
Leh, the ultimate destination of our biking trip, was worth riding all the distance. Our Ladakh road trip that lasted 10 days gave me a wealth of memories for lifetime. Finally, the road to Ladakh is neither a path of roses nor a bed of thorns. It is altogether a new experience, a pleasant memory, an inexplicable thrill, and an overwhelming joy!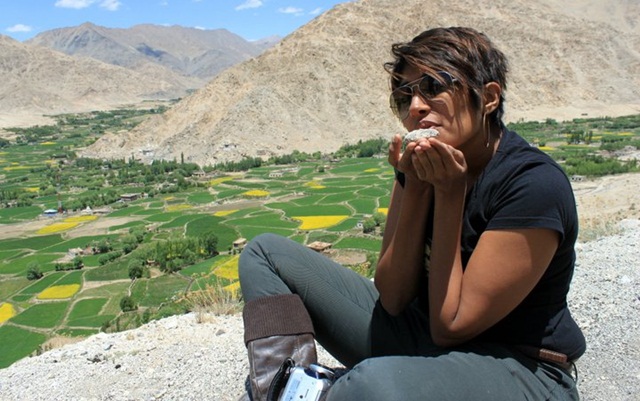 Make sure to visit Ladakh, be with nature, wonder at the daring height of mountains, admire the beauty of lakes, and drink to absolute serenity, at least, once in your life. – Radhika Sharma
About the Author
Radhika Sharma is a media professional with 10 years of collective experience with some of the biggest media networks in India. She has conducted premier technology shows. Though personal technology and TV programming are her fields of work at daytime, she is a diehard EDM music junkie and a writer at night. She loves being a petrol head and secretly a Jedi as well. Radhika does not only take pride in being a traveler but also listen to the foodie in her by spending time with forks and knifes.
About Indian Eagle 
Indian Eagle is a fast-growing international travel organization booking the best & cheapest flights online.IndianEagle.com is a most user-friendly portal with simple online travel booking technology which gives safe access to a fair range of cheap flight deals from international US to India airlines.