The global aviation industry is breathlessly waiting to exit the stagnation of passenger flight operations. While the government of India is mulling over further extension of the lockdown with a right mix of restrictions and relaxations for flattening the COVID19 curve and easing the economic inertia simultaneously, Indian airports are gearing up to adapt to the new normal – social distancing. Expecting the current lockdown to be lifted post May 3, major airports of India have planned to restart commercial operations with new passenger safety rules and 'new normal' guidelines in place.
Sanitization, social distancing, masks and alertness will be part of the 'new normal' life post lockdown in India. Air travel won't be an exception to it. Prime Minister Narendra Modi hinted at the same in his meeting, held today (April 27), with the state chief ministers. The post-lockdown safety measures to be followed at New Delhi IGI, Hyderabad RGI, Mumbai CSMI and other airports include the mandatory use of face masks. Travelers without face covers will be denied entry into the terminal building.
"While the airport is geared up with a high level of hygiene and new operational procedures, passengers' role in keeping the airport safe would also be equally important," said the chief executive of GMR Group that manages Hyderabad International Airport and Delhi Indira Gandhi Airport.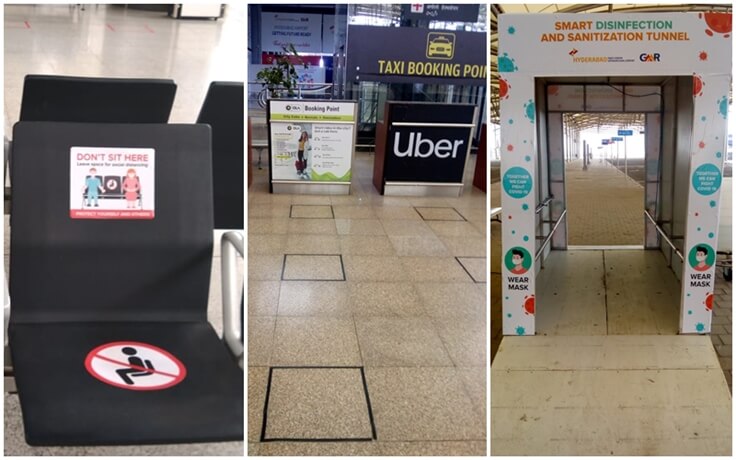 Indian airports' post-lockdown operating guidelines include stringent thermal screening, temporary quarantine centers, and vivid social distancing markings to ensure a safe and sanitized environment for travelers. All airport counters including check-in kiosks, and commercial outlets in the retail space are being shielded with transparent screens to ensure physical distance between passengers and the front desk staff, thereby minimizing chances for air transmission of respiratory droplets of the Novel Coronavirus.
Mumbai International Airport, one of the busiest air travel hubs in India, requires passengers to maintain 1.5 meters of physical distance from each other by following distinctive markings for social distancing at the terminals. A special layout for social distancing will be marked all over the airport premises, including entry points, self-check-in kiosks, check-in counters, security checkpoints, boarding area, food courts, lounges and baggage carousels. The seating arrangements for passengers in the terminal buildings are being reorganized in a way so as to make social distancing effective. Other major airports including New Delhi, Hyderabad and Chennai are following the same more or less.
Furthermore, Mumbai CSMI Airport has built quarantine setups for passengers showing COVID19 symptoms during thermal screening at entry points outside the terminals.
Hyderabad Rajiv Gandhi Airport has deployed a team of 100 professionals for a colossal task of sanitizing and fumigating the 7 levels of the terminal building sprawling over 1.27 lakh square meters, on a daily basis. While operating charter flights for repatriation of foreigners stranded in Telangana, the airport authorities conducted frequent sanitization of high contact-prone surfaces such as kiosks, trolleys, elevators, railings, drinking water dispensers, washrooms, trays, baggage belts, etc. The same will be continued once Hyderabad Airport reopens for daily passenger flights.
Travelers can directly access the boarding pass and bag tag dispensers at the check-in counters of Hyderabad RGI Airport. It will help make sure no physical exchange of these documents between travelers and the airport staff.
When Indira Gandhi International Airport will resume operations, it will put in place not only safety guidelines but strict restrictions. The airport has called for the airline crew to stop serving in-flight meals and restrict the use of lavatories on board for some time post lockdown. Passengers will be served only drinking water and, that too in such a manner so as to reduce physical contact.
Passengers with flu symptoms will not be allowed to check in at New Delhi IGI Airport. The ground staff of airlines is instructed to make sure that passengers remain seated unless they are called up to check in one by one in post-lockdown days. No queues will be formed for security checks. Security checks will be conducted in a touch-free manner at New Delhi and other airports. Sensor-based automatic hand sanitizer dispensers are being installed across the airport.
Mumbai and New Delhi are the destinations for many direct flights to India from USA and other countries. Hence, these two airports are highly expected to resume operations once India lifts lockdown and travel restrictions. Many Indian nationals stranded abroad and Indian professionals holding foreign work visas, who are stuck amid the lockdown in India, are eyeing on India's air travel resumption plan post lockdown in May 2020, according to leading travel booking organizations including Indian Eagle.