How to make the most of your trip to India during monsoon? No need to think hard! Book the cheapest flight to Bangalore or Chennai or Coimbatore, and set out for a journey by the Nilgiri Mountain Railway. The journey across the Nilgiri Mountains offers a rare mélange of adrenalin rush, adventuresome vibe and romantic feel. It is one of the most wonderful mountain rail journeys in India. Indian Eagle explains why you should travel by the Nilgiri Mountain Railway, at least, once in lifetime.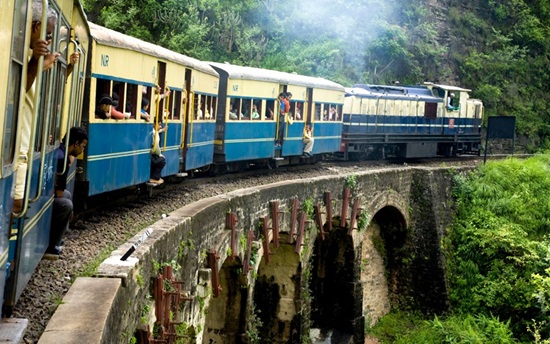 The Nilgiri Mountain Railway journey is accessible from two states of South India – Karnataka and Tamil Nadu. If you are flying to Bangalore International Airport, you can set out for a downward journey from Ooty, which is a short drive from Bangalore, the capital of Karnataka. Or, you can take an uphill journey from Mettupalayam in Coimbatore which is a 4-5 hour long drive from Madurai, one of the most famous temple cities of Tamil Nadu. Those on a traveling spree in South India can make a trip from Bangalore to Madurai or from Madurai to Bangalore via Coonoor on the Nilgiri Mountain Railway.
READ MORE  Weekend Getaways from Bengaluru
The Nilgiri Mountain Railway is popularly known as the Nilgiri Toy Train which runs between Udhagamandalam (Ooty) and Mettupalayam in Tamil Nadu. Ooty, the Queen of South Indian hill stations, is at the height of 7,228 feet near the top of the Nilgiri Hills, while Mettupalayam stands at the height of 1,069 feet near the foot of the Nilgiri Hills. The uphill or downhill journey between these two stations spans over a distance of 41.8 km. The uphill journey is longer than the downhill journey in terms of timespan. The former takes nearly 5 hours, while the latter takes 3.5 hours.
The Nilgiri Mountain Railway has 7 main stopovers – Kallar, Adderly, Hillgrove, Runneymede, Kateri Road, Coonoor and Lovedale – on its route between Mettupalayam and Ooty. The route features different geographic forms making it an unforgettable journey. Wavy paddy fields cover a 7-km long stretch from Mettupulayam to Kallar. The next part of the route spanning for a distance of 21 km from Kallar to Coonoor is dotted with rocky terrains. This rocky track has many twists and turns through 13 tunnels. Then, there is a steep rise from Coonoor to Fern Hill, the highest point on the route. The track runs downwards a little till Ooty.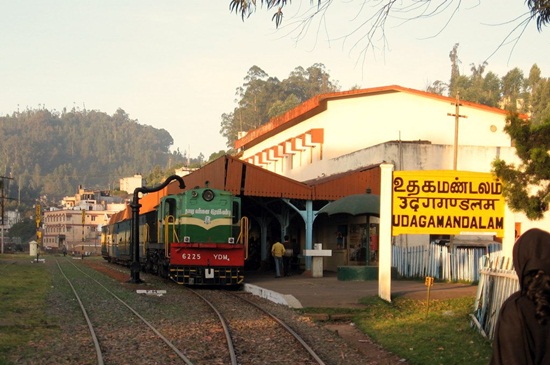 Coonoor is the 2nd largest hill station in the Nilgiri Mountains. Located in the Nilgiri district of Tamil Nadu, this hill station is famous for its beautiful tea estates. The Nilgiri tea is the mainstay of Coonoor whose tourist attractions include Sim's Park, Dolphin's Nose, Law's Falls, Lamb's Rock and Droog Fort. The part of the Nilgiri Mountain Railway track running through Coonoor is landscaped by tea plantations on both sides, making is a most picturesque phase of the journey. Coimbatore International Airport is a 56-km drive, and Ooty is 18 km away from Coonoor town. You can stop by Coonoor for one-day stay during the journey.
READ MORE  Coonoor Sightseeing Guide
The uphill journey ends in Ooty, the largest hill station in the Nilgiri Mountains and the state of Tamil Nadu. Ooty is one of the most popular summer retreats and monsoon holiday destinations in South India. It is a famous film shooting location too. Ooty Lake, Rose Garden, Botanical Garden, Stone House, Tribal Museum, St. Stephen's Church, and Wax World are the must-visit tourist attractions of Ooty. If you drive from Ooty to catch your flight at Bangalore International Airport, make sure to halt at Mysore, a historic city in Karnataka, on the way. A 3-hour long journey by buses and trains from Ooty, Mysore is famous for Mysore Palace, Chamundeshwari Temple, Kannada Literature, Mysore silk, Mysore painting, and the history of Wodeyar Dynasty.
Constructed in 1908, the Nilgiri Mountain Railway was declared a UNESCO World Heritage Site in 2005. The mountainous terrains had made the construction a massive challenge which was however converted into a marvel of engineering and technology. Painted in blue and cream, the train has wooden coaches with large windows which offer gripping views of the outer world. The train consists of first class and general class compartments. The first-class compartment offers a more comfortable journey than the general class. You can book a ticket or tickets within 2 months prior to the date of your journey, on IRCTC website.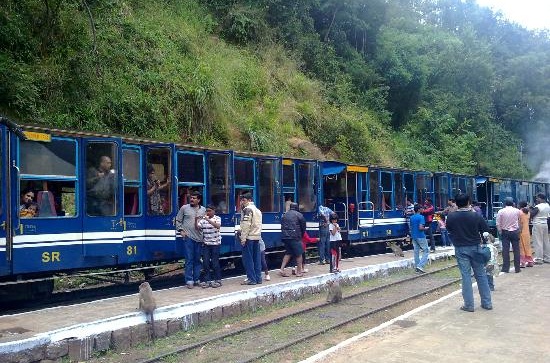 The Nilgiri Mountain Railway has been filmed in several travel documentaries and feature films. A few sequences in A Passage to India, a Hollywood film by David Lean, were shot at Coonoor Station. If you are a Bollywood buff, you should watch Shah Rukh Khan's journey on the rooftop of the Nilgiri Mountain Railway passing meanderingly through the green landscapes of Coonoor, in the popular song Chaiyya Chaiyya from Mani Ratnam's Dil Se. Moreover, Ooty has been filmed in several movies of different South Indian languages.
It is said that live in the present as there is no tomorrow. So, don't give a second thought to the opportunity of flying to India at the lowest fare. Book your flight to Bengaluru today on IndianEagle.com.