Good news for Air India passengers and those flying economy on Air India! The national airline of India has introduced a liberal bidding system for economy travelers to upgrade their tickets to the business class for a fraction of what seats on Air India's business class flights actually cost.
Now you stand a chance to travel on cheap business class flights with Air India if you choose to upgrade while or after booking your economy tickets, and if you don't mind paying a little extra fare for the luxurious comfort that business class flights offer. Available for Air India's connecting flights, the new feature equally applies to Air India's nonstop flights to India from USA, Europe and Australia.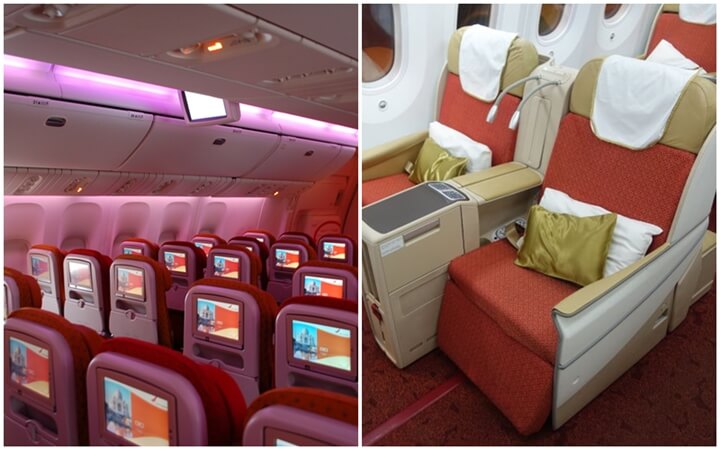 If you are a lucky bidder, you will get to travel and enjoy gourmet meals in the business class for up to 75% less than the actual cost of a business class seat on Air India. There is a cap on the minimum bid you can make to upgrade from economy to business for an ultra-comfortable flight. However, a higher bidding amount promises good chances of flying business class. The lowest bid will be capped depending on routes in Air India's network.
The sum of an economy class ticket price and a bid amount will count up to 75% less than regular business class fare, according to Air India spokesperson.
Will economy flyers really benefit from the upgrade in terms of fare? The chief travel economist at IndianEagle.com says, "They will do absolutely." An Air India business class ticket costs four to five times more than regular economy class fare for nonstop US-India flights. For instance, Air India's New York to New Delhi nonstop flight costs $869 in economy but $3771 in business class per traveler (both the fares, including taxes, are the best deals of the day from Indian Eagle Travel.)
If the lowest biding amount is $450 for an upgrade to business class on a nonstop flight between India and USA or Australia, and if you end up securing a business class seat bidding for a little more than $450 and paying the economy fare (mentioned in the above paragraph), you can travel on business class flights with Air India for just $1500 or so. Evidently, Air India's economy to business class upgrade feature can save you half or more than half of business class fare for a nonstop international flight.
How Air India Economy to Business Class Upgrade Feature Works
Once the check-in for an Air India flight is complete, the system checks the number of vacant seats in the business class. Then, the vacant seats are allotted to the bidders in a descending (from high to low) order of the bids made. A new boarding pass is issued to successful bidders, at the boarding gate. Travelers are refunded the additional amount paid at the time of bidding in case of an unsuccessful bid for Air India's economy to business class upgrade, within five days following the flight departure.
Air India Economy to Business Class Upgrade Benefits
Air India's economy to business class upgrade neither allows access to lounge nor permits extra baggage allowance. Despite a successful bid for the upgrade, you have to remain content with Air India's economy class check-in baggage allowance. Further, those bidding for an upgrade to Business Lite can't avail such facilities as FastTrack security, faster immigration, priority baggage reclaim, priority check-in and boarding. But, all of these facilities are available to those bidding for an upgrade to Business (there are two categories: Business and Business Lite). Air India economy to business upgrade benefits include luxurious seating and gourmet meals and premium drinks to successful bidders, irrespective of categories. However, the upgrade to Business or Business Lite does not earn you extra frequency flyer miles.
Air India Economy to Business Class Upgrade Probability
There is a fair probability for economy flyers with higher bids to travel cheap on Air India business class flights since the airline's business class occupancy is not more than 50 to 60%, according to Pradeep Singh Kharola, Chairman of Air India. Air India operates flights with a total of 72,000 seats including 4500 business class seats daily across its global network. Once the boarding time for a flight is over, the vacant business class seats incur a loss. "Our latest bidding system facilitates easy upgrade from economy to business at an incredible discount, which is a win-win for both Air India and its economy passengers. After all, something is better than nothing," said Pradeep Singh Kharola.
Subscribe to our free newsletter for the latest Air India news and upcoming updates on other airlines operating USA to India flights.
Disclaimer: This article is neither part of Air India's PR policy nor a paid promotion. It is contributed by Indian Eagle Travel, a leading air ticketing agency in the United States and a trusted travel booking partner of Indians in the US.