Emirates Airlines announced to reduce the number of flights to USA because the rigid security restrictions, including the recent ban on electronic devices in the cabin of US-bound flights, by the US government have caused a decline in the market of Emirates flights via the Middle East. It's likely to benefit Jet Airways' new codeshare partnership with Virgin Atlantic Airways for improving the US-India air travel via London Heathrow.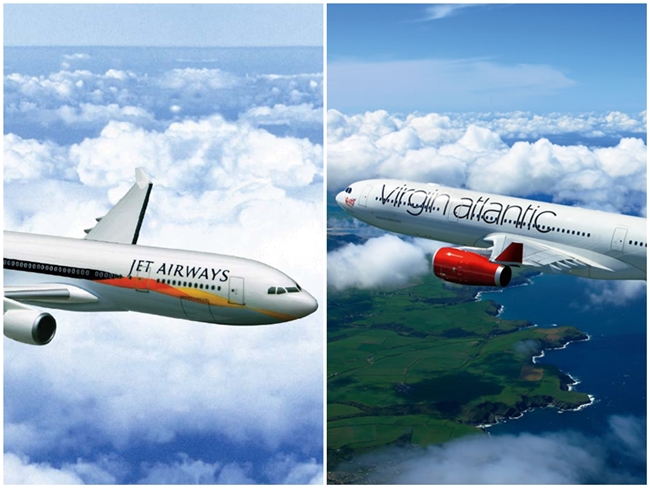 India's Jet Airways has inked a codeshare deal with the UK's Virgin Atlantic Airways to offer an alternate route to those traveling on US-India flights via the Middle East cities. The adverse impact of the US government's security restraints on air travel via the Gulf has piqued travelers' interest in booking itineraries for US to India flights routing through Europe.
Now onwards, Jet Airways' US-bound passengers from India can board Virgin Atlantic flights at London Heathrow for nine US cities, including Atlanta, Boston, Miami, Newark, New York, Los Angeles, Seattle, San Francisco and Washington Dulles. Jet Airways frequently operates flights to London Heathrow from Delhi and Mumbai.
India-bound travelers from the above-mentioned nine US cities can conveniently connect onto Jet Airways flights at London Heathrow. Those flying to Bengaluru, Hyderabad, Chennai, Ahmedabad, Kochi, Goa, Amritsar, Kolkata, Jaipur, Lucknow, Pune, Vadodara, Coimbatore, Kozhikode, Indore, Mangalore and Thiruvananthapuram from USA, can board Delta Airlines flights at the airline's US hubs including Atlanta, Seattle, Boston, Detroit, Los Angeles, Minneapolis, Salt Lake City and New York airports. Delta Airlines flights connect onto India-bound Jet Airways flights at London Heathrow.
Those booking Jet Airways flights in codeshare partnership with Virgin Atlantic should select itineraries with sufficient connection time, at least, for two hours. It's because Jet Airways operates from Terminal 4 which is on the other side of the airport, while Virgin Atlantic uses Terminal 3 at London Heathrow. Though airlines offer transfers between the two terminals, itineraries with connection time as long as 2 hours or more are recommended.
Indian Eagle, a leading US-based, trusted travel booking organization, takes special care of it while booking connecting flights between USA and India.
Emirates Airlines is about to cut the weekly number of services to five of the 12 US destinations in its network. Emirates' service to Orlando and Fort Lauderdale will be limited to weekly five flights from a daily flight. Emirates flights to Los Angeles, Seattle and Boston will be reduced from twice to once a day.
Jet Airways operates US to India flights also via Paris and Amsterdam in codeshare partnership with Air France and KLM Airlines respectively. Grab Jet Airways discount fares and book Jet Airways cheap flights for US-India travel at Indian Eagle.