With the passing of days, air travel to and from India is returning to normal though normal international passenger flights continue to remain suspended. Currently, Air India's VBM flights and air bubble flights to India from USA are in full swing. International travel is still subject to certain regulations related to COVID testing, quarantine, and exemption from quarantine.
Some of the travelers who booked their VBM and air bubble flights through IndianEagle.com have shared their experience of traveling from USA to India, so that it benefits those who are scheduled to take US-India flights in the coming days.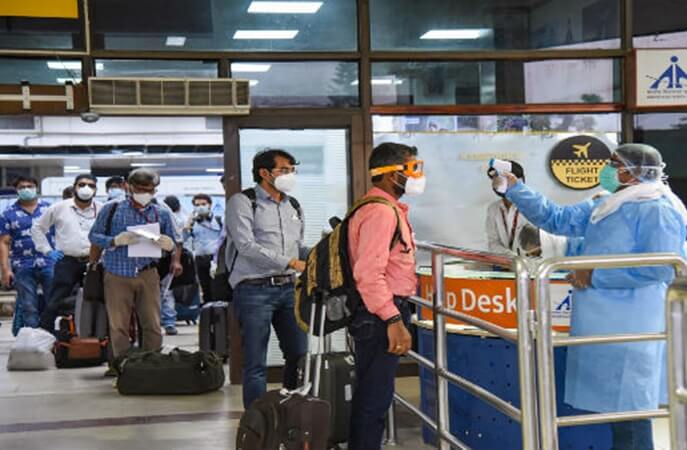 Picture Credit: OneIndia.com
Chicago to Delhi to Hyderabad
Kishore Yalamuri, an Indian passport holder, traveled from Chicago to Hyderabad via New Delhi this week. He booked one of Air India VBM flights to Delhi from Chicago, including an onward domestic connection to Hyderabad. We offered him a few one-stop itineraries for ORD to HYD travel, including Air India with a 3hr-10m layover at Delhi IGI Airport, Emirates Airlines with an 8-hr layover at Dubai, and United-Lufthansa-Vistara flight with a 2hr-15m layover at Frankfurt and a 6hr-20m layover at Delhi. Kishore chose to travel on the AI VBM flight with the shortest layover at New Delhi Airport.
Kishore was eligible for exemption from institutional quarantine in India as he traveled with a kid below 10 years of age. He applied to Air Suvidha on Delhi Airport website for exemption, uploaded a copy of his kid's passport as an age proof ascertaining the eligibility for exemption, and filled out a self-health declaration form online 72 hours prior to the scheduled flight from the main port of origin, Chicago O'Hare Airport. Our travel advisors told him there was no need to take a RT-PCR test as he was already eligible for exemption from 7-day institutional quarantine.
Upon arrival at Delhi, he was asked for the Air Suvidha-approved document and given a 'state quarantine' stamp on wrist. There was a short queue for immigration clearance at the port of entry, Delhi Airport. There was no need to collect and check in the bags as the connecting flight to Hyderabad was part of the Vande Bharat Mission. The international flight was 50% full, but the domestic flight had no empty seat. He submitted a copy of the pre-filled health declaration form at the time of boarding the domestic flight and upon arrival at Hyderabad. Kishore is currently under home quarantine.
The self-health declaration form, if not filled online, is available at airports in India.
Seattle to Bengaluru via Frankfurt
Narayan Desai, an OCI cardholder, shared his experience of traveling with family from Seattle to Bengaluru. He landed in India yesterday. He had purchased air bubble flight tickets on Indian Eagle. His travel was booked on a United-Lufthansa codeshare flight with short layovers at Chicago and Frankfurt. They traveled on United Airlines from Seattle to Chicago to Frankfurt and connected onto Lufthansa for Bangalore Kempegowda Airport. The total travel time was 26 hours, including 21hr-46m flight duration. We suggested him this itinerary because of the shortest layovers.
They were found asymptomatic in thermal screening upon arrival at Bengaluru and allowed home quarantine for 14 days. Once their travel was confirmed, our travel advisors walked Narayan Desai through the regulations applicable to their arrival in Bengaluru. He was asked to fill out a self-health declaration form on the Yatri Karnataka portal, at least, 72 hours before his departure from Seattle. He was also advised to download Apthamitra app on his mobile phone from the COVID-19 section of the Karnataka Government website. We reminded him about mandatory registration with the Indian Consulate in Germany for Lufthansa flight to India from Frankfurt.
Narayan Desai's overall experience of traveling on Seattle-Bengaluru air bubble flights was pleasant. Please note Karnataka government has scrapped mandatory institutional quarantine for international arrivals in Bengaluru.
Los Angeles to Ahmedabad via Dubai
The parents of Richa Patel, a H4 visa holder in the US, traveled from Los Angeles to Ahmedabad on September 12. Since Emirates is operating from Los Angeles, we booked their travel on one of short Emirates flights from USA to Ahmedabad via Dubai. The international legs of the itinerary – LAX to DXB and DXB to DEL – were operated by Emirates. As Emirates is currently not serving Ahmedabad, the domestic leg – DEL to Ahmedabad – was operated by Vistara in codeshare with Emirates. The Dubai layover was much shorter than the 5-hr layover at New Delhi. The transit through both airports was smooth for Richa's parents.
At the time of booking their flights, we recommended them a RT-PCR test which was also mandatory for traveling on Emirates and their exemption from institutional quarantine in India. Richa uploaded a copy of the test receipt as a proof of the test taken to Air Suvidha before 72 hours of the departure from Los Angeles, and her parents traveled with the negative COVID-19 test certificate. Their special requirement was wheelchair assistance at both the connecting airports – Dubai and Delhi. Indian Eagle made sure to place their request for wheelchair with Emirates Airlines.
Since the exemption form was filled out and submitted online, Richa's parents had smooth transit to Vistara for onward travel to Ahmedabad from Delhi. Arogya Setu App was installed on their phones. On behalf of their parents, Richa confirmed that the food was good on Emirates and the flight attendants were helpful. However, Richa was worried about their health and safety as they traveled alone amid the pandemic. They visited Richa in December 2019 to be with her during childbirth and were scheduled to return to India in April 2020. As their return travel was cancelled due to the suspension of all inbound passenger flights to India, Richa got their B2 visa stay extended for 3 months.
Boston to Chennai via Dubai
Boston is one of the few US cities that Emirates Airlines is currently serving, and that's why we booked Emirates flight tickets for Aadish Kalyan's parents. They traveled back to Chennai from Boston with ease this September 15. Since they are senior citizens, Aadish requested our travel advisors to pick a short itinerary for their unaccompanied travel. We booked their travel to India accordingly, and also guided them on how to get exempt from institutional quarantine in Chennai. The negative report of a RT-PCR test, if taken within 96 hours of arrival in Chennai, is considered valid for exemption from institutional quarantine.
We learned from Aadish that some of his parents' co-passengers including the elderly got stuck at Dubai Airport and were not allowed to board the flight to Chennai as their RT-PCR test was taken within 96 hours of their scheduled departure from the port of origin, not within 96 hours of their scheduled arrival in Chennai. Luckily, our travel advisors were able to make Aadish understand Tamil Nadu government's guidelines for international travelers flying to Chennai. Aadish applied online for his parents' e-pass to travel from the arrival terminal of Chennai International Airport. They were allowed 14-day home quarantine and had smooth exit from the airport.