With December 5 nearing the debut of United Airlines' San Francisco to Delhi nonstop service, Air India is bracing up for stiff competition on one of the most popular and busiest routes between the US and India. To this day, Air India has remained the unrivaled leader in operating the route nine times a week. With United Airlines having entered the fray for a daily service and a year-round operation, Indians in and around San Francisco have two options to choose from for the shortest flight to New Delhi, India. Here's a short walk through Air India vs United Airlines for them: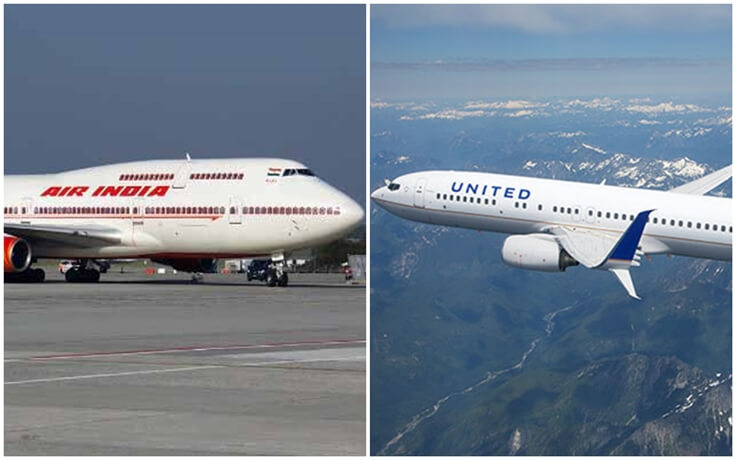 Air India vs United Airlines: Check-in Baggage Allowance
Air India's generous check-in baggage allowance in economy is an advantage over United flights from San Francisco to New Delhi. Adult economy passengers of direct Air India flights between USA and India (except flights to and from Newark) can check in two pieces of baggage, each weighing not over 23kgs. But, United Airlines' economy travelers can check in only one bag of up to 23kg. The new United SFO-DEL flights are not exempt to this. In terms of check-in baggage, Air India is more suitable than United for family travelers.
United Airlines vs Air India: SFO to DEL Airfares 
In terms of airfares too, Air India steals the show from United Airlines for most of the nonstop flights to India from USA. Usually, Air India tickets are slightly cheaper than United Airlines', in economy and business, for any given route. On December 5, 2019, the opening day of United SFO to DEL flight, Air India tickets for New Delhi are priced at Rs. 80,461, which is some 1000 bucks lesser than United Airlines' fares for the same destination and in the same class (economy).
United Airline's SFO to DEL flights are shorter than Air India's by 15 minutes. To reach Delhi from San Francisco, Air India takes 16hrs 15mins, while United flights will take 16 hours.
Air India vs United Airlines: Aircraft, Seats
Boeing 777-200LR for Air India flights SFO to DEL features more comfortable economy seats than United Airlines' Boeing 787 for the same route. 86-cm seat pitch on Air India's B777-200LR provides cozier space and more legroom than 81-cm seat pitch on United's B787. Five extra inches of legroom in Air India's economy class for comparatively lower fares! Economy seats on both the airlines' aircraft are laid out in the 3-3-3 configuration.
Air India's inflight services in economy do not include Wi-Fi on B777-200LR, while paid Wi-Fi is available on United B787 for basic web browsing.
Seat recline in Air India economy on B777-200LR is double than that in United Economy on B787. 6-inch seat recline what long-haul Air India economy flights offer is a 'luxury' in many other airlines' premium economy. The width of economy seats on the aircraft that Air India and United Airlines deploy for direct flights from USA to India is more or less same.
United Airlines vs Air India: Economy to Business Upgrade
It is easier to upgrade from economy to business on Air India than on United Airlines, according to many customers of IndianEagle.com. United Airlines offers several types of upgrade depending on fare classes and other aspects like premium elite membership. It may be impossible for those having no elite status with the airline to upgrade from economy to premium economy or business class.
Air India economy to business class upgrade costs up to 75% less than actual business class fares for long-haul flights. Air India's liberal bidding system works to let economy passengers travel on cheap business class flights between USA and India. Using the bidding system, you can bid to upgrade while or after booking your cheap Air India economy tickets. Travelers are allotted seats in the business class depending on their bidding amounts (high to low) and the number of vacant seats available for a particular flight. The additional amount, which is paid for bidding, is refunded in case of an unsuccessful bid.