2019 might see a drop in airfares from USA to India, due to the mounting competition of airlines operating nonstop flights to India from USA, and the ongoing experiments with biofuel in commercial passenger aircraft.
Introducing a new route for nonstop flights to India and jumping into the fray with Air India, is United Airlines. One of the major US carriers, United Airlines announced to fly nonstop from San Francisco to New Delhi in 2019. Toronto, Melbourne, Amsterdam and Auckland are also earmarked on the map for United Airlines' upcoming nonstop flights from San Francisco International Airport, one of the United hubs in the US.
December 5, 2019 is the tentative date for the launch of United Airlines' nonstop flights to New Delhi from San Francisco (SFO). Good for Indians in California, who mostly travel back home by the year end! They will be privileged to compare between the Air India cheap fares and the United Airlines cheap tickets for nonstop SFO to DEL flights.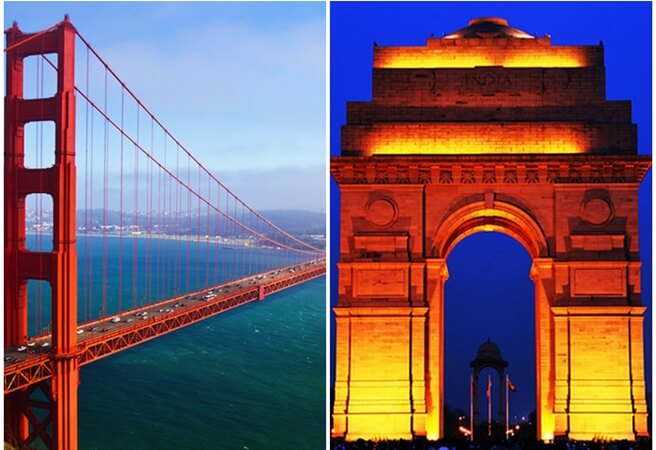 Los Angeles to Delhi and Houston to Delhi are among the busy routes between the United States and India. Demand for nonstop flights to New Delhi from those two US cities is also high. Leading Indian Americans, along with the governors of Los Angeles and Houston have already proposed Air India to commence nonstop service on these two routes. But, the national airline of India is yet to take a step forward. It would have been far better if United had announced nonstop service to Delhi from Houston and Los Angeles among its hubs.
However, the upcoming nonstop United flights SFO to Delhi hold some good for Indians in and around Los Angeles, since it takes them only 6 hours to reach San Francisco Airport by road. As San Francisco is a short flight away from Phoenix in Arizona, Nevada in Las Vegas, Utah in Salk Lake City, and Portland in Oregon, Indians residing in those US cities may take a liking to fly United Airlines from San Francisco to Delhi IGI airport.
Baggage Allowance for Nonstop SFO to DEL Flights: United Airlines vs Air India
Air India's generous baggage allowance for economy travelers is the only disadvantage with United Airlines. Economy travelers flying nonstop Air India flights from USA to India can check in two pieces of baggage, each weighing up to 23 kgs or 50 lbs. But, only one check-in bag weighing not more than 23 kgs is allowed to economy passengers of United Airlines' nonstop flights to Mumbai and Delhi from Newark Liberty international Airport. United Airlines' economy baggage allowance will apply to the upcoming SFO to DEL nonstop service as well.
Extra Fee for Preferred Economy Seats on United Flights
Travelers flying United Airlines will have to pay up for their preferred seats in the economy cabin starting today, December 14. The additional fee for preferred seats, which are basically standard economy seats with no extra legroom behind the Economy Plus rows, will apply on all routes in the airline's global network. Those unwilling to sit on the backside of aircraft prefer the seats behind the Economy Plus rows onboard.
No matter how cheap United Airlines economy flight tickets are; preferred economy seats will add to the fare. American Airlines and Delta Air Lines with similar economy seats have already been continuing the trend of charging extra for preferred seats in economy.