"LOVE is not love
Which alters when it alteration finds,
Or bends with the remover to remove:
O no; it is an ever-fixed mark,
That looks on tempests, and is never shaken;
It is the star to every wandering bark,
Whose worth's unknown, although his height be taken.
LOVE's not Time's fool,"
In the stanza quoted from "Sonnet No. 116," William Shakespeare speaks about the eternity of love, which is best embodied and concretized by the Taj Mahal in India. A wonder of wonders in the world, the Taj Mahal is a living edifice of human passion, which neither History dares to bury in its grave nor does Time dare to forget. Celebrities from across the globe have defined and described this immortal heritage of India in different ways. We have compiled some of the best quotes about the Taj Mahal to share with you, through eloquent visuals from the lens of travel photographers.
Rabindranath Tagore, Nobel awardee in literature
"You know Shah Jahan, life and youth, wealth and glory, they all drift away in the current of time. You strove therefore, to perpetuate only the sorrow of your heart? Let the splendor of diamond, pearl and ruby vanish? Only let this one teardrop, this Taj Mahal, glisten spotlessly bright on the cheek of time, forever and ever."
Sir Edwin Arnold, English Poet
"Not a piece of architecture, as other buildings are, but the proud passions of an emperor's love wrought in living stones."
Bayard Taylor, American novelist
"Did you ever build a castle in the Air? Here is one, brought down to earth and fixed for the wonder of ages."
Hodges, British painter
"It appears like a perfect pearl on an azure ground. The effect is such I have never experienced from any work of art."
Bill Clinton, former President of the USA
There are two kinds of people in the world. Those who have seen the Taj Mahal and love it, and those who have not seen the Taj Mahal and love it. I would like people to watch the Taj Mahal and fall in love with it.
Count Hermann Keyserling, German Philosopher
"A massive marble structure, without weight, as if formed of ether, perfectly rational and at the same time entirely decorative, it is perhaps the greatest art work which the forming spirit of mankind has ever brought forth."
Lord Curzon, British Governor General
If I had never done anything else in India, I would have written my name here, and the letters would have been a living joy."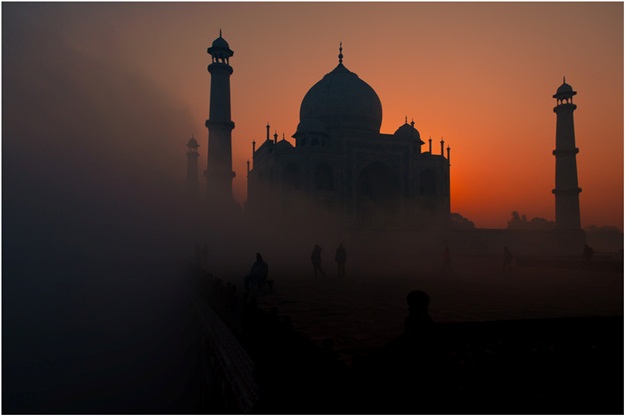 CHECK MORE Beautiful Paintings of Indian Heritage Monuments
Indian Eagle Travel believes in creating wonderful trips for you by booking your flights to India from USA at the best prices. May your flight be as joyful as these visuals!