Many of us know that actress Priyanka Chopra, while studying in the United States in her teens, was bullied and laughed at for her brown skin. With the Indian community growing and thriving in the US, the picture has improved. Recently, 17-year-old Indian American Himanvi Panidepu defied all stereotypes about brown complexion to win the Miss Virginia Teen USA 2018 title. Now, 13-year-old Saanvi Sreejit is all set to represent Texas at the National American Miss pageant on November 19 in California.
An 8th grader at Fowler Middle School in Plano, Texas Indian American Saanvi Sreejit had successfully contested for the crown of Miss Texas Pre-Teen in July 2017. She beat out as many as 180 contestants in three rounds of the beauty contest – personal introduction, formal wear and one-on-one interviews – to win the crown.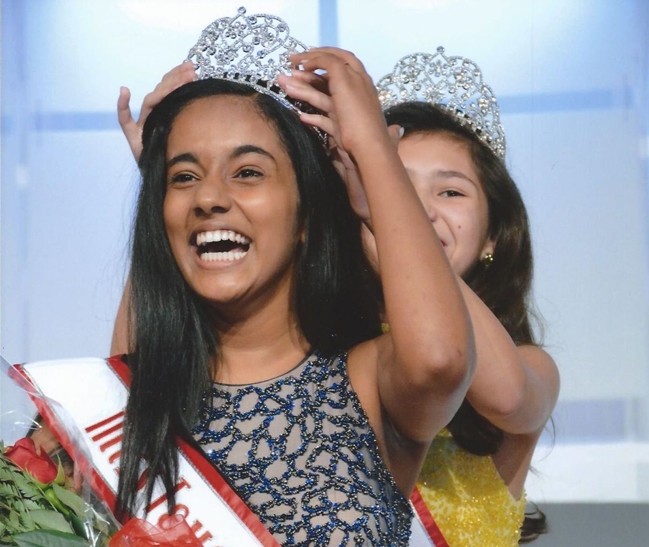 Saanvi Sreejit not only earned the distinction of being the 'State Queen: Miss Texas Pre-Teen 2017' but went on to stand out in the 'Top Model' and 'Miss Spirit' categories. She gave an outstanding account of herself in the friendship and sportsmanship rounds too. Nothing could hold her back from being among the top five in other categories such as talent, photogenic, casual wear, acting, and spokes model.
Born in India and based in Texas, Saanvi Sreejit is one of the members of the Girls Scout of USA. She is also associated with several organizations including Best Buddy International and ACE-North Texas Performing Arts. She made Texas her home when she was a 4th grader. Saying that she dons a hat with multiple feathers is not an exaggeration.
Also Read: Austin Indian American Teen's Philanthropy in Rural Rajasthan
The 'Miss Texas Pre-Teen 2017' title winner, Saanvi Sreejit has earned laurels in theatre, music and debate competitions, but she never rests on them. Driven by her passion for acting, she has worked in several major theater plays staged across Dallas, Plano, Fairview, Frisco, San Antonio and McKinney. Marion in Funhouse Theatre, and Macbeth at Fairview Youth theatre have been her favorite characters and popular roles.
An assistant director for Fowler Middle School's fall musical theatre productions in Plano, Saanvi Sreejit came out with flying colors in impromptu speeches and open interpretations at the DFW Speech and Debate Competition. She also proved to be an extraordinary vocalist in the University Interscholastic League Solo and Ensemble. She made a mark as a 'Budding Artist' finalist at the Wildflower Arts and Music Fest.
The National American Miss pageant is held every year to recognize and award young women nationwide based on a set of parameters including talent, intelligence, knowledge, beauty, poise and presentation. Winners are awarded $1.5 million in cash, scholarship and prizes.
This story is part of our continued effort at Indian Eagle to promote achievements of Indians in USA and the rest of the world. We not only strive to make US to India travel cheaper but also cater inspiring stories, community news, and travel updates to Indian Americans through our free newsletters. If you have any story to tell or share, do feel free to write to us at share@blogbox.indianeagle.com.