After US President Trump and Indian Prime Minister Modi, the third most engrossing headlines are made by child prodigies in India and Indian-origin child prodigies in the United States. From Stuti Khandwala cracking all national engineering and medical entrances in India to 14-year-old Indian-origin IT entrepreneur Aadithyan Rajesh to USA's youngest biomedical engineer Tanishq Abraham of Indian descent to 13-year-old Indian American winner of Top Young Scientist Challenge 2018 to Indian American Human Calculator Apoorva Panidapu, everyone is a child prodigy with powerhouse of talent.
The latest child prodigy to feature in our continued series of stories titled Young Indians is 13-year-old Indian American business graduate, Kamal Kiran Raju Yerra from South Carolina. He successfully studied the Bachelor of Science in Business degree at Excelsior College in New York, and now he is gearing up to graduate tomorrow, June 21. A moment of proud for his parents and family!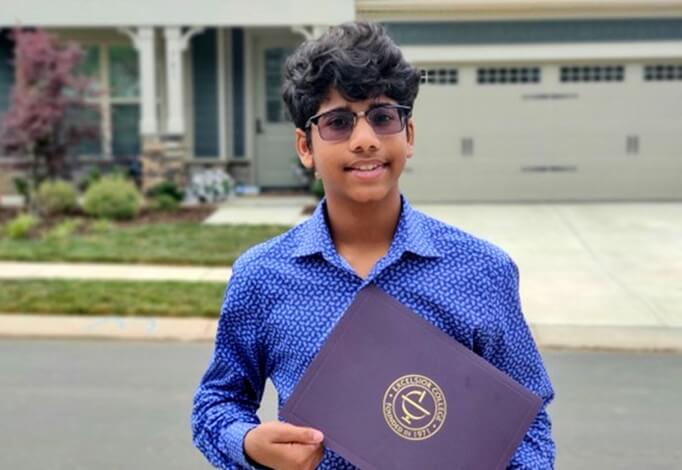 According to a Business Insider report, Kamal Kiran Raju Yerra started giving an account of his extraordinariness at the age of 10. In 2016, he outperformed most of the 14 brilliant students who enrolled in college at 12. His amazing capability earned him attention and accolades from other Indian American parents who were keen to explore the secrets of his super success at a tender age.
A resident of South Carolina, Kamal Kiran Raju Yerra completed his school education at the age of ten, much to the surprise of his friends, relatives and neighbors. He started bagging college credits through the online platforms approved by American Council on Education (ACE) and National College Credit Recommendation Service (NCCRS). The online courses approved by these two academic bodies are the programs for those students who take a leave from studies and then return to college after a stint in some profession.
Indian American Kamal Kiran Raju Yerra earned over 140 college credits from American Council on Education, and National College Credit Recommendation Service.
A high school drama was mandatory for him to seek admission to Excelsior College in New York, but he had even not been to high school. After thorough research and continued support of his parents who do always believe in his accomplishments, he enrolled to Penn Foster High School and completed the 4-year high school curriculum in a surprisingly short span of four months.
A private online college comprising of five schools, Excelsior College in Albany NY has produced some 170,000 graduates till date, who are unlike Kamal Kiran Raju Yerra. On completion of his Bachelor of Science in business with a 4/4 GPA, Yerra is looking to earn an MBA degree from Harvard University. He aspires to be a global business leader, and his parents have faith in his career vision.
13-year-old Kamal Kiran Raju Yerra's parents, Ravi Yerra and Durga Yerra are software professionals. Born and raised in India, both Ravi and Durga shifted to the US for better career for themselves and better opportunities for their children. That their two sons would go far ahead of where children their age reach in education is a matter of immense pride and not less than a wonder to Ravi and Durga.
"We're so glad that both of our children, Shashi and Kamal, have been gifted with a natural ability to learn beyond measure and excel in their academic endeavors," said Kamal Kiran Raju Yerra's parents.
This story is brought to you by Indian Eagle, a most trusted air travel booking partner of Indians in the USA. Indian Eagle not only helps you find reliable companions for your parents traveling alone, but also offers cheapest fare deals for flights to India and gives a shout-out to stories of achievements.