A negative RT-PCR test report is now mandatory for traveling to India, according to the Government of India's new guidelines for international arrivals, which took effect on February 23, 2021. Exemption from this is no longer available either for parents traveling with kids below 10 years or travelers with medical conditions. Unlike before, taking direct flights from USA to India no longer exempts travelers from pre-arrival RT-PCR testing. To say precisely, a negative COVID-19 test report is the brand new passport for hassle-free travel to India under the unprecedented circumstances these days.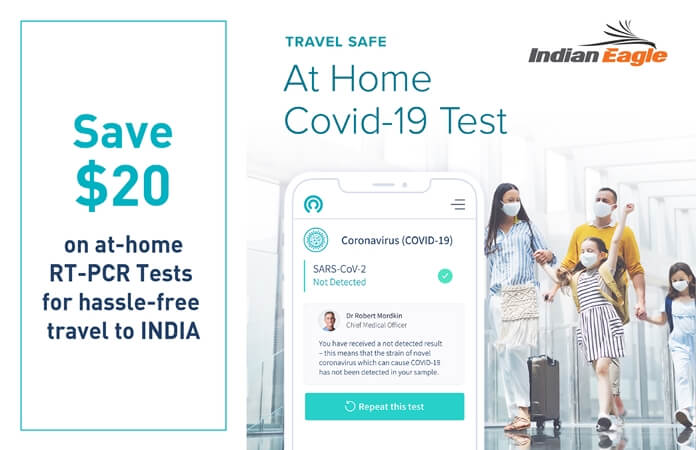 Are you scheduled to travel to India in the coming days? Take an at-home RT-PCR test and get a lab report in a secure digital environment within 72 hours prior to undertaking the journey. The free express delivery of DIY kits with an easy-to-follow instruction manual to your preferred location makes taking a COVID-19 test from home a lot easier than visiting a lab. Unlike invasive clinic tests, the home-based test requires you to self-collect a sample of your lower nasal swab, which is as easy as using a cotton bud to clean the inside of your nose.
The test kit comes with a prepaid return shipping label for convenient returns to an ISO 15189 accredited lab. An official report based on your test result will be available in your online account within 24-72 hours of the sample being received. You can download the report, upload it (if negative) onto Air Suvidha and take a printout to be shown upon arrival in India.
Indian Eagle has partnered with LetsGetChecked to offer at-home COVID-19 tests, aiming to make travel to India easier and hassle-free for its customers in view of the new guidelines. A leading air-ticketing partner of Indians in the USA, Indian Eagle offers its customers an exclusive discount of $20 on purchase of LetsGetChecked's easy-to-use test kits.
The email confirmation of your booking of travel on IndianEagle.com carries a code, using which you can avail the $20 discount on ordering an at-home COVID-19 test kit (s) from Lets Get Checked. You must be 18 years or older to take this test from home. The best advantage of using the test kit from LetsGetChecked is that you can upload the report onto Air Suvidha the moment it is available. Moreover, all data related to your test is completely anonymized ensuring your privacy throughout the process.
Disclaimer: While the test result is expected to be available within 48 hours, it may take up to 72hrs from the time the sample is received by the lab. Indian Eagle shall not be held liable if the result is delayed in some cases due to unforeseeable circumstances.