A math whiz, a social entrepreneur, a painter, a community volunteer, a philanthropist, a martial arts enthusiast – what not she is! 14-year-old Indian American Apoorva Panidapu, who is faster than calculator, is primarily known for her unmatched math IQ. A three-time recipient of the President's Volunteer Service Award, this Californian Indian of San Jose appeared in the NBC show "Genius Junior" and earned the nickname "Human Calculator". With the belief, "Every single one of us, no matter what age, can make a difference in the world," Apoorva volunteers as a teaching assistant for an elementary school, raises funds for the education of visually-impaired children in India, and sells her art works to raise money for underserved children in Africa.
We at Travel Beats, a leading overseas Indian community portal by Indian Eagle Travel, catch up with Apoorva from San Jose to share with you what made her fall in love with mathematics and plunge into philanthropy, and how she juggles several various activities with equal zest for excellence.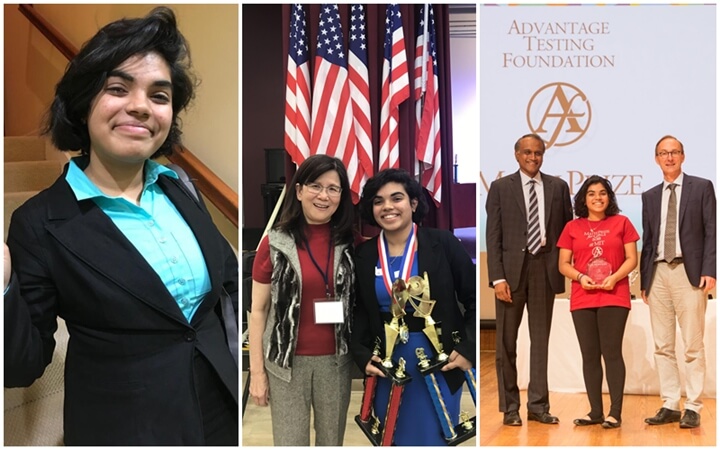 How did you get nicknamed 'Human Calculator'? Any other nickname you earned for your unmatched expertise in mathematics?
I got the nickname from Genius Junior, based on my performance in the show. In all honesty, I'm not a huge fan of the nickname. Although it is a fun name, I feel that I'm more than a calculator as my passion for math runs deeper than just calculations.
When and how did you fall in love with mathematics? Would you like to share something about your journey from a novice in math to a mathematical genius? 
As cliché as it sounds, ever since I was a kid, math was the thing that called out to me; it was a constant that I could always rely on to lift my spirits, to give me a challenge. I can spend hours and hours breaking down a problem, pulling it apart and putting it back together, in hopes of understanding what it all means. While some people view math as tedious, I view it as the favorite part of my day.
My exploration of mathematics stemmed from my ambitious six-year old self. While racing to finish first in one-minute times table exercises kept me entertained at first, it wasn't long before I yearned for more. The rules of math that I learned didn't satisfy me– where did that formula come from? How do these numbers work like this? While my teacher attempted to teach my classmates to learn to moderate their voices, I became interested in learning about a different kind of mod: modular arithmetic. I came across modular arithmetic in one of the books about numbers that I had found in the library. I, of course, didn't quite comprehend and understand this concept, but this caused my excitement to increase at an exponential rate. And so, my journey into mathematics began.
Was 'Genius Junior' on NBC in 2018 your first TV appearance? Did it make a difference to the way you are recognized or treated in public or private gatherings?
Yes, Genius Junior was my first TV appearance. Occasionally, people will recognize me in public, but everything else was pretty much the same. However, it definitely has helped my art gallery and getting recognition in a positive way. It has also led to several invitations to speak at different events, which I'm very grateful for.
Recently, Evergreen Times wrote about you, "Apoorva is not your typical eighth grader; she wears multiple hats." What other pursuits do you like and follow passionately? How do you manage to wear 'multiple hats'?
I play first violin in the SJYS Concert Orchestra, participate in Speech and Debate tournaments, and attend martial arts classes. These activities allow me to collaborate with many different people with different interests, and at the same time I get to explore my passions. As for community programs, I volunteer as a teaching assistant for an elementary school in a low-income area of my city every week, helping them with math, English, spelling, whatever they need. I also tutor local kids in competition math and school math; all funds raised go towards the education of visually-impaired children in India. I am also an avid artist. I particularly like oil painting and sketching for my gallery www.apoorvaartgallery.com. I'm most inspired when I'm creating art to raise money for underserved children in Africa. I also enjoy speaking at events like TIE Inflect: The World's Largest Entrepreneur Conference, Women In Tech: Future Leaders, and a few others. In order to make sure I give each of my activities enough time and commitment, I make sure I know what I'm going to do each day and manage my time accordingly. Making plans and lists has also been very helpful!

What earned you the President's Volunteer Service Award three times? 
I love volunteering and being able to give back to the community. It has taught me so many things and I'm always looking for new ways to help out. If you're in a position to help, there's no reason not to. Use what you're given to make a difference and help someone out. Any help and support is appreciated! Even if you cannot donate, take the time to volunteer in your community. There are many opportunities to provide a helping hand.
Congratulations on your winning the Spirit of Ramanujan Fellowship Award. What change for the better has this achievement brought to your life? I mean what this achievement means to you.
Thank you! I'm so grateful for their support and their help along my mathematical journey. I will be using the award to attend Canada/USA Mathcamp this summer. This initiative especially means a lot to me because the person who inspired it, Ramanujan, was such a brilliant mind. In fact, mathematicians are still struggling to understand his works. He has always been a role model of mine, as his hard work and persistence let him pursue his passion in mathematics even with all odds stacked against him.
Recently, you spoke at the International Women's Day Conference. How the opportunity came your way?
I was invited to eBay by eWIT President Ishita Majumdar in late 2018 to kick off the Women in Tech – Future Leaders series. I had the opportunity to share my passions and talk about my art gallery. During International Women's Day, I was invited again to auction a painting of one of my personal role models, Michelle Obama. I ended up raising $610 from the auction, and I also got to meet eBay CEO Devin Wenig who unveiled the painting. I'm very thankful for all of the support and encouragement I get from everyone at eBay, they are all truly amazing.
You raise funds to support visually impaired kids in India, using your gift in math and art. Can you enlighten us about the philanthropist in you? 
"Five-hundred and eleven, five-hundred and twelve, five-hundred and thirteen. We have raised over five hundred dollars! That's enough for ten goats," my fourth-grade teacher exclaimed, her eyes sparkling with joy. I cheered and clapped along with my peers, delighted that my small fourth-grade class was actually able to create change in the lives of people around the world. During the year, we all worked together to create bracelets, origami, all kinds of artwork to sell at the school's family fair. All the proceeds would go towards buying goats for impoverished villages, and they would provide entire villages with milk, cheese, and butter. This class project has stuck with me for all these years, because it was the first opportunity I had to be part of something greater than my community.
After this initial wonderful experience of philanthropy, I wanted to do more to help children who don't have access to basic necessities. So, I started working with Save the Children to try and help provide lifesaving support to children and families in Africa, especially children under age five, who are less able to withstand malnutrition and are susceptible to disease. It's devastating that young children in Africa don't have access to basic human needs like clean water, food, and shelter. Things that people in my community use without a second thought, these children are fighting for every day. Starvation is prominent in many areas, and a distressing 20 percent of Africa's children do not reach the age of six. I wanted, needed, to attempt to help these children, because I couldn't just stand by while children younger than me are forced to fight for basic human necessities.
Every single one of us, no matter what age, can make a difference in the world. Every single day, my charity teaches me something, every single person I meet helps me grow, and every single painting I create fills me up with more love. I have learned that the world is kinder than it seems, and I vow to continue creating art for charity, while encouraging others to also use their resources, networks, and gifts to generate good in the world.
What do you think about the gender disparity in STEM fields? Would you like to join the club of STEM advocates for girls in the US if given an opportunity?
Yes, I would definitely join a club that advocates for women in STEM. I think this gender disparity is so important to address and that we must encourage little girls to be whatever they want to be. Unfortunately, the number of girls in math competitions drops every year because of the pernicious stereotype that mathematics is a man's field. You can also see this gap in other fields like technology and science. Everyone should have the basic human right to pursue their interests unfettered, since motivation, problem-solving, and strategy know no gender. We need to remind all children that there are no rules for gender and no limits to people's aspirations. A student can adore cheerleading and be a calculus nerd at heart. If fashion inspires someone, it doesn't mean that mathematics can't too.
Who would you like to credit your achievements to? Yourself or someone else?
I think everyone who has ever taught me something has contributed to my learning and journey, especially my teachers and mentors. I remember someone once told me, "You can learn something from everyone." I think what I've done so far wouldn't have been possible if I hadn't met the people I did or had the experiences I've had. For that, I credit my parents who have always motivated me and have helped me find opportunities to further my passions. They give me the independence to pursue what I love, but, at the same time, they provide guidance, support, and advice.