The current US government's visa reforms and immigration measures may cut the number of immigrants from India, but the ripple effects of Indian culture in the United States cannot be controlled. The Indian cultural values are spreading along the length and breadth of the US, with more and more US universities offering yoga programs and courses on Hinduism as well as Indian languages including Sanskrit. The latest evidence to the rising waves of Indian culture in America is a few upcoming Hindu temples in USA for the inclusive cultural welfare of all communities, Indian and non-Indian.
Indians in Chicago, California and Connecticut are to get a new temple in their respective states, according to reports from Rajan Zed, the President of Universal Society of Hinduism. Let's take a short walk through the upcoming temples in the United States at our Indian American community portal, Travel Beats.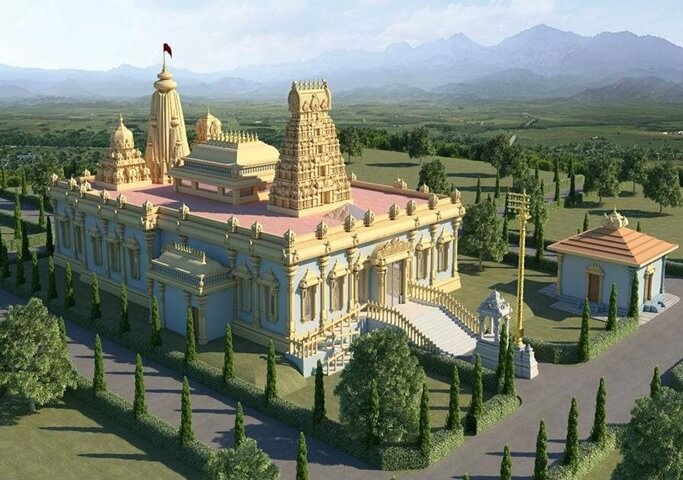 Hindu Temple of Greater Springfield, Illinois   
The Hindu Temple of Greater Springfield will build the new temple complex in Chatham, Illinois following the basics of traditional Hindu architecture. It will have a raja gopuram (grand entrance tower), according to Rajan Zed. Since Lakshmi, the goddess of wealth and prosperity is the presiding deity at the Hindu Temple of Greater Springfield in Chatham, Diwali and Ram Navami will be celebrated as major Indian festivals here, according to Gopal Reddy, who chairs the temple's fundraising committee.
The Hindu Temple of Greater Springfield on the western edge of Chatham Village in Sangamon County, Illinois is gearing up for Bhoomi Puja (ground breaking) for a new temple complex, which is scheduled on April 21, 2018. The upcoming complex with a new 8500 square-foot temple building will also house an 11068-square-foot recreational area for community events, a 7652-square-foot function hall for religious festivities, a 10522-square-foot tapovanam (a divine park), a 4920-square-foot pool, and a 4919-square-foot facility for temple priests and devotees' overnight stay.
Brahmamdam, who works at the Illinois Board of Education, is referred to as a divine force behind the USD 2-million project for proposing the idea for a permanent temple complex in the Springfield area which more than 350 Indian Hindu families call home. There will be a spacious parking lot for 511 vehicles, including 11 special vehicles of the differently-abled outside the temple. The ground breaking ceremony at the Hindu Temple of Greater Springfield on April 21 will be followed by lunch and cultural entertainment.
Temple and Cultural Center in Milford, Connecticut
Milford City is all set to build a Hindu temple and cultural center for Indians in Connecticut, USA. The proposal has been unanimously approved by the Planning and Zoning Board of Milford, Connecticut. The temple will be built at a sprawling site of 1.77 acres worth $1.8 million. Adding to the cultural diversity and community harmony of Milford, the proposed temple will be a seat for cultural activities, spiritual practices, philanthropic pursuits and career fairs. Milford is rightly nicknamed "A Small City with a Big Heart."
Ganesha Temple in Pomona City, California
Among the proposed temples in the USA is one in Pomona City, California. Indians in Los Angeles County have proposed to build a shrine at Ganesha High School in Pomona City and dedicate it to Lord Ganesha since the school is named after the Hindu god of prosperity.  Several things are named after Lord Ganesha in Pomona City, California including Ganesha Hills, Ganesha Place, Ganesha Park and Ganesha Hills Loop.
Rajan Zed believes that it's quite befitting for this Californian city in Los Angeles County to have a Lord Ganesha temple. He has requested Pomona City Mayor to erect a statue of Lord Ganesha in the city's oldest Ganesh Park. He has also pleaded with the Pomona Unified School District trustees to consider the proposal of building a shrine at Ganesha High School.