There are many Indian restaurants in Silicon Valley serving the best Indian food in San Francisco Bay Area. It is one of the reasons why Silicon Valley is home to a great number of Indians in California. Most of the Silicon Valley companies including Google keep their Indian employees happy about food according to their desi taste buds, which is often a concern with many living or going abroad.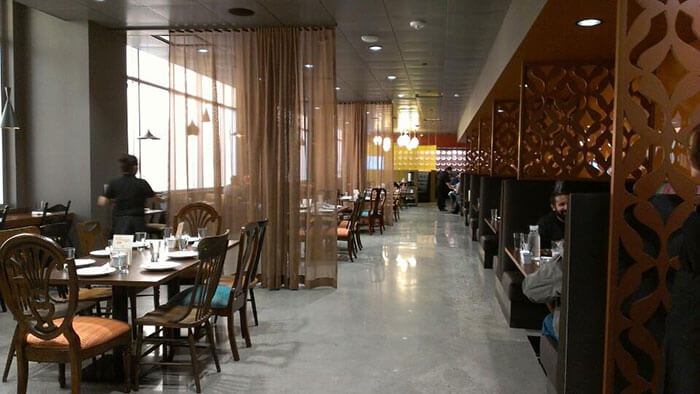 Among the Silicon Valley companies in San Francisco, Google at Mountain View deserves a special mention for providing free food to its employees. Google Headquarters houses 30 different eating joints to pamper its employees with delicious food from various cuisines. The global search engine giant has got an Indian restaurant Baadal to provide its Indian American and Indian employees with authentic Indian food for free at its Mountain View campus in Santa Clara County.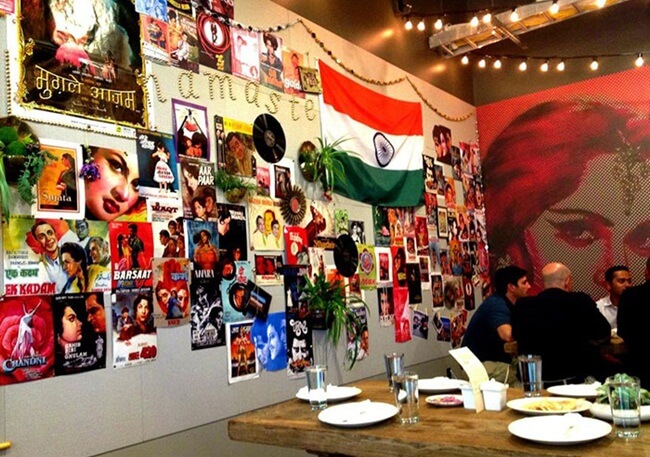 Café Baadal at Googleplex is Indian to the core from its décor to menu. With glittering lanterns hanging from the ceiling and flamboyant cushions on cozy chairs, this Indian restaurant at Google headquarters has captured the colors of India in its interior. With eye-catching posters of popular Bollywood films from the golden eras of Indian Cinema adoring the walls, Baadal has truly nostalgic ambiance, which makes Google's Indian American employees feel a connect with India.
The maps and flags of India not only dominate the interior décor but also add to the nostalgic quotient of Café Baadal at Googleplex in Mountain View.
The menu at Café Baadal has some of the best and most popular Indian dishes, including chicken biryani, which is a favorite of many Google employees in the Mountain View campus. Masala chai is their favorite pastime too. The restaurant changes the menu every day but chicken biryani and masala chai are available all time. The menu serving authentic Indian food from north Indian dishes to south Indian thalis makes dining a desi affair at this Google restaurant in Santa Clara County.
Baadal Rice is the mainstay of the menu at Café Baadal. It is a special mix of Sona Masoori rice, brown rice and Bhutanese red rice. There is a special meal named Brahmin for some employees who prefer Sattvik food.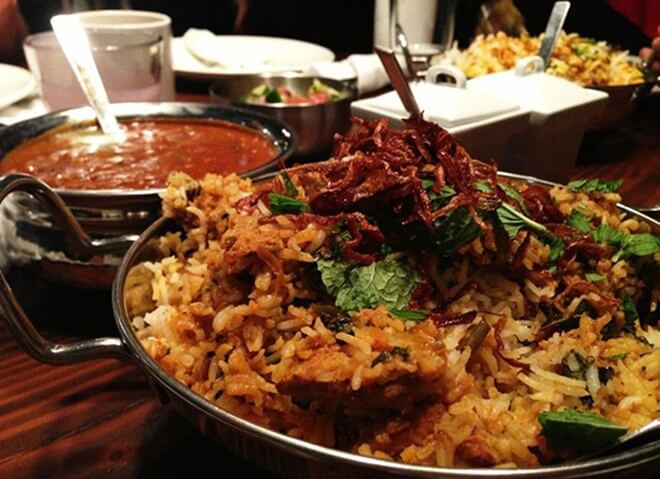 Be an employee Indian or Indian American, a meal or thali is incomplete without desserts for them. Unsurprisingly, Café Baadal at Googleplex serves sinful Indian desserts. The restaurant has become so popular that even Google employees need to book tables in advance. There is a small food truck outside Café Baadal at Googleplex for those having no reservation. The employees without advance booking and those on the go can grab some of the dishes from the truck instead of making a beeline.
The story of Indian food at Googleplex does not here. There is a smaller van beside the food truck, which serves desserts outside the restaurant.
Chef Irfan Dama, who is popular as Chef Dama in San Francisco Bay Area, cooks Indian food for the Google employees in Mountain View. He specializes in Indian cuisine and cooking. It is his culinary magic that has made the Indian restaurant Baadal at Google Headquarters a hit with employees.
Baadal is one of the best restaurants for Indian food in Silicon Valley. Each bite reminds you of your mother, home and country. The Indian street style masala tea is my favorite at Baadal. – An Indian employee at Googleplex.
Travel Beats is an overseas Indian community portal by Indian Eagle, a leading international travel organization excelling in booking cheap airline tickets to India. Subscribe to Travel Beats for interesting community news and stories from the US and India.