Political pilgrimage is one of the emerging trends in India. It seems a potential source of revenues for Indian Tourism as the country is to get a temple in honor of Prime Minister Narendra Modi. Proposed by JP Singh, a diehard follower and supporter of the Prime Minister, the Narendra Modi Temple will come up in the Indian state of Uttar Pradesh.
A sprawling area of 5 acres or 20, 234 square meters has been chosen for the proposed Narendra Modi temple in Meerut City, Uttar Pradesh. The temple will reportedly house a 100ft statue of PM Modi and cost a whopping INR 10 crore. The foundation brick will be laid at the site on October 23 this year (2017) as per the announcement in a press conference yesterday.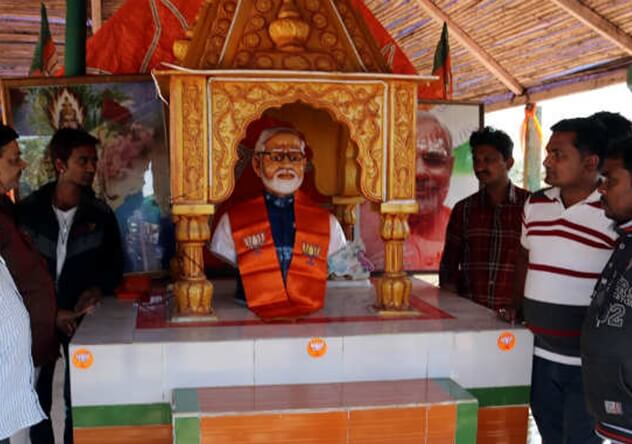 The upcoming Narendra Modi temple in Meerut City is the second shrine in the name of PM Modi. Rajkot in Gujarat is where the first Prime Minister Modi temple was built and inaugurated in 2006. Initially a photograph of the then Gujarat Chief Minister Narendra Modi was installed at the altar of the Modi Temple in Rajkot. In 2015, the temple got an idol carved by artisans from Odisha and funded by the Om Yuva Group, an organization of 350 local youths.
It will take 2 years to build the PM Narendra Modi Temple in Meerut City. The 100-foot statue will be worshiped daily and offered prayers twice a day as at the Rajkot temple of PM Modi in Gujarat. The upcoming temple will also commemorate "PM Modi's model of development" for a brighter India.
The proposal to dedicate a temple to PM Modi in Uttar Pradesh is part of JP Singh's post-retirement plan for social welfare of the poor. Recently, he retired as an assistant engineer in the irrigation and water department after 30 years of service to the government of Uttar Pradesh. He said in the press conference:
"I am inspired by the love Narendra Modiji has for Mother India. The 'Modi Magic' deserves a temple. To highlight our respect for him and our belief in his work, I have planned to build a temple and dedicate to him. I want to now dedicate my life to the needy and the poor by working for social welfare. The plan to build the Narendra Modi temple is a step in this direction."
Interestingly, there are two temples in honor of Sonia Gandhi, President of Indian National Congress, in Telangana. One is in Karimnagar, and the other is in Mahbubnagar. The upcoming Modi Temple in Meerut City is supposed to be part of a tourism circuit in Uttar Pradesh.
Meerut is a 2-hour drive from Indira Gandhi International Airport, New Delhi. Even popular tourist places like Haridwar, Nainital and Dehradun are short road trips from Meerut in Uttar Pradesh.

Also Check: World's Tallest Temple under Construction in India