India is pulling out all the stops to tap into the global tourism market for a decent pie, while 20-year-old Manushi Chhillar from Haryana turned the global attention to India by winning the 'Miss World 2017' title. Manushi is the sixth Indian to have won the Miss World pageant after 16 years of India's hibernation from the year 2000 when actress Priyanka Chopra won the most coveted crown.
More and more girls from the Indian state of Haryana are coming out of the shell to make it big for the nation and themselves. With Manushi Chhillar having brought home the prestigious 'Miss World 2017' title, the success of Haryana girls including the Phogat sisters in wresting, continues. We at Indian Eagle hope that Manushi's achievement will ignite sparks of empowerment in many girls, who re still groping in the dark or struggling under a veil, across the country.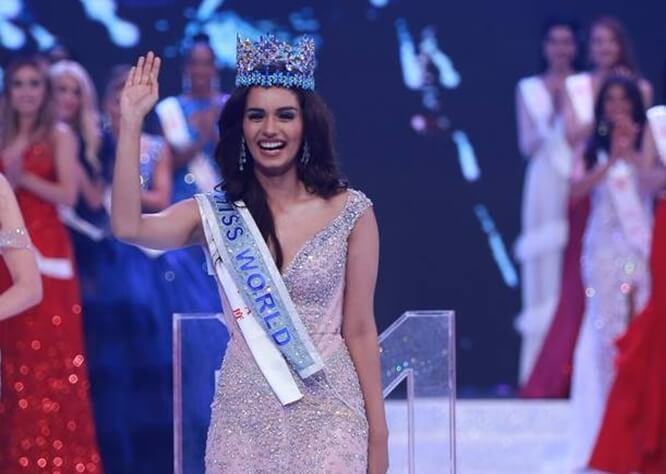 A medical student at Bhagat Phool Singh Government Medical College for Women in Haryana, the Miss World 2017 winner is a trained classical dancer in Kuchipudi. She aims to be a cardiac surgeon. Opening hospitals for free treatment in rural backwaters of India is one of the plans on her agenda for the country. Manushi Chhillar is an outdoor sports enthusiast too. She has a penchant for scuba diving, bungee jumping and snorkeling.
Manushi Chhillar's winning the 'Miss World 2017' title has been a journey starting with her participation and success in the Femina Miss India 2017 competition sponsored by Colors and FBB India. While a semifinalist in several categories of the Miss World 2017 pageant, she was a co-winner of the Beauty with a Purpose competition.
Also Check: Indian American Teen Empowers Rural Women in Rajasthan  
Part of the Beauty with a Purpose competition, Project Shakti saw the best of Manushi Chhillar as a social activist. She visited 20 villages and educated over 5000 women on menstrual hygiene in compliance with the goals of Project Shakti, an imitative for rural women's financial empowerment and livelihood. She found the Project Shakti close to her heart, and felt honored to make a difference to the way those rural women used to treat menstrual issues.
A gifted poet and painter, Manushi Chhillar proved to be a beauty with brains in the final round of the Miss World 2017 pageant when she was asked, "Which profession deserves the highest salary and why?" In a split second, she answered that mother should get respect and the highest salary.
Haryana, which is infamous for crimes against women, has produced many brave girls who beat all odds to break household bounds and take up male-dominated pursuits like wresting. Sakshi Malik, a 2016 Rio Olympic winner; Mamta Kharab, the Arjuna Award-winning 'golden girl' of Indian Hockey; Saina Nehwal having 21 international badminton titles; Santosh Yadav, the world's first woman to have climbed Mt. Everest twice, and Zohrabai Ambalewali, a leading playback singer in the early eras of Bollywood are among the women legends of Haryana.
Indian American astronaut Kalpana Chawla, the first Indian woman on a space mission in 1977, and India's External Affairs Minister Sushma Swaraj are also from Haryana.
Indian girls are winning such pageants with their beauty and brains not only at home but also abroad. Recently, two Indian American girls – Saanvi Sreejit from Texas and Himanvi Panidepu from Virginia – got featured in the Young Indian section of Travel Beats, Indian Eagle's leading community portal for Indians in the USA. 13-year-old Saanvi Sreejit represented Texas in the National America Miss 2017, and 17-year-old Himanvi Panidepu won the Miss Virginia Teen USA 2018 title.
We at Indian Eagle congratulate Manushi Chhillar on glorifying India and bringing honor to Indians worldwide with her 'Miss World 2017' title. It is part of our continued effort to promote achievements of young Indians and make travel to India cheaper than ever.