Indian Tourism is scaling up with several new and upcoming attractions such as the longest ropeway over sea in Mumbai, Vistadome train coaches with glass ceiling in Visakhapatnam of Andhra Pradesh, and Dr. Kalam Memorial at Rameshwaram in Tamil Nadu.
Vizag, as Visakhapatnam is popularly known among tourists, is all set to outsmart Goa on the strength of its new-age tourist attractions. After having introduced Switzerland's Glacier Express-like Vistadome train coaches with glass ceiling and air conditioning in Araku Valley, Vizag is likely to get India's longest ropeway for spectacular rides between two tourist spots.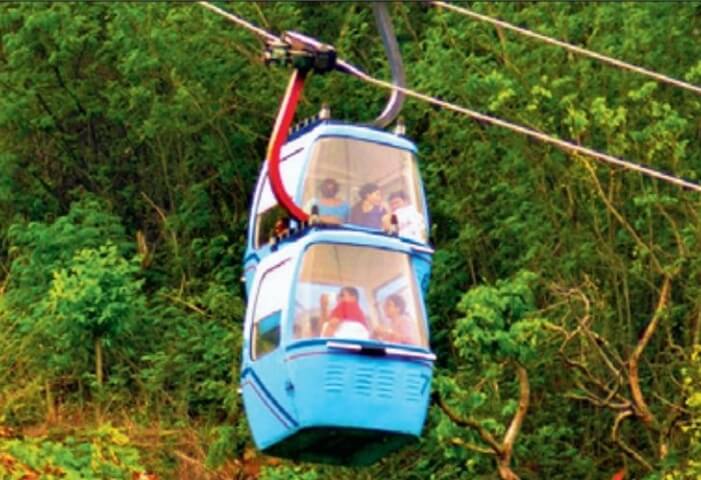 Known for some of the best beaches in India, Vizag is not just a beautiful port city but a popular, family-friendly tourist place on the east coast of India. It is nicknamed the City of Destiny for its tryst with devastating natural calamities like tsunami and cyclone. Though it was torn apart and suffered major setbacks, it never succumbed to overwhelming power of nature and damaging blows of fate. Like Phoenix in the Arabian Desert, Vizag rose out of ruins only to attract tourists.
Interesting Facts about the Proposed Longest Ropeway in Vizag 
India's longest ropeway in Vizag will pass from Kailasagiri to Dolphin's Nose. It will offer thrilling rides with panoramic views over the famous Ramakrishna Beach. A one-way ride on the proposed ropeway will cover nearly 12 km. Another stretch of the longest ropeway in Vizag will cover nearly 2 km between Kailasagiri and Simhachalam.
To be precise, the ropeway will connect Kailasagiri, Simhachalam, Dolphin's Nose and RK Beach among the most popular tourist spots in Vizag. The longest ropeway in Vizag will get glass-domed cable cars to enthrall tourists with glimpses of lush green landscape on one side and sweeping views of the sea on the other.
New Tourist Attractions in India 

Famous Tourist Places in Vizag
One of the best places to visit in Visakhapatnam, Kailasagiri is a sprawling hilltop park. Spread over a forested area of 380 acres at a height of 360 feet, Kailasagiri dominates the landscape and overlooks the beaches in Vizag.
Among the beaches of Visakhapatnam, Ramakrishna Beach is a most scenic one. Sunrise is a mesmerizing view to behold at this beach, in addition to relaxed strolling and sunbathing. Rides on the proposed longest ropeway in Vizag will pass through Ramakrishna Beach.
Dolphin's Nose is a vantage point among the places to visit in Vizag. Bearing resemblance to a dolphin's nose, it is a 174-m high rocky cliff with a long-standing lighthouse. Adjacent of Dolphin's Nose in Vizag is a residential area of armed forces, which is restricted to tourists. The other side of the hill is landscaped by a secluded beach, Yarada.
Among the best tourist places in Visakhapatnam, Simhachalam Hill is where the famous Varaha Lakshmi Narasimha temple is located 800 meters above the sea level. Dedicated to an incarnation of Lord Vishnu, the temple has five gateways and three courtyards, making it resemble the exterior of a fortress.
How to Reach Vizag
Vizag is a short flight away from Hyderabad, Bhubaneswar and Kolkata.  Though Bhubaneswar is the nearest airport, Vizag is accessible to foreign tourists via Kolkata International Airport and Hyderabad RGI Airport. Vizag is one of the popular weekend getaways from Hyderabad City.
Also Check how to save big on travel to Visakhapatnam