October to March is the best time to travel to Kerala. Those in quest of an altogether different travel experience should visit Kerala during monsoons. Monsoon being off season of Kerala tourism may not be the ideal season for family vacations. If you are a green traveler on the haunt for romance and adventure, monsoon is the best time to visit Kerala. Kerala is the only Indian state to experience monsoon twice a year. Monsoon in Kerala is more pleasant, charming and musical than that in other states of India. It does not bring incessant rains for days. A few hours of rainfall is followed by cozy sunshine, and the atmosphere feels pleasant. Kerala being one of the best monsoon getaways for cheap vacations in India has its own reasons to lure you for monsoon travel. Indian Eagle lists possible reasons to visit Kerala this monsoon.
Monsoon Adds to the Green Beauty of Kerala
Kerala is blessed with eternal greenery in South India. Everything from Kerala backwaters to wildlife exudes an altogether different charm in varying shades of green during monsoons. The green sightseeing in monsoon provides the bliss of natural Ayurveda to the mind and the soul.
Kerala Offers Refreshing Monsoon Flavor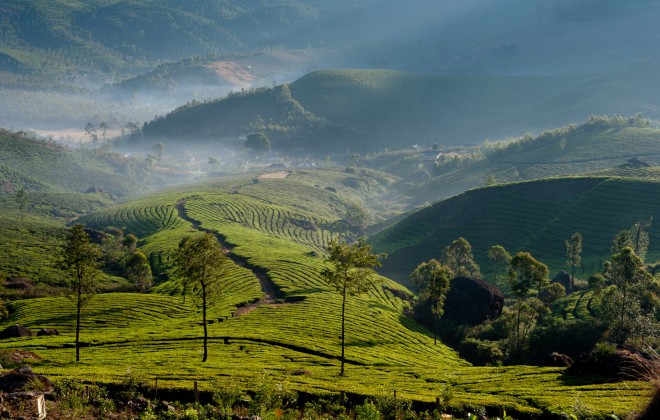 You might have tasted the tea and coffee of Kerala in other seasons of the year, but the monsoon flavor is rare and refreshing. The fresh produce from tea estates and coffee plantations in the hill stations of Kerala India offers a rejuvenating taste in rains.
Visit Kerala Waterfalls to Enjoy Monsoon Glory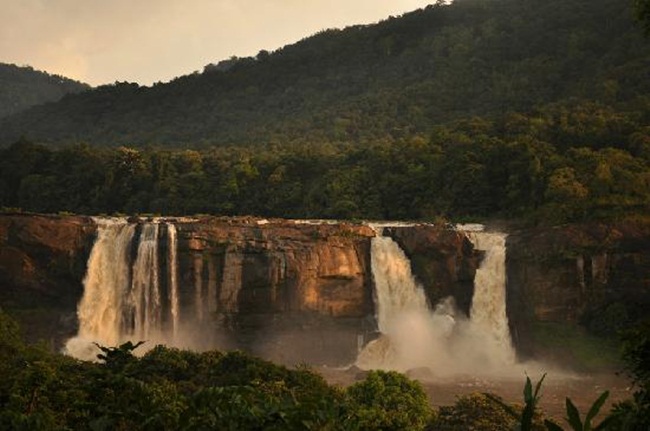 Visit the cascading waterfalls of Kerala and experience the beauty of nature in its full glory during monsoons. Drinking to the monsoon beauty of these natural artifices through naked eyes or the lens of a photography camera is one of the reasons to visit Kerala in monsoon.
Many romantic songs of Bollywood have been filmed in the backdrop of Kerala waterfalls during monsoons. In Mani Ratnam's Guru movie, the song "Barso re megha megha" featuring Aishwarya Rai as a bucolic belle dancing to the music of rains was shot in Athirapally, a forested landscape with waterfalls. Check other monsoon getaways where the most popular Bollywood songs of romance in rains have been filmed in India. – Indian Eagle.
Spend Romantic Moments on Kerala Backwaters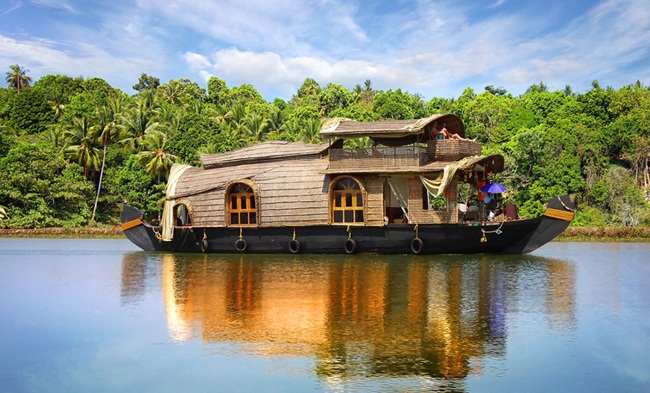 Kerala Backwaters are among the best holiday destinations in the monsoon season. Stay in a traditional Kerala houseboat on the backwaters of Alleppey amidst green landscapes on the shores, spend some time over the authentic cuisine of Kerala, and catch an eyeful of the never-seen panorama outside. Isn't it the most compelling of all reasons to visit Kerala during monsoon?
READ MORE Bull Race, Kerala's Most Offbeat Sport
Visit Kerala Hill Stations for Monsoon Romance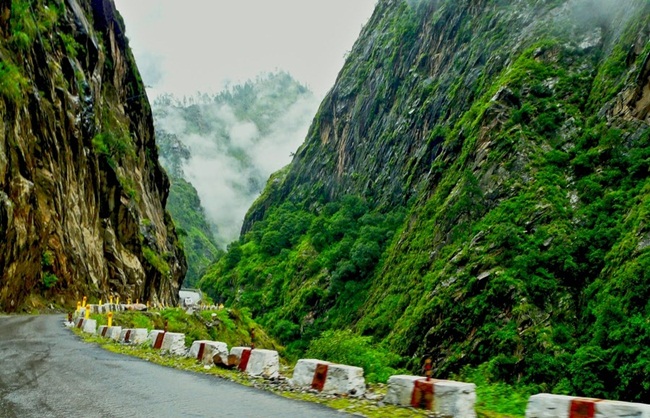 Don't miss the symphony of monsoon in the hills of Kerala! Most of the hill stations in Kerala India including Munnar and Mattupetty are perched at high altitudes. Mattupetty at a height of 1700 meters in the Idduki Hills has a few tourist attractions including a beautiful lake. Trekking to the rain-soaked hills is obviously better than staying indoors, but it may be a risky adventure for the novice during monsoon. So, hiring a local guide is recommended.
Monsoon is the best time to visit Kerala if you are looking for cheap vacations in the hill stations of South India, to say, Munnar. Munnar in Kerala is blessed with sensuous greenery and luxuriant landscape. There are many things to do and see in Munnar. Check our Munnar Travel Guide. – Indian Eagle.
Find Solitude on Rain-soaked Kerala Beaches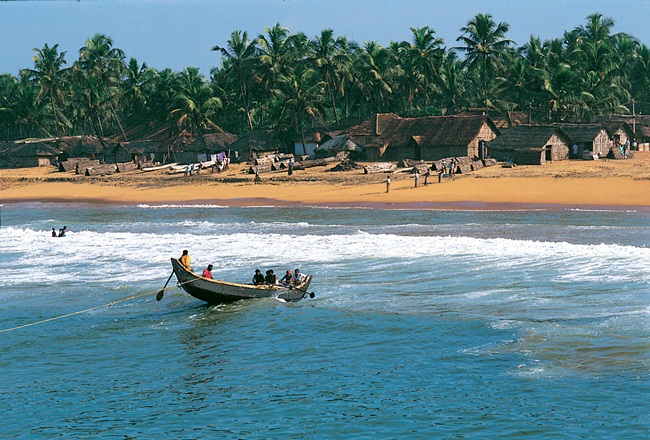 Kerala beaches woo travelers with scenic and serene beauty, which makes monsoon trips to Kerala wonderful travel stories. Though the sea surface swells, waves become wild and shores echo the roars in rains, strolling on the beaches of Kerala, at a safe distance from the shores, is a delightful activity to unwind once it stops raining.
See Cultural Best of Kerala during Onam Festival
Among the festivals of Kerala, Onam Festival is celebrated by the end of monsoon in August or in the beginning of September. Onam, one of the harvest festivals of India, is celebrated by the "Malay" community of Kerala. It is a cultural extravaganza that continues for about 10 days. The festivities include folk dances like Thiruvathira Kali, and Vallamkali, a famous snake boat race on the Pampa River. Onam Sadya, a grand feast, and Kathakali, a most popular dance form are parts of Onam celebration in Kerala.
READ MORE How Onam is Celebrated in Kerala
Get Ayurveda Treatment in Fresh Atmosphere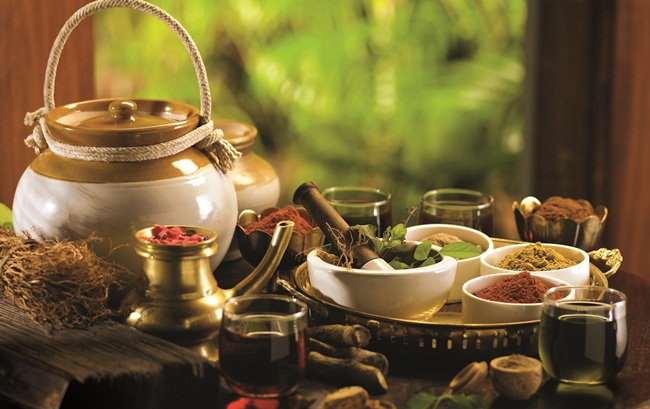 Holistic Ayurvedic treatment is another reason why monsoon is the right time to visit Kerala India. If the Himalayan region of North India is home to yoga and meditation retreats, Kerala is haven of Ayurveda that is the oldest form of herbal medicine. The cool, moist and fresh atmosphere during monsoon is suitable for Ayurvedic treatments. Many hotels and resorts in Kerala offer Ayurvedic massage and diet at discounted prices.
Stay Close to Nature in Tree House during Monsoon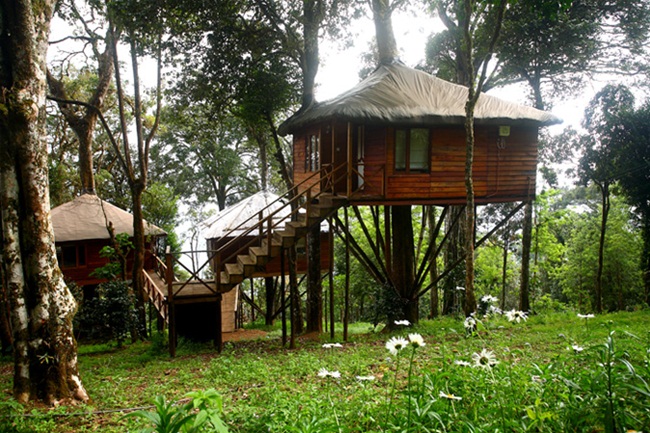 Visit Kerala for a tree house stay during monsoon. Several resorts in Wayanad, Kerala, offer accommodation in tree houses in rainforests. Just imagine how refreshing it feels staying in the lap of nature, listening to chirping of birds, breathing in fresh air, watching raindrops falling from leaves, soaking in greenery and having a cup of tea or coffee. You will surely get cheap accommodation deals from tree house cottages in Kerala during monsoon.
Have Cheap Vacations in Kerala during Monsoon
Monsoon is the best time to visit Kerala for budget travelers seeking cheap vacation ideas. Monsoon being off season of Kerala tourism, hotels and resorts offer cheaper accommodation with huge discounts. Even Kerala travel packages are available at much lower prices. Flights to Kerala are cheaper in monsoon, too. Indian Eagle books the cheapest flights to Kerala from the USA for monsoon trips.
About Indian Eagle
Indian Eagle, a leading USA based international travel organization, books cheap flights to Trivandrum International Airport and Cochin International Airport of Kerala India. The lowest airfare to Indian cities is guaranteed throughout the year.