"I was a common man, and I will always remain a common man. No amount of stardom will ever consume my soul. Money comes, money goes. Fame comes, fame goes. I believe every human being is a celebrity in their own right." – A. R. Rahman. We at Indian Eagle fell in the mind of this touching quote while going through Atlanta-based author Reetika Khanna Nijhawan's debut fiction Kismetwali & Other Stories published by Om Books International. Born and brought up in a north Indian town, Reetika worked as a flight attendant with Lufthansa Airlines, wrote for Elle Décor in Mumbai and then moved to the USA. Set against the backdrop of modern-day India, the fiction Kismetwali & Other Stories that is an octet of novellas portrays the lives of common men who struggle for survival and battle for betterment in some way or the other.
Indian Eagle catches up with author Reetika Khanna Nijhawan to share with you her childhood memories of India, her journey from India to Atlanta, her view on life of common men in the United States, etc. through a freewheeling chat below: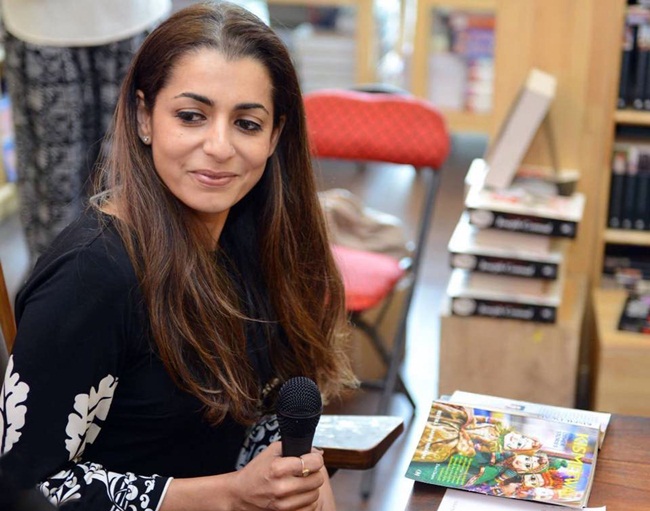 IE. Kismetwali & Other Storiesis your debut fiction. Who or what do you owe your newly found fame in the world of literature? Is it Fate or Karma?
Speaking of fame in the world of literature is a bit premature at this juncture! I equally credit fate and karma in bringing these stories to life. This book is dedicated to my deceased father who was an avid reader and a remarkable wordsmith. In him I found a mentor and an ally from the day he read the first poem I penned at the age of ten. Destiny brought us together, and as any author will attest, writing is hard work— that's where karma kicks in!
IE. What motivated you to hold a pen and become a published author?
I have always reveled in the company of words. I cannot carry a tune, or wield a paintbrush with even a modicum of skill.  It was only natural for me to find creative expression through writing. To become a published author was never my intention. Perhaps, it was my destiny!
IE. You were a small town girl. You journeyed from a north Indian town to Atlanta. Does your personal life have any bearing on the stories of the book?
Indeed! The fiction evolved from my experience of growing up in India, and my subsequent travels abroad with my father, and as a flight attendant with Lufthansa. Several characters are inspired by the people I have personally known or encountered. Gyan, the cabdriver in Taxiwala, is a reflection of a hardworking chauffer in Mumbai. The sailor's odyssey in the Shavewala maps my own journey around the world from Ketchikan, Alaska to Auckland, New Zealand.
IE. "As flies to wanton boys are we to the gods. They kill us for their sport," is one of the most popular quotes from William Shakespeare's King Lear. Does your book contradict it?
Does man have the ability to influence fate? The optimist in me subscribes to the belief that the choices we make, like the characters in these stories, impact the future.
IE. Kismetwali & Other Stories tells the stories of common people of the working class the lowest reaches of Indian society. What made you pick up the protagonists from among the common men of India?
Growing up in an affluent family in India, I was accustomed to frequent visitations from providers of service, and purveyors of goods to keep the wheels of my ancestral home running smoothly. Unlike many of my peers, I was instructed by my parents and grandmother to treat every "servant" with respect. Being born into privation is not a reflection of one's character or abilities, I was told. The doctrine of equality amongst all humans became ingrained in my mind, and allowed me to view the people at the lowest rungs of society's totem pole without prejudice. As an expression of my gratitude for these industrious folks, I attempted to empower the common man, all the while creating the elements of a good story.
IE. You have been living in the United States for years. Have you noticed any difference or similarity between the life of common men in America and that of the same in India?
I see several connections and contrasts between the two countries I call home. Though I have never been a victim of social bias, there is a deep-rooted racial divide and xenophobia that continues to fissure pockets of the American society. This conflict reminds me of the animosity created by the caste system in India.
On the flip side, there is a common courtesy that is extended to everyone in the United States, irrespective of one's job description. I wave in way of greeting to the garbage collector just as I would wave to my neighbor. Unlike India, words like "please" and "thank you" are in common parlance.
IE. Many Indians living at the bottom of economic heaps expect to find fortunes on foreign soils. Are they right or prejudiced to think so?
Bollywood often portrays the West as being a utopian land where all dreams come to fruition. In reality, success is a direct function of hard work and perseverance anywhere in the world. Though the Indians living frugal lives may succeed in discarding the social stigma—that comes with "inferior" pedigree—on foreign turf, reinventing oneself in an alien culture can prove challenging.
IE. The stories of the fiction seem to make readers believe in their will power and potential instead of posing their faith in destiny. Is it your main objective of having penned the book?
My objective is to draw the reader's attention to the nature of human suffering and solace that is common to all, across social and geographic boundaries, and thereby establish a connection across contrasts. The tussle between fate and free-will, much like the 'nature versus nurture' argument in behavioral psychology, is unique to every individual. Encouraging people to alter the predestined course of their lives is the work of life-coaches and spiritual gurus. I am just a story teller. A kahaniwali!
IE. Would you ever like to write stories about Indian Americans who often find themselves stuck between their lives in the US and their longing for the root?
Jhumpa Lahiri reigns supreme in that realm! I may touch upon the angst of displacement through the voices of characters, but I do not see it as being the framework for my forthcoming works of fiction.
IE. Which places in India would you recommend to your American friends for a visit? Apart from Agra and the Taj Mahal… 
Rishikesh!
We congratulate author Reetika Khanna Nijhawan on her newly found stardom in the world of English literature and thank her for the open-hearted interview. We wish her all the best for her next book.  – Indian Eagle
About Indian Eagle
Indian Eagle is a trusted name in online booking of the cheapest flights from USA to India at the guaranteed best fares. Indian Eagle connects Indian Americans with India through interesting stories on Travel Beats.