The Davidson Institute for Talent Development has released its 2019 list of Davidson Scholarship winners including 8 Indian American students, while five young Indian Americans have entered the final race for America's Top Young Scientist Title 2019.
Instituted by Bob Davidson in 1999, the Davidson Fellows Scholarship program recognizes and supports the young students whose projects give scalable, affordable, innovative solutions in the fields of science, engineering, medicine, technology and mathematics aiming to make a positive difference in the lives of people. It is one of the most coveted undergraduate scholarships in the United States.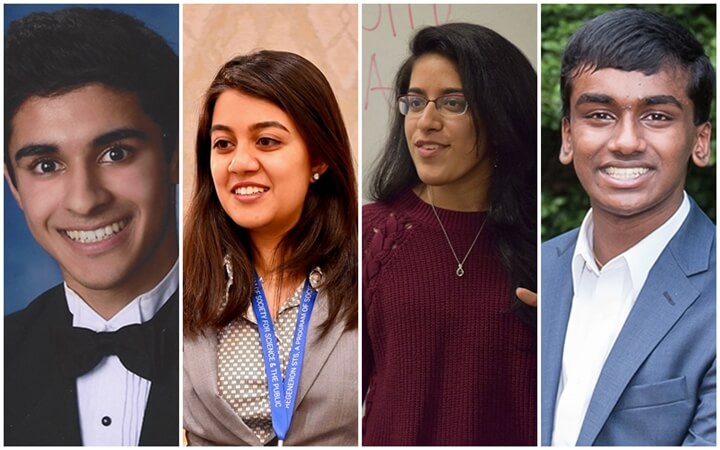 Varun Kumar
Varun Kumar of New Jersey and Natasha Maniar of California, among the Indian American achievers on the 2019 list of Davidson Fellows, will receive a $50,000 scholarship each for their projects. Neeyanth Kopparapu and Siona Prasad of Virginia, Ayush Karan of Washington, and Isha Puri of New York will be awarded a $25,000 scholarship each. Among Davidson Fellows 2019, Arita Dattamajumdar of California and Vishnu Akash Polkampally of New York have been shortlisted for a $10,000 scholarship.
Being among Davidson Fellows in 2019, Varun Kumar, 18, is confident of his research on prevention of drug resistance in aggressive cancers. As part of his project, "Dihydrotanshinone: A Pan-Therapeutic Treatment for Chemo Resistance in Cancer," his developed a combination therapy to prevent resistance to a most commonly used drug in treatment of glioblastoma, a fatal form of brain tumor in adults.
Kumar's combination therapy for drug resistance prevention is being considered a promising therapeutic solution to make the existing chemo therapies more effective for treatment of aggressive cancers. According to David Institute's press release, the combination therapy is a cost-effective solution to make drugs reach the brain for better impact of treatment on glioblastoma-affected patients.
A resident of Woodcliff Lake in New Jersey, Varun Kumar is a Regeneron Science Talent Search Finalist with several research papers to his credit. He is also an AAN Neuroscience Research Prize Finalist for the same project.
Natasha Maniar
Natasha Maniar, the other Indian-origin Davidson Fellow receiving a $50K scholarship, is a freshman at MIT. She has developed a computational tool as the safest and best alternative to the currently prevalent diagnostic imaging of electrical conduction for identifying sources of atrial fibrillation (AF), a common abnormal, irregular heartbeat. According to Davidson Institute, diagnostic imaging of electrical conduction on the heart that physicians rely on for visual interpretation has affected over 33 million people all over the world.
Sunnyvale-based Natasha has proved that her computational algorithm improves the atrial fibrillation treatment by identifying the sources of chaotic electrical impulses with greater accuracy and without affecting the heart.
Also Read: 4 Indian American Girls Make Earth Green Again
Neeyanth Kopparapu
Among the 2019 Davidson Fellows receiving a $25K scholarship, Neeyanth Kopparapu of Virginia has been recognized for his automatic diagnosis system using artificial intelligence for early-stage Parkinson's disease. Better than an MRI scan, the automatic diagnosis system integrates deep learning technology to generate highly accurate lifelike MRI images. A senior at Thomas Jefferson High School for Science and Technology in Herndon, he took up this project as diagnosis at an advanced stage of Parkinson's disease left his grandfather resistant to common medication. Neeyanth Kopparapu's project is expected to be a catalyst to the future research on Parkinson's disease.
Isha Puri
18-year-old Isha Puri of New York has made early detection and precise prediction of dyslexia easier, simpler and cheaper with her application, a combination of various machine learning algorithms. Her freely accessible application is so unique that it can detect whether a child is dyslexic and predict whether a child is at risks of dyslexia with 92% accuracy, just using a computer webcam. One in every 10 kids across the world suffers from dyslexia, the most common neurological learning disability. The earlier dyslexia is detected the sooner learning difficulties can be averted. Isha Puri will attend Harvard University this fall.
A majority of families having dyslexic kids can't afford screenings for dyslexia due to hefty costs. Isha Puri's application, which does not require any special scientific equipment, is freely available to millions of families irrespective of their socio-economic status and physical location.
Siona Prasad
One of the Davidson Fellows 2019 receiving $25,000 each, Siona Prasad of Virginia has taken her first step towards combating climate change with her project, "Characterizing Uncertainty in Urban Inversions of Carbon Sources/Sinks using Low Cost Sensor Measurements". She has developed an easy-to-use system integrating carbon dioxide sensor technology to measure and monitor greenhouse gas emissions. Using her invention, she precisely hinted at an emission inventory for Washington DC, enforcing strategies for mitigation of greenhouse gas emission.
Travel Beats, a subsidiary of Indian Eagle, publishes latest visa, immigration, passport, aviation and Indian American community news. A leading travel booking partner of Indians in USA, Indian Eagle not only issues confirmed flight tickets for lowest airfares to India but also strives to promote achievements of Indian community in the US.