With Cannes on the French Riviera rolling out the red carpet for its annual film festival commencing on May 11, we at IndianEagle leafed through the history of Indian Cinema at Cannes Film Festival from 1946 to 1999. Iconic films by legendary filmmakers like Bimal Roy, Satyajit Ray, Mrinal Sen, Goutam Ghose and Chetan Anand won prestigious awards at Cannes and depicted India to a global audience from different perspectives. Let's rejoice in the golden moments of Indian Cinema at Cannes from the last five decades of the 20th century, once again.
Chetan Anand's Neecha Nagar at Cannes 1946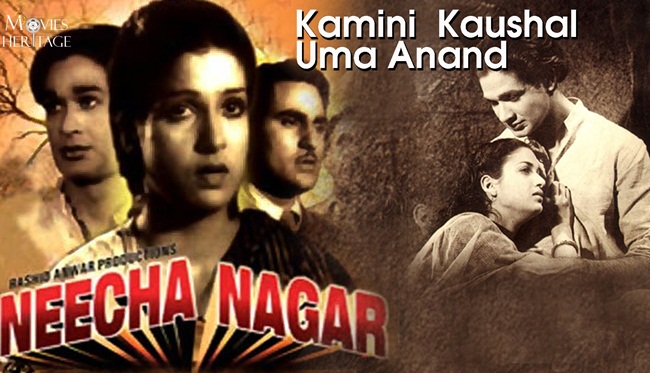 The Festival de Cannes had lifted the curtain in 1946 after a six-year-long break for the Second World War. Chetan Anand's acclaimed Neecha Nagar among the Indian films at Cannes Film Festival 1946 earned the top award, Grand Pix du Festival International du Film, and shared it with David Lean's Brief Encounters. Starring actress Kamini Kaushal and danseuse Zohra Sehgal, Neecha Nagar was the first Indian film to shot to prominence on a global stage. The Grand Pix award has been renamed Palme d'Or. Based on a short story by Hayatulla Ansari, Neecha Nagar depicts social realism through a grim picture of chasm between the rich and the poor in the then Indian society.
Rajaram Vankudre Shantaram's Amar Bhupali at Cannes 1952
In 1952, filmmaker Rajaram Vankudre Shantaram's Amar Bhupali (The Immortal Song) represented Indian Cinema at Cannes Film Festival. A Marathi biopic on a poet and a musician Honaji Bala, Amar Bhupali is a poignant tale of the last few days of the Maratha Confederacy in the early 19th century. The film portrays the poet as a lover of the musician and as an admirer of the Lavani dance form. Though nominated for the prestigious Grand Prix du Festival International du Film, it managed to an award for Excellence in Sound Recording.
Bimal Roy's Do Bigha Zameen at Cannes 1954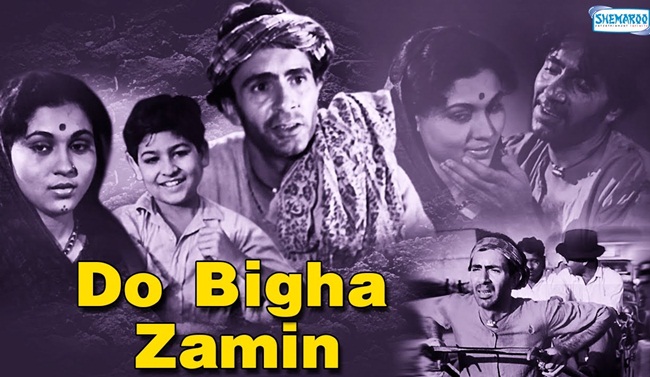 In the history of Bollywood at Cannes Film Fest, 1954 was the year of Bimal Roy's classic Do Bigha Zamin (Two Acres of Land). It won the illustrious Prix Internationale at the Cannes 1954. A critical take on social realism in post-independence Indian society, Do Bigha Zamin depicts the eventful journey of a poor farmer from rural Bengal to Calcutta (now Kolkata) in a futile attempt to save his land from a greedy zamindar. It established Bimal Roy as a pioneer of the neo-realist movement in Indian Cinema.
Also Check Black & White Calcutta in 1960s
Bimal Roy's Biraj Bahu at Cannes 1955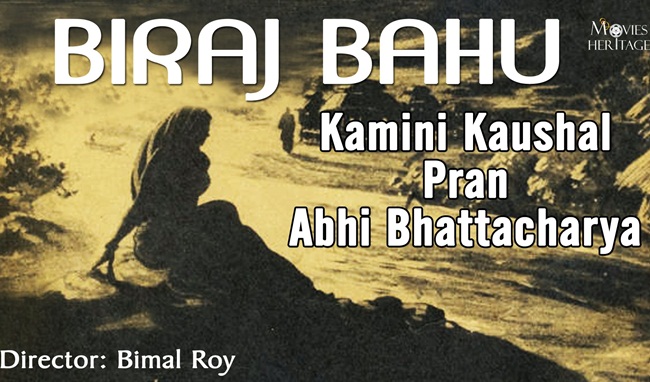 Again it was Bimal Roy whose Biraj Bahu glorified Indian Cinema at Cannes Film Festival 1955. Though it was in competition with Raj Kapoor's Boot Polish and films from other countries, it bagged the most coveted Palme d'Or. However, Baby Naaz was honored with a Special Distinction Award for her powerful performance in Boot Polish. Based on a Bengali novel by Saratchandra Chattopadhyay, Biraj Bahu is the story of a Bengali couple who goes through hard times due to an unexpected deceit by a family member. It stars Kamini Kaushal in a lead role.
Satyajit Ray's Pather Panchali at Cannes 1956
In 1956, legendary filmmaker Satyajit Ray was the glorious face of Indian Cinema at Cannes Film Festival. Pather Panchali, the first film in Satyajit Ray's Apu Trilogy, brought the Palme d'Or for Best Human Document to India. One of the greatest Indian films of all time, Pather Panchali depicts the struggle of a family in rural Bengal. Ray was the first to use lyrical realism in Bengali Cinema.
Mrinal Sen's Kharij at Cannes 1983
Of all Indian films that the 1983 Cannes Film Fest screened, Mrinal Sen's Kharij (Case is Closed) bagged the Special Jury Prize. It was a far more offbeat film than other films in competition. Mrinal Sen exposed the exploitation of underprivileged working classes in the 1980s' India by depicting how accidental death of an underage servant affected the family where he worked. It was a successor to social realism that Bimal Roy pioneered.
Indian Films at Cannes from 1957 to 1982
The period from 1957 to 1982 saw screening of several Indian films at Cannes Film Festival, but neither of them brought any award to India from Cannes. Parash Pathar and Devi by Satyajit Ray, Sujata by Bimal Roy, Nishant by Shyam Benegal, Ek Din Pratidin by Mrinal Sen, Pardesi by Khwaja Ahmed Abbas, and Garam Hawa by M S Sathyu traveled to Cannes during this period.
Mira Nair's Salaam Bombay at Cannes 1988
In 1988, New York based Indian Filmmaker Mira Nair's Salaam Bombay stole the show with the jury of Cannes Film Festival. It won both the Camera d'Or and the Audience Award at Cannes 1988. Mira Nair's first feature film in documentary style, Salaam Bombay penetrates the glittering picture of Mumbai, which is often called a city of the high and mighty, to expose the ordeals of children from the streets of Bombay. For the first time, some of Bombay's street children were cast and trained to portray their bleak lives in a seedy world which was unknown to a majority of global audience. It was also nominated for the Academy Award in the Best Foreign Language Film category.
The 1988 Cannes also screened the National Film Award winning 'Antarjali Jatra' by Kolkata based filmmaker Goutam Ghose in the Un Certain Regard section. This Bengali film was adapted from a novel titled 'Mahayatra' by Kamal Kumar Majumdar. – IndianEagle
Satyajit Ray's Ganashatru at Cannes 1989
From 1989 to 1996, the regional cinemas of India replaced Hindi or Bollywood films at Cannes. Satyajit Ray's Ganashatru, a Bengali film from Kolkata, had a special screening (out of competition) in 1989. Manipuri filmmaker Aribam Syam Sharma's Ishanou was the first to represent Northeast Indian Cinema at Cannes in 1991. Indradhanura Chhai, an Oriya film, competed with other regional films of India for the Grand Prize at Cannes in 1995.
Also Read Story of Hand-Pulled Rickshaws from Calcutta to Kolkata
Asif Kapadia's The Sheep Thief & Goutam Ghose's Gudia in 1997 
Out of the Indian films at Cannes in 1997, The Sheep Thief by Asif Kapadia, an NRI filmmaker from London, walked away with the Cinéfondation Award. Based on a Biblical story and shot in Rajasthan, The Sheep Thief is a 24-minute short film, which Asif Kapadia made in his final year of graduation at London's Royal College of Art. It depicts the travails of a sheep stealer in rural India. Bengali filmmaker Goutam Ghose's Hindi film Gudia based on a play by Mahasweta Devi, a renowned writer and social activist, was screened in the same year.
Murli Nair's Marana Simhasanam at Cannes 1999
The 1999 Cannes screened Murli Nair's Marana Simhasanam (The Throne of Death), a Malayalam film from Kerala. It was a milestone in the 20th century's history of Indian Cinema at Cannes Film Festival. Inspired by the first execution by electric chair in India, Murli Nair's Marana Simhasanam shows how class oppression and political manipulation victimizes a poor villager in Kerala, who steals some coconuts to feed his family. Told through relatively fewer dialogues in the script, the film touched the raw nerves of audience and walked away with the Camera d'Or at Cannes 1999.
Also Check India's Official Entry to Cannes 2016
Travel Beats is a fast-growing digital portal for Indians and NRIs by IndianEagle, a leading international travel organization. It publishes the latest news, interesting features and inspirational stories from different walks of life in India and the US.