The actress who can be called the Marilyn Monroe of India, who is known as the Queen of Bengali cinema, who was the first to play the character Parvati in Devdas film, who acted in most of the films adapted from Sarat Chandra Chatterjee's literary works, who won the prestigious international award for the Best Actress at Moscow Film Festival, and who belonged to the golden era of Bollywood is Suchitra Sen.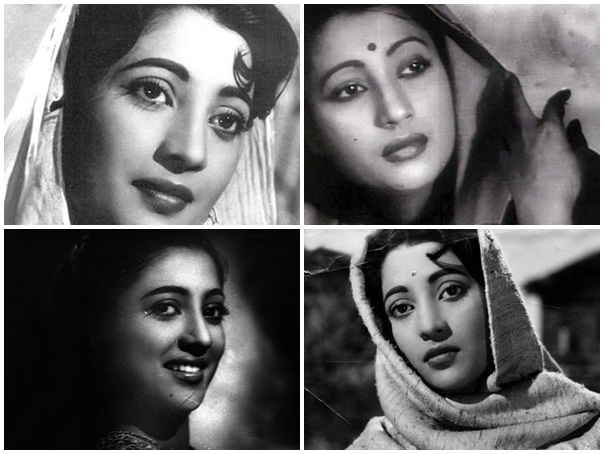 Suchitra Sen, a legendary actress in Indian Cinema, breathed her last today in Kolkata. Though she parted her ways from the world of glamor around 35 years back, her farewell forever left many with teary eyes. Born in Bangladesh (part of Bengal in British India) in 1931, she began her career as a Bengali actress after marriage which took place in 1947. There is a fine line of distinction between her real life and the reel stories. Hers is the story of a woman who tries hard to grapple with her individual identity, professional life and marriage simultaneously. Suchitra Sen's success in the showbiz industry met with the failure of her marriage in the real.
She debuted as an actress with Shesh Kothay, a Bengali film, in 1952. Unfortunately, the movie never saw the light of the day. But, it did not encumber the initial growth of her career. After the release of her back-to-back Bengali films for two years, the opportunity to play Parvati, an immortal character in Sarat Chandra Chatterjee's tragic love saga "Devdas", came her way in 1955. She debuted in Bollywood with Bimal Roy's celluloid version Devdas starring Dilip Kumar in the title role. Her cinematic portrayal of Parvati, one of the most challenging roles in Bollywood Cinema, gave wings to her career.
Suchitra Sen was the face of Bollywood on the global fronts when Indian Cinema was globally known by such eminent names as Satyajit Ray, Gulzar, Ritwik Ghatak, Bimal Roy, Hrishikesh Mukherjee, Ajoy Kar, Dilip Kumar, Sanjeev Kumar, Uttam Kumar, Subodh Mitra, Dev Anand, Utpal Dutt, and Debaki Bose. She essayed many a challenging character on the celluloid such as a politician in Aandhi, a courtesan in Uttar Falguni, a hospital nurse in Deep Jwele Jaai and likes with feminine poise and emotive vibe, in her 27-year long career.
She was a lady of mental strength. She continued to explore the best of the actress in her even when her marital life was going through a worse phase, and her husband expired. She was nominated for the most prestigious Dadasaheb Phalke Award in 2005, a long time after her retirement from the screen and the public gaze. She was not willing to receive the award at a public event in New Delhi. It kept her away from the honor to be conferred by the then President of India. The refusal to be glamorized in the public eye during the award ceremony is a testament to her idealistic personality.
Suchitra Sen's sharing the screen with the megastar Uttam Kumar in most of the Bengali films spelled many defining moments in her celluloid career. They are one of the most popular romantic couples in the reel till date. They were cast together in about 30 Bengali films including the blockbusters – Harano Sur, Sharey Chuattar, Agni Pariksha, Shap Mochan, Sagarika, Bipasha, Chawa Pawa, Saptapadi, Grihadah, Chandranath, and Kamallata – which were released one by one between 1953 and 1975.
So high was her popularity and prowess at that time that the Academy Awards winning Satyajit Ray made up his mind about Suchitra Sen as the only actress to play the protagonist in his cinematic version of Bankimchandra Chatterjee's Devi Chaudhurani in 1960. He wanted her to sign an agreement which demanded her dates exclusively for the shooting of his movie. She did not agree to the condition because of her dates with other directors. As Ray could not think of any other actress for the role, his dream project never came true.
Some of her films including Devdas, Saptapadi, and Uttar Falguni won the National Award for the Best Feature Film. She bagged the Best Actress National Award for her role in Bimal Roy's Devdas. Her contribution to Indian Cinema was recognized by awarding her "Padma Shri" in 1972. She was honored with the lifetime achievement award "Banga Bibhushan" in 2012.
This piece of reminiscence is a tribute to the veteran actor Suchitra Sen by Indian Eagle. May her soul rest in peace!