India's vision of civil aviation 2040 targets 190-200 functioning airports in the country for more than 1 billion passengers by 2040. Reportedly, India's upcoming international airports, including Navi Mumbai Airport and Noida Jewar Airport, will collectively cost a whopping $45-50 billion. Gujarat's Dholera International Airport, an upcoming alternative to Ahmedabad International Airport, is a steppingstone towards making India a trillion-dollar economy.
Though a third international airport in Gujarat, Dholera Airport will be next to Ahmedabad International Airport in connectivity and passenger traffic. Upon completion of the construction in a phased manner, the airport is expected to exceed the annual traffic-handling capacity, domestic and international, of Sardar Vallabhbhai Patel Airport (AMD) and handle 5 million passengers a year. In a cabinet meeting held on June 14, 2022, Prime Minister Narendra Modi approved a Rs-1305-cr plan for the phase 1 of Dholera International Airport. Once the first phase of development is completed in 48 months, the airport will serve as a second gateway to Ahmedabad.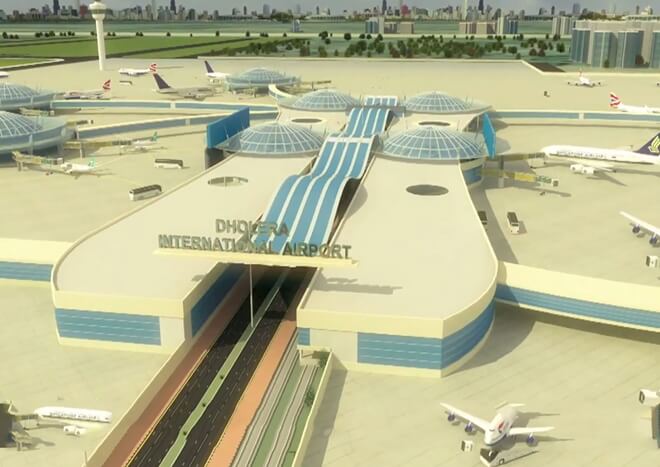 Estimated to cost more than Rs 2000 crore, the airport will open for international flights by July 2024 if things fall in place as planned. Gujarat has always been a step ahead when it comes to industrial development, and the Dholera International Airport project is another step in the same direction. A strategic part of the Delhi-Mumbai Industrial Corridor project, the airport will link India's first smart and futuristic city, Dholera Special Investment Region (DSIR), to different parts of the world.
Gujarat's Dholera International Airport is planned as a Greenfield airport and will be equipped with world-class facilities. In 2012, a Special Purpose Vehicle (SPV) under the name Dholera International Airport Company Limited (DIACL) was created and an initial budget of INR 2,000 crore was allocated. The Airports Authority of India (AAI) then bought a 51% stake in the company and signed a Memorandum of Understanding (MoU) in 2019 with the state government to construct the airport. Following a few months of halt in the process due to the pandemic, AAI recently called for tenders for the first phase of the airport at an estimated cost of more than Rs.1000 crore.
The government has already allocated 1426 hectares of land for the airport and an additional 75 hectares for commercial establishments. The airport will have two runways, one of which will measure 4,000 meters in length. The other runway is scheduled to be built in the second phase. Furthermore, the airport will be equipped with facilities including but not limited to car parking, hotels, a convention center, and a cargo terminal. A number of aviation-related activities will be planned to general employment in the area surrounding the airport.
With spacious terminals for international airlines' next-gen aircraft operating business flights to Ahmedabad, Dholera Airport will be sharing the increasing air traffic load on Ahmedabad International Airport, the seventh busiest airport in the country. Currently, Ahmedabad Airport handles 11 million passengers per annum against its actual capacity of 7 million passengers per annum. Notably, Dholera Airport will be the second gateway for the additional inbound and outbound traffic and help keep the air traffic flow smooth in the eastern region of India.
Another attractive aspect of Gujarat's Dholera International Airport is its location. The new airport is just 80 kms away Ahmedabad and 20 kms away from the smart city.  The airport's strategic location in the Saurashtra region will connect it to such major cities as Rajkot, Vadodara and Anand in the state.
The National Highways Authority of India (NHAI) acquired a 120-meter wide strip of land between Ahmedabad and Dholera to make way for smooth transportation to the upcoming airport. 90 meters of the strip will be used to lay a 6-lane road which will directly lead to Dholera Airport and 30 meters is allocated for a metro rail link.