Good news for Indians in and around New York! Finally, the wait is over. Come February 2023, you will get direct flights from New York to Mumbai. Starting February 14, Air India will start operating daily nonstop service between New York JFK and Mumbai. In its current schedule, the airline connects New York to Mumbai via New Delhi. New Boeing 777-200LRs that the airline will induct into its long-haul fleet this year end will be deployed for direct service between Mumbai and New York JFK.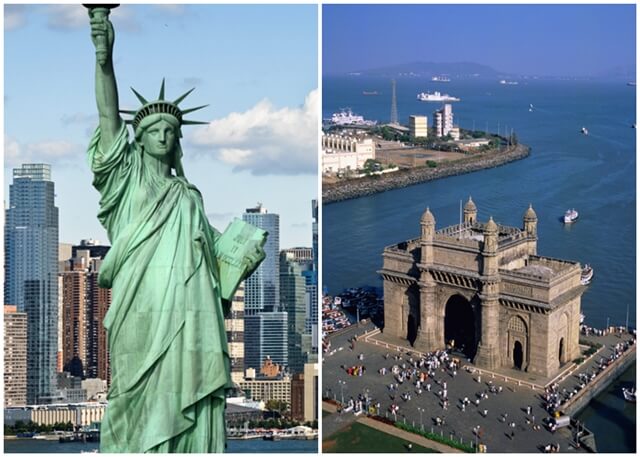 A one-way trip on nonstop Air India flights from New York to Mumbai will take 14 hours 10 minutes. The booking window is open at IndianEagle.com where cheap NY JFK to BOM flight tickets are available now for February and March. As of NOV 16, the best deals are $482 and $511 for weekday travel on February 15, 2023. The same deals are available on IndianEagle.com for New York to Mumbai travel in mid-March. Airfares being dynamic, these deals may not be available later this week or month.
The flight AI 116 will depart from New York JFK Airport at 11:55 AM EST and arrive at Mumbai CSMI Airport at 11:35 AM IST. In view of the continued suspension of flights to Mumbai by Delta and United Airlines, Air India's will be the only nonstop service to Mumbai from the northeast US.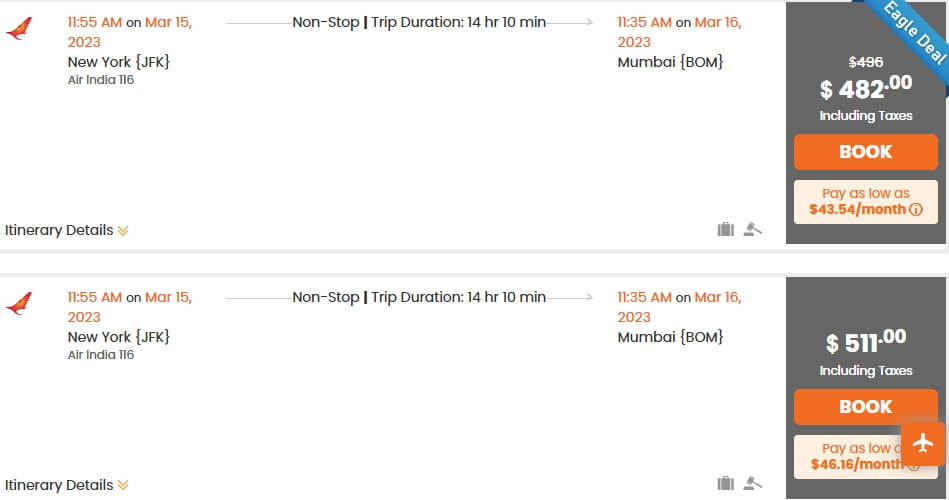 Boeing 777-200LR for Air India's Nonstop NYC to Mumbai Flights   
Boeing 777-200LRs to be deployed for long-haul direct flights to India from New York JFK have three travel classes – economy, business, and first class. B777-200LRs belong to the long-range category of wide-body aircraft suitable for long-haul intercontinental routes like San Francisco to Mumbai, New York to Singapore, and Chicago to Sydney.
Air India's B777-200LR has an increased maximum take-off weight (347.5 tons) among other unique features. The more take-off weight, the more payload (carrying) capacity. B777-200LR's maximum take-off weight is almost double the aircraft's fuel capacity (148.7 tons) plus payload capacity (passenger, baggage, and cargo). Since the aircraft can accommodate additional fuel tanks in the rear cargo hold, it can carry extra fuel for extra flying time (in case the airline needs to change its route due to some foreign airspace restrictions) without compromising on the total load of passengers' checked-in bags.
Air India's Baggage Allowance for New York to Mumbai Nonstop Flights  
Baggage allowance for Air India's nonstop flights to Mumbai from New York JFK Airport is the same as that for airline's nonstop flights on other routes between USA and India. As Air India's check-in baggage policy goes, economy passengers are entitled to 2 check-in bags, each weighing up to 23 kg for free. Air India's free baggage allowance for business class travelers permits 2 check-in bags of 32 kg each on New York to Mumbai flights. If the weight of one's check-in baggage exceeds permissible limits, additional baggage fees apply.
"Our Indian customers in Washington DC, Connecticut, Massachusetts, Philadelphia, Virginia, Maryland, Delaware and Maine are happy about the seamless connectivity to Mumbai from John F. Kennedy Airport, as they can easily reach New York by road," said the chief customer relations officer of IndianEagle.com, a most trusted air ticketing agency selling cheap Air India tickets for nonstop flights to India from USA.