Some optimism is nipped in the current socio-political air of the United States for those with their fingers crossed hoping to get out of the green card backlog. Visa and immigration analysts opine that the legislations including the Fairness for High-Skilled Immigrants Act 2017, which are awaiting a consideration to remove the US employment-based per country limit on green cards, are likely to be approved in the US Congress this fall.
A funding bill for the US Department of Homeland Security includes the bill designed to cut the wait time as long as 150 years for Indian professionals, including H1B visa workers seeking lawful permanent residency in America. The funding bill is earmarked for approval by the US Congress, as per a Bloomberg Law report.
Recently, President Donald Trump seemed caring towards lakhs of skilled professionals including Indians on various US visas, waiting for decades to receive green cards. He said that they did everything good and that they were going to be in America. It has rekindled the dying hopes in those stuck in the green card impasse.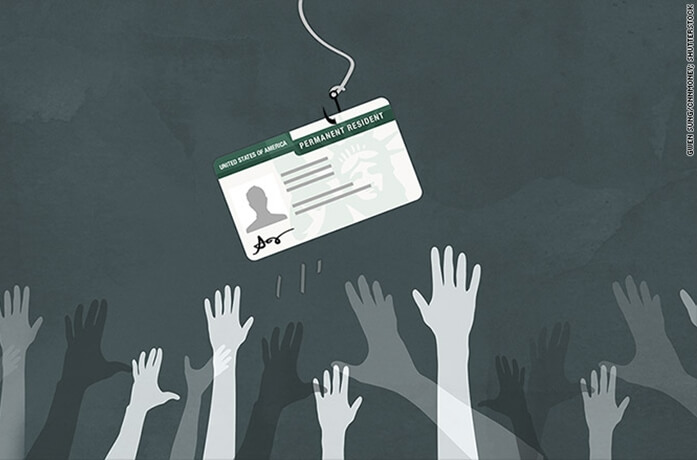 The Rep. Kevin Yoder-sponsored Fairness for High-Skilled Immigrants Act of 2017 is said to shrink the green card backlog for Indians, as per the Bloomberg Law report which quoted David Bier, an immigration policy analyst at Cato Institute. The current time period for approval of green card petitions would be reduced to 7 to 8 years, according to David Bier.
Leading immigration experts echoed David Bier in saying that the passage of the bill which was impeded by Senator Grassley in 2011 would not only eliminate the green card logjam in fewer than 10 years but also make it difficult for applicants to get lawful permanent residency, having no H1B visa. The possible passage of the bill would benefit Indians, but it may increase the green card wait times for other nationals like the Chinese.
Also Check: Details of New H4 employment Protection Act 
According to the Cato Institute, 90% of the green card backlog is constituted of professionals from India. 632,219 immigrants and their family members from India had been waiting for approval of their green card applications, as of April 20, 2018. The EB-3 visa holders, who are immigrants with extraordinary abilities or skills, have to wait for about 17 years of backlog, while EB2 visa holders are required to wait for more than 150 years. Comparatively, Filipinos, the Vietnamese and the Chinese in the USA face shorter green card backlogs.
The Immigration Act of 1990 sponsored by former Rep. Bruce Morrison, a Democrat from Connecticut and an immigration lawyer, is just another version of Kevin Yoder's Fairness for High-Skilled Immigrants Act. Morrison opines that the total number of green cards in backlog will remain more or less same despite the passage of the bill in the Senate. What he means is that some sort of green card backlog will remain all times. 732,506 is the current number of green card applicants in the backlog, as per the figures from the US Citizenship and Immigration Services (USCIS). Another backlog of 700,000 applicants will come to exist by the time the current backlog will be removed in six to eight years.
Also Check: Details of New Immigration Innovation Act 2018 for H1B and F1
Bruce Morrison told Bloomberg in a statement, "USCIS can't put an end to the backlog by removing per country limits. All they can do is move the backlog around." Having an H1B visa would be a fundamental requirement for any skilled immigrant, irrespective of nationality or origin, to apply for lawful permanent residency in the USA, according to New Jersey-based Johan Miano, a fellow at the Center for Immigration Studies.
However, we at Travel Beats, a leading Indian American community portal by Indian Eagle Travel wonder whether the notes of optimism about the expected passage of Kevin Yoder's bill for green card backlog removal are mere bubbles, as the Trump administration drafted a new policy to prohibit US citizenship or lawful permanent residency for immigrants using or receiving federal benefits.