2019 seems like the year of gender equality in and for India. The nation saw many firsts in terms of gender equality through the participation of maximum women in the 70th Republic Day parade this year. Lieutenant Bhavana Kasturi created history being the first woman army officer to lead an all-men contingent of 144, and Captain Shikha Surabhi became the first woman to perform a standing salute on bike while leading a squad of 33 men on nine bikes from Indian Army's motorcycle daredevils.
Beating gender inequality in India, Hina Jaiswal became the first woman flight engineer in the Indian Air Force. What had been a male-dominated branch in the Indian Air Force all these years has been breached by Hina Jaiswal's induction into the IAF. Flight engineering was reserved exclusively for male officers until the Indian Air Force opened the door for women to pursue it.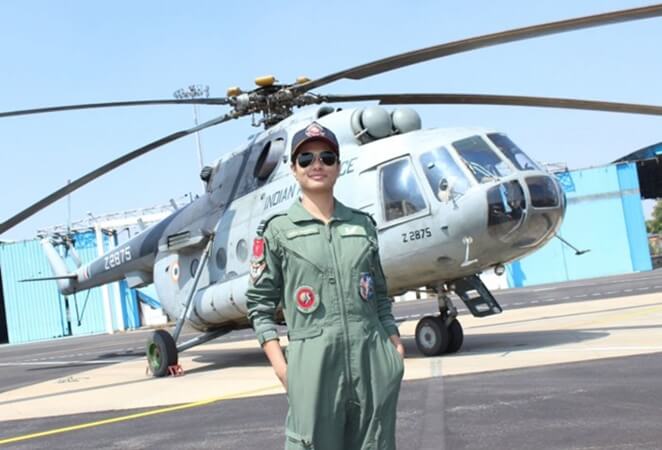 In 2018, Hina Jaiswal from Chandigarh was selected as the first female candidate to pursue the most strenuous flight engineering course at the Air Force Station Yelahanka in Bangalore, Karnataka.
In her new role, India's first woman flight engineer Hina Jaiswal will be serving in "demanding and stressful conditions" from the Siachen Glacier to the Andamans, according to the Ministry of Defense. She will be deployed at the Indian Air Force's operational helicopter units. After she was commissioned into the IAF in 2015, she gave her best as the chief of the firing squad and as a battery commander in the frontline surface-to-air missile regiment.
A flight engineer is one of a fighter aircraft's crew members. Also called air engineer, a flight engineer is responsible for operating the aircraft and monitoring its complex systems. She or he requires special skills, including a strong command on aerodynamics to ensure the proper functioning of an aircraft's components.
A bachelor of engineering from Punjab University, flight lieutenant Hina Jaiswal trained shoulder to shoulder with male officers for six months. She displayed indomitable spirit, single-minded perseverance and unwavering dedication during the course of grueling training, according to the statement from the Ministry of Defence.
The only daughter of her parents, Hina Jaiswal describes her induction into the Indian Air Force as India's first woman flight engineer as a 'dream cum true.' Since childhood, she had nurtured the aspiration to don a soldier's uniform and penetrate the skies as an aviator. Her selection is another stride for the Indian defence forces towards absolute gender inclusivity.
This news story is part of our continued effort to highlight the achievements of young Indians, at Travel Beats, an overseas Indian Community portal by Indian Eagle Travel. Indian Eagle is a leading online travel booking organization issuing cheapest airline tickets to India throughout the year.