While Air India has just started operating flights over the North Pole, Emirates Airlines is all set to take a big step ahead of the national carrier of India. In the latest announcement, Emirates revealed plans to make its flights to and from the USA, over the North Pole, more entertaining and interesting than ever.
Emirates flights between the US and Dubai experience a blackout period while making their way over the polar region, leaving passengers without Wi-Fi connectivity for several hours. The hours-long disruption of inflight connectivity on Emirates' polar flights will be a thing of the past in the near future. If things go as planned by 2022, travelers on Emirates flights from USA will be able to make phone calls, watch live TV shows and use Wi-Fi while flying 40,000 feet over the North Pole and Arctic Circle.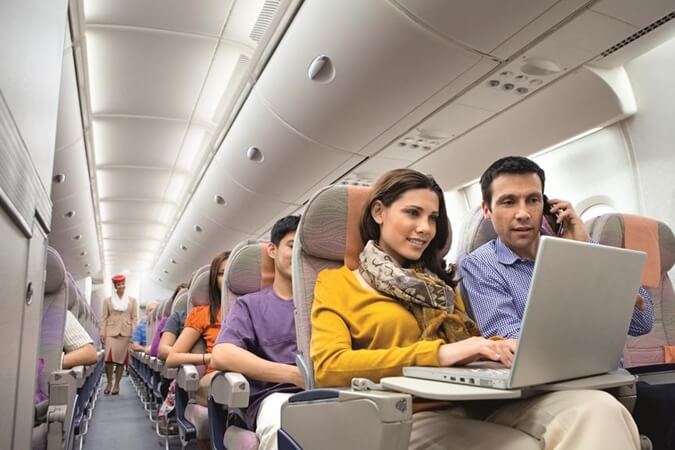 The blackout phenomenon on Emirates polar flights is attributed to the flying of the aircraft in the far north of the planet, which makes the aircraft go out of the geostationary ambit of the satellites at a distance of 35,800 kilometers over the Equator.
Emirates Airlines is working with Inmarsat to put an end to the problem by launching two elliptical orbit satellites into space. The new satellites will not only facilitate Wi-Fi availability but also make it possible to watch live TV broadcasting of events or sports on Emirates flights over the North Pole. This will be a momentous achievement to Emirates.
Dubai-based Emirates is a global aviation leader in offering free inflight Wi-Fi connectivity (though with data limits). Emirates' Live TV is available on all of the Boeing 777 jets and most of the Airbus 380 jets in the fleet, which are deployed for flights from Los Angeles, San Francisco, Boston, Orlando, New York, Seattle and other US cities. Emirates' passengers make more than one million Wi-Fi connections aboard every month.
"It was 2008 when Emirates started operating nonstop flights between Dubai and SFO, which was the "world's first cross-polar green flight" according to the airline. The route over the North Pole is the quickest and most fuel efficient route for long-haul flights to and from the United States," recalled a senior official of IndianEagle.com, a most trusted portal for cheap airline tickets to India.
With more and more airlines taking to the polar routes for saving time and fuel, connectivity in the Arctic region is a more important need of the hour for flyers.
Also Check: How to Upgrade from Economy to Business on Emirates Flights for Less