To the pleasure of many travelers who ardently desire to taste the joy of flying in business class, Emirates Airlines has launched basic business class fares stripping its premium business class service of certain incentives on ground, while most of other major carriers such as United Airlines, Delta Airlines, and British Airways offer basic economy fares for the cheapest economy flights.
Emirates, one of the best airlines for business class flights with onboard showers, has unbundled its business class fares to make business flight tickets a little cheap. By making possible what the Dubai-based airline hinted at in 2016 after lots of consideration for three years, Emirates has become the first to offer business class special fares.
The new class of Emirates Airlines business fares comes with certain terms and conditions, which are usually not applicable to fully-paying customers of Emirates' premium business class.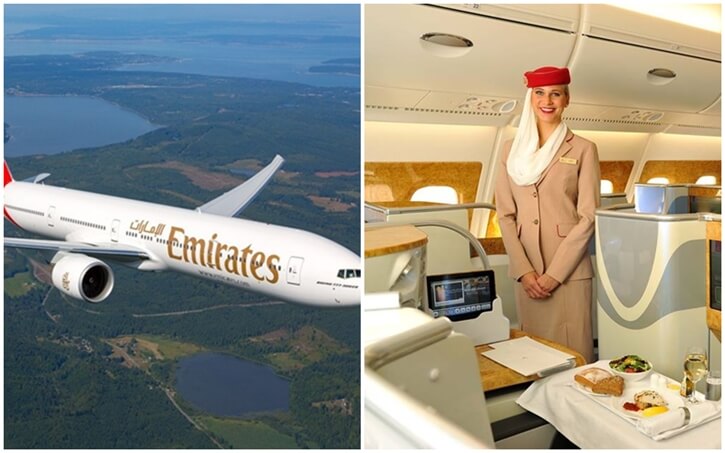 Limitations of Emirates' Basic Business Class Fares  
Emirates' basic business class fares do away with some of the coveted incentives, like lounge facility and chauffeur service on ground, in exchange for cheap business class flight tickets. Though the perks of business travel on Emirates has been trimmed under the new fare, the onboard comfort and inflight services for business travelers are not compromised even for a cut in the business class fares.
With Emirates Airlines' basic business class fares, you can neither upgrade to first class from business class nor select your seat in advance. Provision for advance seat selection on Emirates flights is not available even for some additional bucks, under the special business fare category. Among the airlines offering hand-baggage only basic fares, only British Airways allows to select seas in advance.
Furthermore, the limitations of Emirates' new business class special fares include no upgrade to Emirates' award-winning first class to business class using miles. Emirates' basic business class fares will award you the same miles as the passengers of Emirates' Economy Flex Plus earn. Reduced mileage earning is another upside of the new fare category of Emirates business flights.
"There may be restrictions on cancelling Emirates' business class tickets under the new basic fares. It is advisable to check the cancellation charges before booking Emirates' basic business class fares," said the chief travel economist of IndianEagle.com.
Emirates' Basic Business Class Fares: Baggage Allowance
There is no such limit on baggage allowance on Emirates' basic business class tickets. You will be allowed to check in baggage of up to 40 kgs, under the special fare. "You will get a fully comfortable and fully reclining seat with award-winning amenities and services aboard," said Emirates in a statement.
Launched on June 10 for a pilot experiment, Emirates' basic business class fares are available for select flights and select routes now. It will gradually be rolled out across the airline's global network. Emirate's special business fare is promising enough to sell to economy travelers who won't mind shelling out a little extra fare for cost-effective business class experience. There are speculations that Emirates Airlines may launch premium economy in 2020.
Subscribe to Receive Emirates' Latest News and Fare Discounts