Diwali in New York and New Jersey is back with a bang after two years of the pandemic! Indians are gearing up to celebrate the festival of lights at a number of Diwali 2022 events in New York and New Jersey, from Times Square to Garden City, from Ganesh Temple to BAPS Swaminarayan Mandir, and from Bhakti Center to Brooklyn Children Museum. Diwali is one of the few Indian festivals, which is celebrated with great pomp and loads of enthusiasm from America to Australia. Interestingly, many school districts have declared Diwali 2022 in New Jersey and New York a holiday on October 24.    
Like previous years, Travel Beats, a leading Indian community portal in the US, has compiled a list of best Diwali 2022 events in New York and New Jersey for you. If you have not planned your travel on last minute flights to India yet, you can celebrate Diwali with fellow Indians at any of the places listed below. Travel Beats is a subsidiary of Indian Eagle, a trusted air-ticketing partner of Indians in America.    
NY Times Square Diwali 2022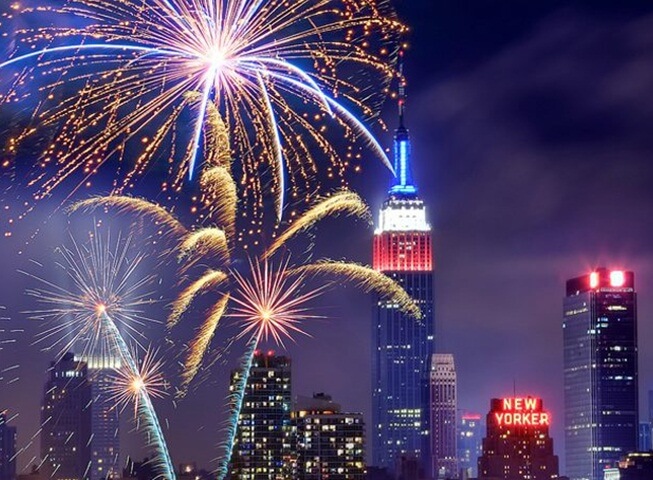 Diwali at NY Times Square is the most spectacular of all Diwali 2022 events in the United States where October is celebrated as Hindu Heritage Month. With its popularity having increased since 2013, New York City's Times Square Diwali is a fun-filled cultural and music extravaganza. Indian-origin people of different age groups participate in lighting diyas (traditional clay lamps) and indulge in binge-eating traditional Indian food. DJ Sharad, a household name to New York's South Asian socialites; Jay Sean, an Indian-origin English singer from London; Kiran and Nivi, the Carnatic vocalist duo from San Diego, are among the popular artists to enthrall you at the Times Square Diwali 2022. You can join the celebration for free.
Interestingly, Sparsh Shah, an Indian American rapper, songwriter and motivational speaker from New Jersey, will be seen performing at Times Square this Diwali 2022. Born with more than 35 broken bones in the body, Sparsh has overcome the obstacles that Brittle Bone Disorder put his way. He received the Global Indian Award in 2018 and sang the Indian National Anthem at the Howdy! Modi event in Houston.
Date: October 15

Time: 1 to 9 PM

Venue: Times Square (Broadway)
Diwali at BAPS Swaminarayan Temple Long Island, NY
Hindu temples in New York are among the best places for NYC Diwali 2022 events. BAPS Shri Swaminarayan Mandir at Melville, Long Island organizes children's Diwali celebration every year to make kids understand the significance of the festival and walk them through the traditional rituals. Children learn the art of making diyas and traditional decorations such as rangoli. BAPS Swaminarayan Temple in New York will celebrate kids' Diwali on October 23.
Indians of New York can visit BAPS Shri Swaminarayan Mandir in Long Island for Diwali and Chopda Puja on October 24 this year. The ceremony 'Chopda Puja' is an age-old cultural tradition wherein Gujarati and Marwari business people close their old account books and open new ones in paper or electric form (or both), and seek blessings of Goddess Lakshmi for a new year as per the Hindu calendar.
Date: October 23 (10 am to 4 pm) and October 24 (5 pm to 8 pm)
Pelham Art Center Diwali 2022, NYC 
Among the places for Diwali 2022 events in New York, Pelham Art Center celebrates Diwali through Indian folk art festivities including classical music and dance. Kathak and Bharat Natyam are not-to-be-missed performances which Indians of any age groups can take part in. The event schedule includes a hands-on traditional art workshop where you can paint your own diyas. Funded by New York State Council on the Arts, Pelham Art Center provides a multicultural community setting to help New Yorkers experience cultural diversity through participation in different forms of art. The Diwalis-special folk art event is free for all.
Date: October 23
Time: 12 – 2 pm
Venue: Pelham Art Center, 155 Fifth Avenue, NY 10803
Bhakti Center Diwali at Manhattan
Diwali at Bhakti Center in New York is out and out a community affair. Bhakti Center, a spiritual retreat of enlightening Bhakti yoga practices in New York City, hosts a Diwali mela every year. The Diwali mela is a cultural extravaganza full of culinary delights and musical revelry. Diwali celebration is more a spiritual occasion to connect with the Divine than a mere celebration of light over darkness and that of knowledge over ignorance at Bhakti Center on New York City's lower east side.
Date: October 24
Time: 6 pm – 9 pm
Venue: 25 First Center, East Village, Manhattan
Contact: info@bhakticenter.org
Brooklyn Children's Museum Diwali 2022
On Diwali, Brooklyn Children's Museum organizes a puppet show by The Culture Tree for families and kids, irrespective of their community and nationality. The socio-cultural and spiritual significance of lighting lamps on Diwali is conveyed to kids through a puppet show. It teaches the US-born children of Indian descent the "meaning of devotion, compassion, love, and giving back that the Diwali celebration stands for.  
Date: October 20

Time: 4-5 PM

Venue: 145 Brooklyn Avenue, NY 11213
Flushing Townhall Diwali 2022 in Queens, NY
Of all Diwali 2022 events in New York, the Flushing Townhall Diwali celebration is known for its cultural aspects. Their event features Bollywood, Kathak, and contemporary dance by Abha Roy and Ishita Mili. Abha is a Kathak exponent and the director of Srijan Dance Center. Ishita is a Bharatanatyam dancer. Celebrating the festival of lights at Flushing Townhall in Queens is a great opportunity to learn classical dance moves infused with hip hop. You can take part in the rangoli design competition, one of the mainstays of their annual event. If you're a foodie, you can binge on Indian foods there. You can join various other workshops there, such as culinary, handicraft, henna art, etc. Diwali at Flushing Townhall is among the few ticketed Diwali events in NYC. Advance booking is recommended.
Date: November 5

Time: 11 am – 1 pm, 2 pm – 4 pm

Venue: Flushing Town Hall Theatre, Queens
Diwali 2022 in Edison, New Jersey
Edison Township's first Diwali celebration by Indian American Mayor Sam Joshi is one of the most-awaited Diwali 2022 events in New Jersey. Edison's Mayor Sam Joshi, who traces his roots in Gujarat, invites everyone to the first Diwali event at Papaianni Park. You can participate in the Diya lighting ceremony there. Diwali being an Indian festivity, music and food are the mainstay of the event organized by Mayor Joshi.      
Date: October 22

Time: 12 to 8 pm

Venue:  Papaianni Park, 100 Municipal BLVD, Edison

Contact: 732-248-7283
Siddhachalam Jain Tirth Diwali Mela 2022, New Jersey
If you are looking to celebrate Diwali with oodles of devotion, you can visit Siddhachalam Jain Tirth, a Jain ashram and spiritual retreat sprawling 120 acres of hilly terrain in New Jersey. Founded in 1983, the ashram hosts Diwali mela for Indians, regardless of their religion. Traditional food and devotional music are among the trappings of Diwali Mela at Siddhachalam Jain Tirth.
Date: October 29

Time: 1 pm – 4 pm

Venue: 111 Hope Road, Blairstown, NJ 07825

Contact: (908) 362-9793

RSVP at events@siddhachalam.org
Saraswati Cultural Association NJ Diwali 2022
Diwali celebration by Saraswati Cultural Association of New Jersey is one of the free outdoor events for Indians in October. Founded in the late 1980s as a community-driven non-profit organization, Saraswati Cultural Association hosts Diwali and other festivals to promote Indian culture and heritage, other than raising funds for charities. You can make the most of this event by grooving to live music, taking part in cultural performances, enjoying Indian food, and shopping for Indian items. Interestingly, entry to the event venue is free for all.
Date: October 15

Time: 1PM – 7PM

Venue: East Brunswick Cultural Arts Center, East Brunswick, New Jersey

Contact: 5519001541

Marlboro Indian Foundation Diwali 2022, New Jersey
One of the best Diwali events in New Jersey is organized by the Marlboro Indian Foundation, a non-profit community that was established in 2020. Named Diwali Mela, the celebration by the Marlboro Indian Foundation is a ticketed event. A ticket to the event costs $30 per adult, and it is $20 per kid in the age group of 5 to 11 years. The event comes with DJ music, dance, food, and of course, fireworks. This non-profit community has been felicitated by the Office of the Mayor, and the Senate of New Jersey State for promoting unity in diversity, organizing fund-raising drives, and spreading the joy of giving back.  
Date: November 5

Time: 6 pm to 11 pm

Venue: Colts Neck Fire Company #2, 50 Conover Road, Colts Neck, NJ 07722

Contact: marlboroindianfoundation@gmail.com