Book Cafes are emerging destinations for urbane readers, foodies and travelers in India, replacing the age-old habit of reading books in silent libraries on weekends with the trend of reading over cups of coffee or platefuls of snacks in homely environment at any time. These are the places where both food for the stomach and food for the mind are enjoyed peacefully in company of like-minded folks and in seclusion from outer hustle-bustle. The popularity of book cafes in India has recently paced up from metros like Delhi, Mumbai, Kolkata, Hyderabad and Bangalore to small cities like Lucknow, Gangtok, Chandigarh and Shimla. Indian Eagle penetrates through the changing socio-cultural fabric of India to list 10 best book cafes where you can enjoy yourself over reading, writing, drinking, munching and eating.
Café Story in Kolkata 
Of the few Indian cities where reading is a favorite pastime, Kolkata is known for its traditional "reading and writing" culture. Needless to say, the city houses several book cafes. Among the hangouts for coffee and book aficionados in Kolkata, Café Story is a special mention for its graphic novel and comic theme. Café Story boasts a huge collection of books of different genres and serves a fair spread of snacks to readers. The beauty of the place may inspire you to pen a story. You never know!
Coffee Cup in Hyderabad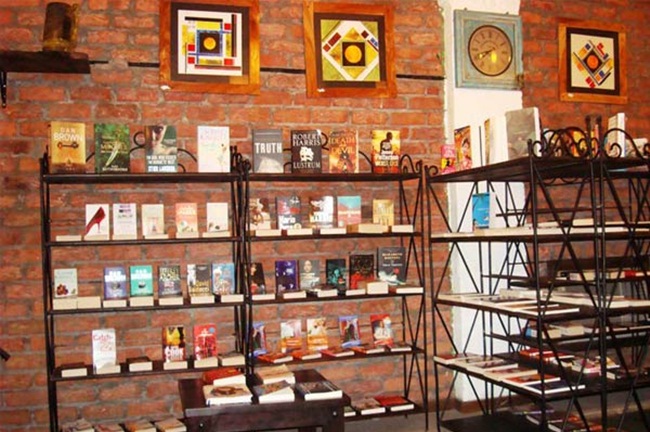 If the area around the Charminar in Old City is an ideal destination for foodies and those looking to sip the best Irani Chai on summer evenings, wintry nights and monsoon days, Hyderabad has a few hangouts like the Coffee Cup for not only foodies but also bookworms, art lovers and coffee addicts. Both the sheesham wood interiors and the sit-out terrace with potted plants are cozy places to indulge in reading. With posters of cartoon characters and cinema stars on inner walls, the atmosphere of this book café in Hyderabad is high on the fun quotient.
Kitab Khana in Mumbai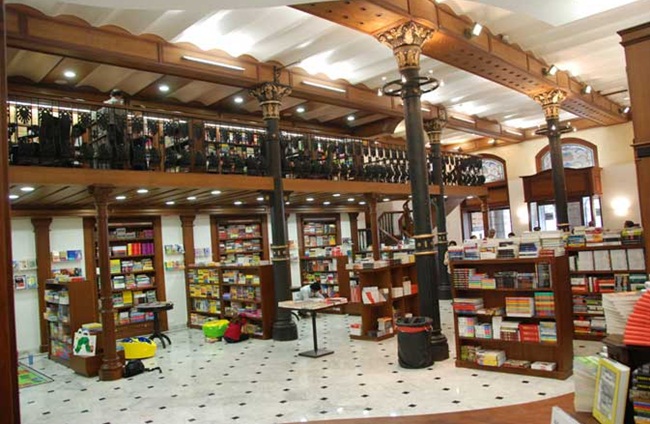 Kitab Khana is one of the few places in Mumbai City where the tempo of life becomes slow for readers. With readers flipping the pages of books, toying with story ideas, and sipping coffee, Kitab Khana may seem offbeat to those on the run around the clock. It is not just a book café but also a boutique bookshop. You can try a number of desserts besides sipping coffee in peace here.
Literati in Goa
Reading books while sipping coffee at a quaint bungalow of the Portuguese style in Goa may sound offbeat to those who travel to Goa for beaches and water sports. Housed in a 100-year-old bungalow, Literati Bookshop & Café is one of the places to visit in Goa for the pleasure of reading, which is accompanied by sipping of Karnataka coffee and munching of homemade sandwiches. If you feel like spending some time with your favorite authors, there is no other place as cozy as Literati Bookshop & Café in Goa.
Café Turtle in Delhi
Delhi is next to Kolkata when it comes to claiming the title "the city of book lovers." Among the book cafes across the cityscape, Café Turtle in Delhi is an ideal place for reading in solitude.  The book café boasts cheerful atmosphere and serves gastronomical delights. There is such a huge collection of books that you may feel spoilt for choice. No matter which book you read, make sure to have a slice of the date cake with toffee sauce.
Atta Galatta in Bangalore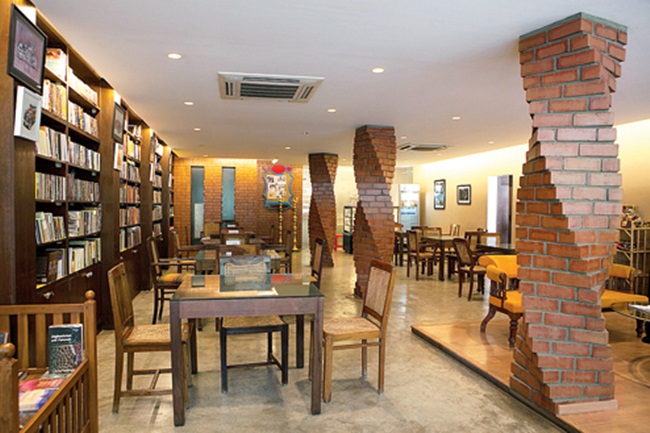 In Bangalore, the Silicon Valley of India, where everyone lives, breaths and dreams technology, a place like Atta Galatta for creative activities including reading, writing, painting and playing music is a surprising bliss. One of the best book cafes in India, Atta Galatta in Bangalore is a meticulously designed cultural space with vibrant ambience, where there is a treasure of bestselling titles in English and popular Indian languages as well. The café owns an in-house bakery and serves yummy cookies during book launches and art workshops.
Café Fiction in Gangtok
Reading books and writing stories over cups of smoking hot Sikkimese tea is a pure bliss at Café Fiction in Gangtok. Scenic surrounding, serene atmosphere and availability of books on the Tibetan history make Café Fiction a must visit among the places to see in Gangtok. This book café serves a few authentic Sikkimese dishes as well. Both the reader and the foodie in you will be flattered at the treatment here.
Café Bookworm in Lucknow
Lucknow is a city of biryani and kebab for foodies. A place like Café Bookworm is a new-age hangout for creative and gastronomic recreation on the cityscape of Lucknow. Café Bookworm offers good books and great dishes with equal care. Visit the book café to enjoy the company of books and catch up with other book lovers and have fresh snacks or sweets when you need fuel to get charged.
Cafe Illiterati McLeod Ganj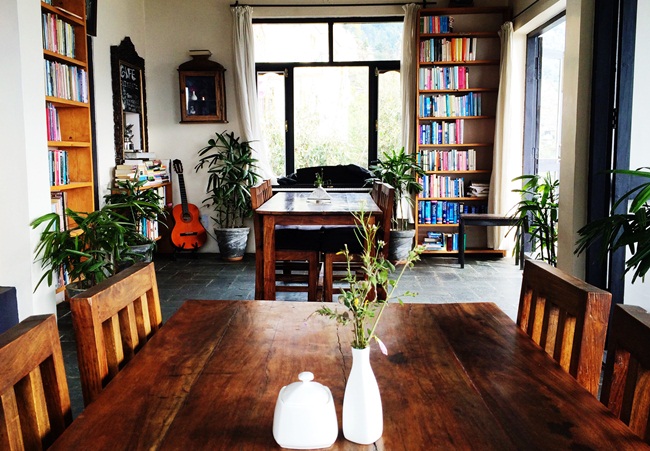 Even a hill station like Dharamsala in Himachal Pradesh has a book café for book-loving urban travelers. Cafe Illiterati McLeod Ganj at Dharamsala commands breathtaking views of the Dhauladhar Mountains, which makes readers bury themselves in books with indifference to worries and cares of the outer world. You can warm up yourself with sips of masala chai whenever the blows of icy wind disturb your pace of reading.
Book Café Ssong in Pune      
Visit Book Café Ssong in Pune if you feel like breathing in some air of relaxation over reading after a road trip from Mumbai to Pune. Book Café Ssong is a cozy place having reading-friendly ambience where you can quietly spend some time leafing through the pages of your favorite books. Decorated with tasteful Korean artifacts and eased with soft music, this Pune based book café is the right place for pursuing the passion of reading books over sips of creamy coffee.
About Indian Eagle Travel
Indian Eagle, a leading online travel booking organization, offers the cheapest air tickets for flights to Indian cities. If the pleasure of traveling to India comes at the lowest airfare in all seasons, Indian Eagle is your best travel partner.