It has been one year and a half since the Indian community leaders in the US state of Georgia started gathering support for a petition to the Consulate General of India for direct Air India flights from Atlanta to India, in July 2017. Meanwhile, Air India launched nonstop flights from San Francisco to Mumbai. Just recently, Air India's New York to Mumbai nonstop service saw the daylight. But, any possibility of nonstop flights to India from Atlanta was not hinted at until now. Hope, the fingers crossed in prayers for nonstop Air India flights from Atlanta to major Indian cities will make the 'V' sign in 2019.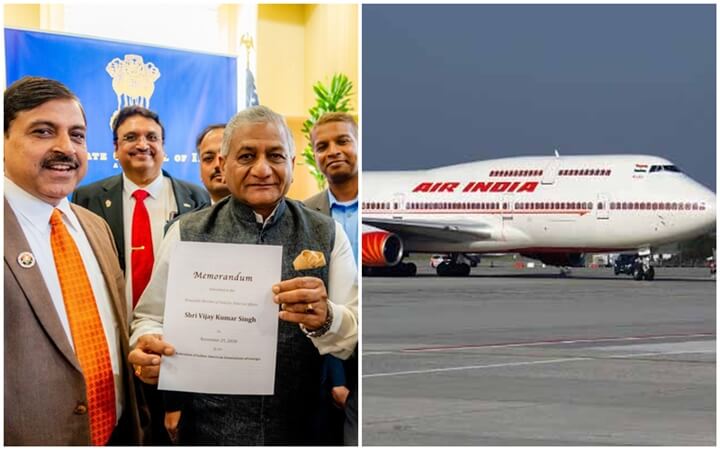 The Federation of Indian American Associations (FIA) of Georgia has presented a memorandum to Indian government, seeking assistance in making seamless air connectivity from Atlanta to India possible for over 2 lakh Indians in Georgia. The memorandum was submitted to the Minister of State for External Affairs General on November 25, 2018. The President of FIA Georgia, Dr. Vasudev Patel is very sanguine about a positive impact of the memorandum in making Atlanta an Air India gateway in the Southeast USA.
"There are bright prospects for nonstop Air India flights from Atlanta to Delhi or Mumbai, as not only Georgia Indians but Indians from the neighboring states like Florida, Alabama, Tennessee, and South Carolina will be able to leverage the service to their benefit. With the Indian community growing in and around Atlanta, the mounting pressure on Air India to operate direct flights to and from Hartsfield-Jackson International Airport is not unjust," the chief marketing officer of Indian Eagle Travel opined.
Currently, Qatar Airways, British Airways and Air France offer good deals for cheap Atlanta to Delhi flights, economy and business, with one-stop layover at their primary hubs – Doha, London and Paris respectively. While British Airways takes 17hr 40min from Atlanta to Delhi IGI Airport, Air France takes 19hr 10min. Qatar Airways' Atlanta to Delhi flights are as long as 20hr 30min, which includes a layover of 3hr 25 min at Doha. Hartsfield-Jackson International Airport being one of the hubs, Delta Airlines operates one-stop Atlanta to India flights in codeshare partnership with other airlines, including Jet Airways.
In response to the memorandum, General Vijay Kumar Singh, the Minister of State for External Affairs has promised to push for nonstop Air India flights from Atlanta to Mumbai or New Delhi, according to a press release. He said that Indians in Georgia do definitely deserve nonstop flights to India from Atlanta for better connectivity and the shortest travel time.
"In 2019, Delta Airlines is supposed to make its comeback to India with nonstop flights to Mumbai from any of its hubs in the US. It may be Atlanta, New York, Seattle, Los Angeles, or Detroit. Georgia Indians will be more than happy if Atlanta be the base of nonstop Delta flights to Mumbai in 2019. On top of that, if Air India launches nonstop service to and from Atlanta, it will be a double celebration for them," said the chief information officer of IndianEagle.com.